SRC has an award-winning safety program centred around safety being its over-riding priority. The success of the program is evident from the establishment of many proactive and preventive processes, as well as improvement in the incident statistics over the years.
As an example, between June 2014 and January 2019, SRC employees worked more than 2.4 million hours without a Lost Time Injury (LTI) incident.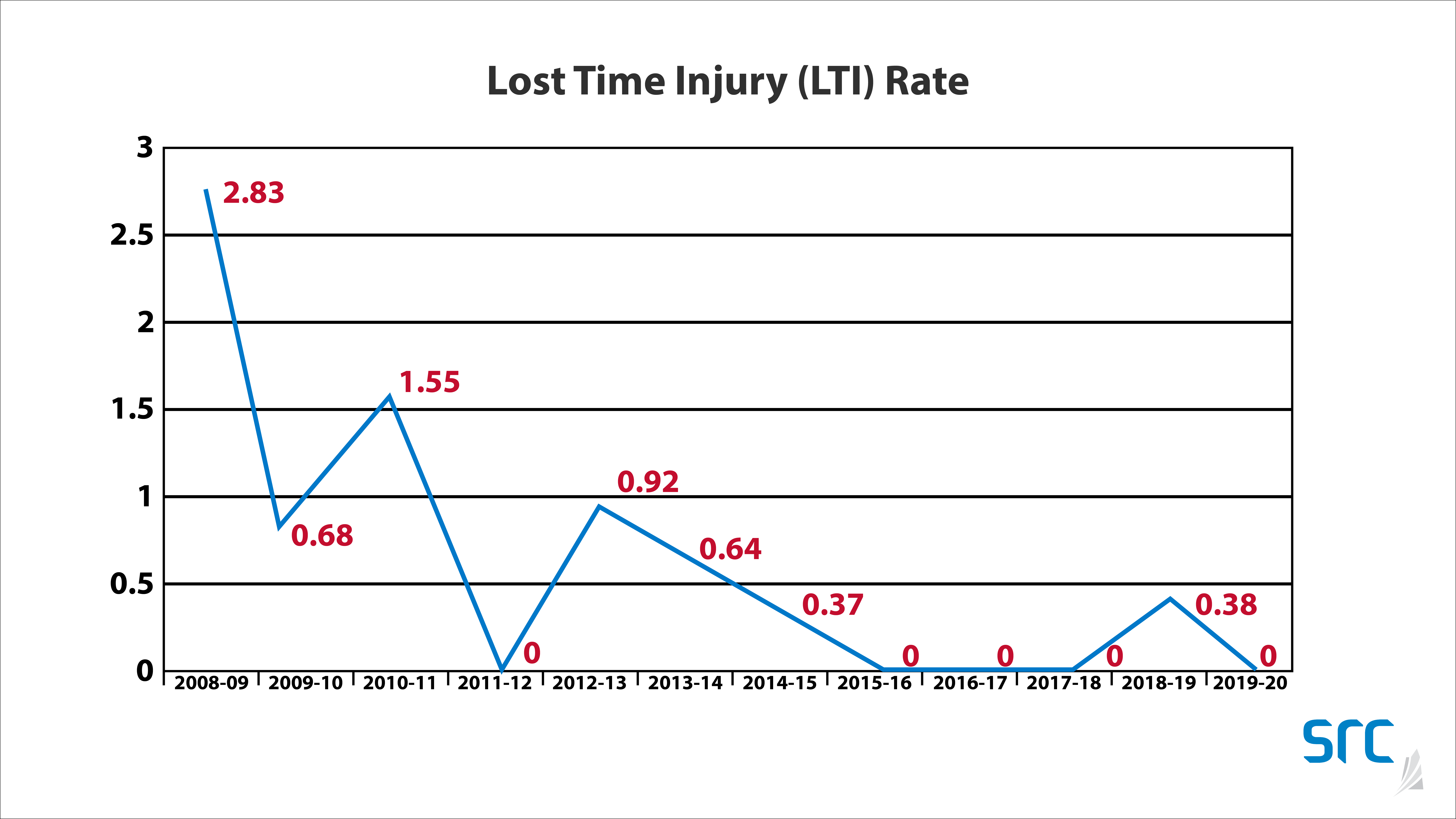 But SRC's safety program wasn't always as robust as it is now. It saw significant growth, expansion and change over the years. 
Follow along as we recount some of our biggest safety milestones, projects, challenges and achievements in our more than 75 years of service.
A Look Back
Though SRC was officially created by the Province of Saskatchewan in 1947, a formal safety program wasn't launched until 1959. As SRC's staff levels, facilities, equipment and activities grew, so did our need for workplace health and safety standards. We launched our safety program with a First Aid logbook, so that safety incidents could be tracked and learned from. 
In the 1970s, as SRC started to work with uranium and other potentially radioactive materials, it became necessary to add a radiation component to the safety program. This led to SRC providing the uranium mining industry with assistance in evaluating their worker's exposure to airborne alpha-ray emissions in uranium mines and mining equipment. SRC's radiation safety continues to be an important part of our work.
In the 1990s, Occupational Health and Safety (OH&S) objectives started to receive equal importance to work, research and revenue at SRC. In 1998, a formal Safety Policy, along with subsequent procedures, were created.
In 2004, senior management made safety an over-riding priority at SRC meaning that no work would be done if it couldn't be done safely. This was meant to ensure that safety never took a "back seat" to business or other imperatives.
It was the cornerstone of SRC's safety strategy: to build a world-class safety culture and record at SRC that continues to the present day.
Another important milestone came in 2010 when SRC developed and adopted a Management System to manage OH&S risks. This provided a framework to systematically and proactively reduce hazards and risks to an acceptable level.
Many of the projects we have worked on for clients over the years have had either a large safety focus or component. One of these included developing a "deflectometer" as part of the investigation into pressures produced by vehicles moving across ice roads for the Saskatchewan Department of Highways and Transportation in the 1970s. This work was used to determine safe vehicle mass and speed limits for winter ice roads with different ice thickness. 
Climate studies in the early 1950s focused on the conditions responsible for blizzards that caused highway hazards, and spring rapid thaws that caused floods. In both cases, the two-fold focus was on meteorology and also on mitigation measures. An example of an early SRC application was the use of this work to guide the design and placement of highway snow fences and windbreaks.
SRC's work with radon testing over the years has played a large part in keeping the people of Saskatchewan safe from the dangers of radon in homes. And this work is actually increasing as the years go on. Just in 2019-20 alone, SRC distributed 4,657 radon test kits through a partnership with the Lung Association of Saskatchewan.
Another service offering that focuses on safety is using Unoccupied Aerial Vehicles (UAVs) for gas detection for upstream oil and gas producers. A methane gas detection UAV is capable of spotting small, isolated gas leaks at ground level from up to 30 meters in the air. By creating a systematic inspection process, leaks can be detected and repaired faster, reducing the total amount of methane released into the atmosphere and the need for on-foot assessments.
And finally, since 2006, SRC has been managing a multi-year, multimillion-dollar project to assess and reclaim Gunnar Uranium Mine and Mill Site, Lorado Uranium Mill Site and 35 Satellite Mine Sites in northern Saskatchewan. The state that many of these sites were left in posed a significant safety risk to humans, wildlife and the environment. The main goal of this project is to bring these sites back to a safe and usable state for the local people.
These are just a few of the many examples of how safety has played a huge role in SRC's client work over the years. However, none of this would have been possible without a culture of safety at SRC. 
Strategy for Developing and Sustaining a Safety Culture
SRC's strategy for developing and sustaining a culture of safety has been an ongoing process over the years and it certainly has come with its own challenges. 
SRC is made up of many individual business units – each with different activities and risks, their own cultures, inconsistency in safety standards and a difference in risk tolerance and perception. Additionally, as a research and development organization, the dynamic and diverse nature of our work means continuously changing procedures and risks. 
As mentioned above, it was in the early 2000s when safety became SRC's over-riding priority. This initially required buy-in from management and a clear strategy to both empower managers and employees to make hard decisions, but also to motivate and excite employees. The strategy included:
Accepting that there would be time and cost impacts on all projects
Making safety visible and demonstrating its importance through our actions 
Instilling a belief in employees that safety is not a fad or just a paper exercise 
Making safety a core value 
Consulting to ensure safety was a collaborative approach
Cautiously using corrective discipline and work stoppages
Creating a management system structure and user-friendly tools
Providing employee engagement opportunities through regular activities 
Employees and management participate in three safety committees at SRC that are responsible for conducting safety inspections, incident investigations and ensuring safety concerns are addressed. These include the Occupational Health and Safety Committee, the Biosafety Committee and the Radiation Safety Committee. In addition to the normal duties required by the OH&S Regulations, committee members select Safety Award winners and brainstorm new ways of engagement.
Employee Engagement
Keeping employees engaged has not only been a big part of our safety strategy, it is the key to the success of our safety program. It has evolved over the years, but a few things have remained the same: employees are looking for innovation, user friendliness, fun and enjoyment. Here are some of the innovative ways we have engaged our employees.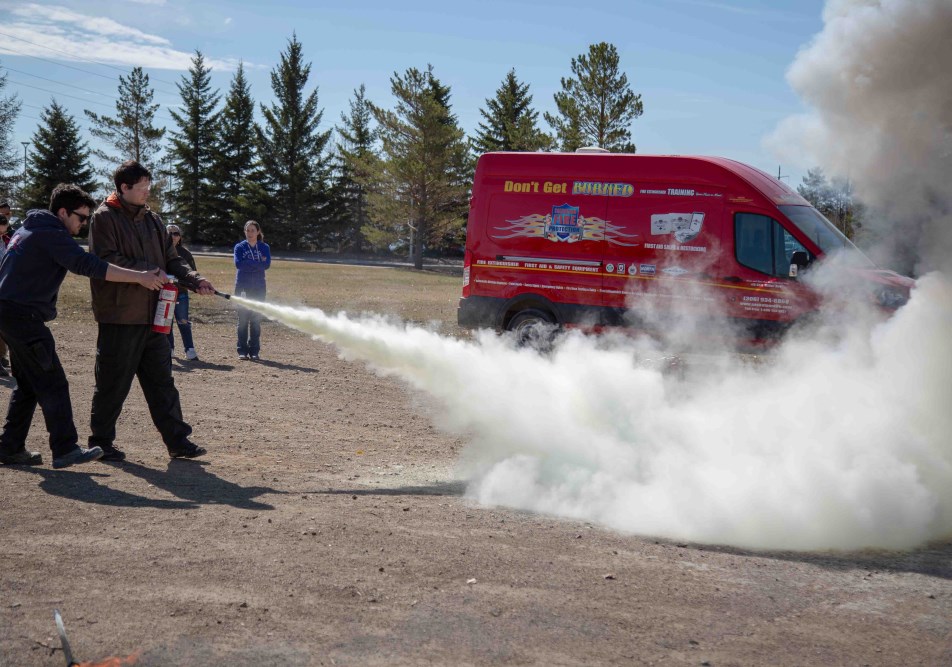 Training Sessions and Meetings
Safety training is a big part of our work at SRC. Requirements vary across the Council depending on the type of work, but one thing is consistent: work does not get started without the proper safety training being completed first. 
SRC provides a safety orientation to all levels of employees, temporary and permanent, including its Board of Directors, students and contractors. When employment begins at SRC, a new employee receives a general health and safety orientation from Safety Services. A site-specific orientation is provided by the supervisor, which is more specific to the lab or work situation. 
Over the years, SRC has offered its employees a wide range of safety training.
Some examples include hazard identification, conducting job safety analysis, defensive driving, first aid/CPR, forklift, spill response, ATV and much more.
Additionally, many of SRC's business units run daily "safety toolbox" meetings. This is a chance for both managers and employees to discuss safety-related items at the beginning of each day. These discussions include topics such as the hazards and risks involved in the jobs being carried out that day, Personal Protective Equipment (PPE) requirements for a new project, or even the storm scheduled to hit the city later that day. These toolbox meetings have empowered employees to make safety top of mind every morning, in everything they do.
Emergency Mock Drill Exercises 
Like many organizations, SRC has regular fire drills throughout the year. With so many employees in various locations across the province, one of the concerns during these drills was the efficiency of the roll call process. SRC's Information Technology team came up with an innovative solution that uses card readers during emergency evacuation roll calls. This allows the roll call process to go more quickly, which in turn identifies any missing or unaccounted for employees.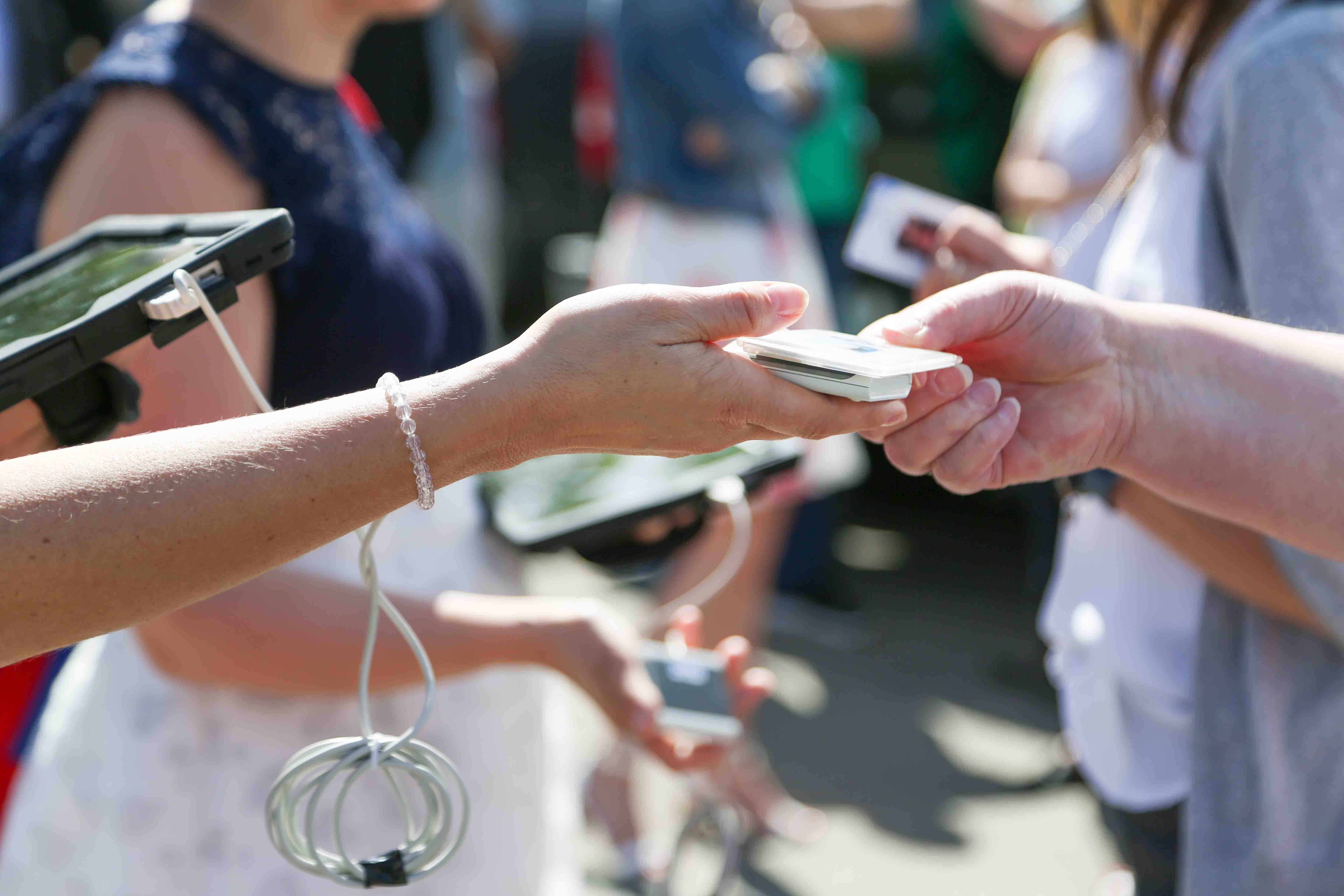 Over the years, SRC has led other mock drill exercises to plan for things like medical emergencies, car crashes or active threat situations. An example of this occurred in 2004, when SRC partnered with the City of Saskatoon's first responders to run a full-scale, multi-agency disaster response exercise (code-named BrickER), which involved 300 SRC and emergency personnel in a simulated tornado strike and building collapse event.
NAOSH Week Activities 
For decades, SRC has held a variety of events to bring awareness to and celebrate North American Occupational Safety and Health (NAOSH) Week and Emergency Preparedness Week. Over the years this has included various contests, challenges, sporting events, safety training opportunities, special coffee breaks and healthy living campaigns (e.g., healthy foods, sleeping habits). One year, employees from SRC Geoanalytical Laboratories dressed up in various PPE gear and did a mock fashion show for their colleagues to celebrate the week!
Rotating Safety Coordinator Position
Another innovative idea to improve employee engagement across the organization was a rotating safety coordinator position. In this role, a selected employee works as safety coordinator for a short period of time to gain more "hands-on" safety experience and knowledge. The idea is that when they return to their regular job, they will be a safety ambassador and encourage safety practices with their colleagues. 
SPOT
In 2016, SRC launched a new hazard reporting app called "SPOT" (Safety: Prevention by Observation Tool). The app is a practical and user-friendly system for employees to report hazards and is available as an app on desktops, tablets and smartphones. Employees use the app to report unsafe conditions or unsafe acts or "at-risk behaviors," and address them before incidents occur.
In the four years that SPOT has been in place, SRC has seen 175 SPOTs reported and addressed. Every year, three of the top reports are selected by the OH&S Committee and recognized by top management. SPOT examples include a person found working on equipment thinking the power plug was removed while actually it was not, a razor sharp edge on an enclosure formed over years of wear and tear, and the unsafe transportation of gas cylinders.
We focus on prevention to make improvements in behaviours, processes and our working environment.
Proactive isn't just a buzz word at SRC - we truly stand by it. It's not about working around complications, but actually assessing work-space conditions and eliminating potential hazards before they can pose a substantial risk.
For example, in 2012, we improved the air quality for our employees who prepare mineral samples (which can be a very dusty environment) by installing a new, more effective dust collector air filtration unit. Going above and beyond to protect employees and reduce their exposure to health hazards was and continues to be, a top priority. 
Safety Incident Database
A Safety Incident database was launched in 2017 to make the incident reporting and investigation process more user-friendly, efficient and paperless. Like SPOT, the incidents can be reported from a PC or smartphone. Since then, more than 150 incidents have been reported and investigated. Both this database and SPOT try to remove a critical obstacle in motivating employees to report hazards and incidents by making it easy and user-friendly with the help of technology.   
Internal Safety Awards
SRC has had various internal Safety Award systems over the years. In 2016, a new system was developed to recognize employees who have contributed to improving safety at SRC throughout the year. This system tried to be more objective and provided specific criteria for nominations.  
Emergency Management Team
In 2018, SRC revised its Emergency Management Program, aimed at providing immediate internal assistance in the event of an emergency. Emergencies may include a spill, medical, fire, threat or weather. Employees can call or email an internal number and will be connected to SRC's Emergency Management Team who can dispense the help needed immediately. The Team uses a digital paging system throughout SRC to broadcast emergency alerts where attention or assistance is required.
Home Safety Campaigns
We understand that safe work practices don't just end when our employees leave the workplace. Over the years, we have run many campaigns around home safety, including kitchen safety, fall safety, fire prevention and having an escape plan in place. 
One of these campaigns was around smoke alarms: the importance of testing them, the number each house needs and where they should be located. SRC even provided new smoke alarms to employees who required them.
Measuring Success and Looking Forward
So, with all these safety measures in place, how do we define success? A successful safety program is the result of continuous improvements in the visible leadership and commitment from top management, the establishment of a management system that provides all the necessary tools to manage hazards and risks and a strong organizational culture towards safety. 
Success can be measured by all of the proactive procedures and activities that take place in a year. At SRC, that looks like over a thousand safety meetings, more than one hundred hazard or risk assessments, more than a thousand employee training hours, more than ten emergency drill exercises and more than fifty safety inspections and audits.
Success can also be measured by negative consequences, such as LTIs. This number has consistently remained low for SRC – and that is because of our robust safety program and our employees' active participation in the program. And as we look forward into the future, our safety vision is to reach a bottom-up approach, where employees are completely engaged and take full ownership of our safety program.