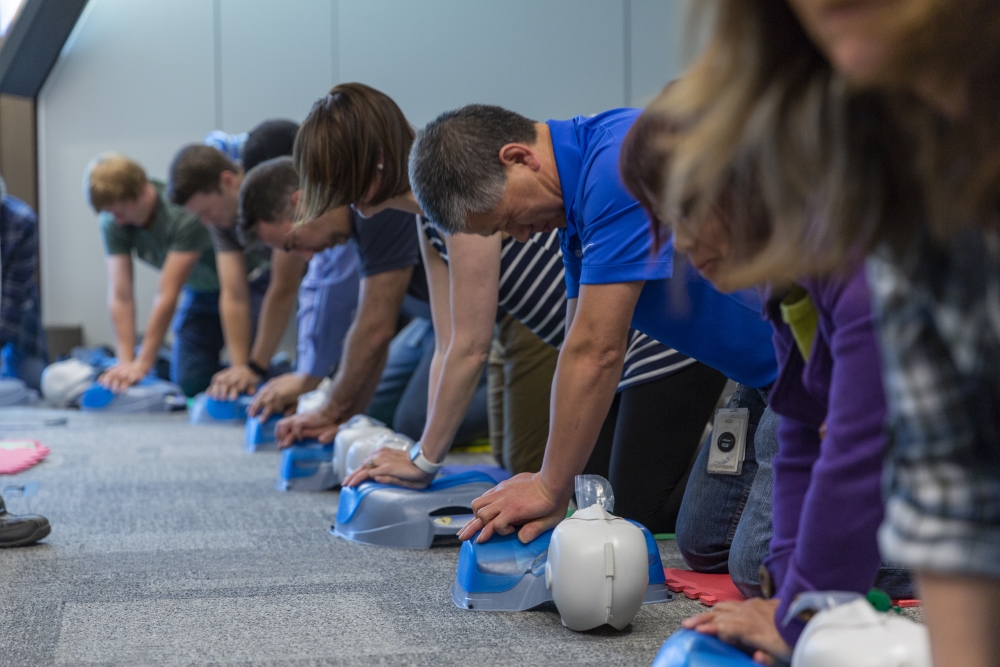 This blog post was co-written with Amy Derbowka, a past employee at SRC.
When I began working at SRC, it was clear to me that employee safety was a priority for the company. In my first week at SRC, I was introduced to SRC's safety procedures and given a safety orientation of the area that I worked in.  
It was during my first North American Occupational Safety and Health (NAOSH) Week at SRC that I truly understood our safety culture was more than just working safely – it was also about celebrating our successes and continuously improving. 
Over the years, SRC's lost-time injury rate has trended downward and it's because safety is a priority at all levels of the operation – from corporate offices to the labs. We have various safety programs and training opportunities that teach employees how to be safe that are applicable at work and at home. This makes sure we all have the knowledge and skills to be safe, but it's really up to the individual to commit to applying it. 
It's this real-world application of safety that takes things to the next level. And we wanted to recognize individuals and teams at SRC who are doing just that: thinking about and applying safety in all aspects of their work. 
This is how our Safety Awards program began. I was part of the team that launched the program and as someone who has been at SRC for a while, it's been interesting to see how this complements our existing programs and continues to grow our commitment to safety as our number one priority. 
The Idea
Every great program begins with a great idea. While safety accomplishments at SRC are typically recognized at the divisional level, SRC's Safety Manager identified an opportunity to re-launch a company-wide recognition program and worked with the Occupational Health and Safety (OH&S) Committees to help bring the idea to fruition. 
"Involved and motivated employees are essential to the success of an OH&S program," notes Sunil Sohani, SRC's Safety Services Manager. "Recognizing positive contributions encourages future safe actions." 
A previous company-wide safety awards program was used as a starting point to plan the awards. One of the challenges was identifying why the old program grew stale and how we could create a refreshed program that would engage employees. One issue with the original awards program was that the awards and nominations were very subjective. The new awards needed to be more objective, with clear criteria.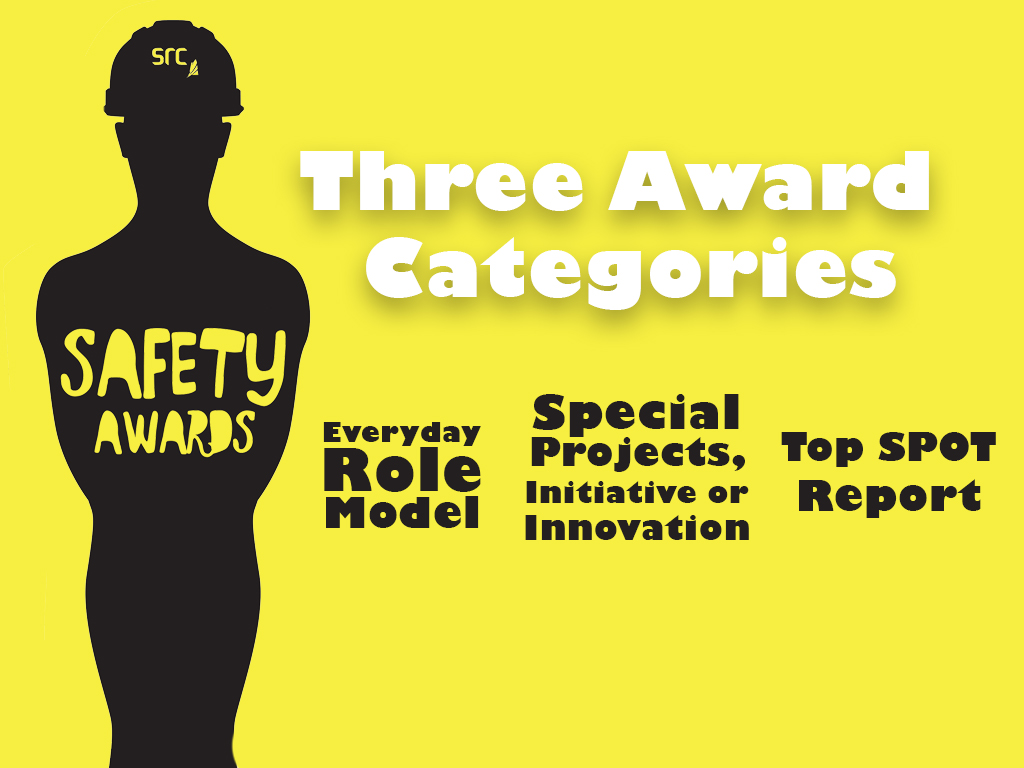 We created three new awards categories:
Everyday Role Model
This award recognizes three individuals at SRC who go above and beyond when it comes to safety. This could include demonstrating leadership in safety, mentoring and engaging others in safe work practices, identifying hazards and looking for areas where SRC can improve safety.
Special Projects, Initiative or Innovation
This award was intended to recognize an individual or project team that made a significant impact to safety within or external to SRC, during a project or by developing a new method or innovation.
Top SPOT Report
Throughout the year, employees identify and address unsafe acts and conditions using our Safety: Prevention by Observation Tool (SPOT) application. This app helps identify hazards before an incident occurs. Three awards are presented based on the severity of the potential risk identified in the SPOT report and the degree to which it assisted in eliminating or reducing a hazard. 
Building and Promoting the Program
As safety affects everyone at SRC, we wanted all employees to get a chance to be involved, so the Everyday Role Model and Special Projects categories were developed as peer-nominated awards.
"Our OH&S program expects employees to work safely, while looking out for the safety of others in the workplace," states Sunil. "Teamwork is an important component of safety and enabling team members to recognize safe behaviors can enhance teamwork."
We developed a streamlined nominations process to collect key information using a simple form that listed the award criteria and asked for examples of how the person or project met that criteria. 
To generate some excitement about the new program, we used various internal communications channels to reach employees throughout the year to keep people thinking about potential nominations. A giant cardboard trophy also travelled to different areas around SRC as a life-sized visual reminder. It definitely turned some heads!
And the Results Are In…
A total of nine nominations were received in the Everyday Role Model category and 15 Special Projects nominations were submitted, which exceeded our expectations! Nominations included topics such as volunteering for tasks that contribute to a safer work environment like assembling a spill kit and compiling a chemical inventory, bringing forward discussion on how to monitor vehicle inspections and taking personal responsibility to work safely. 
Once the nominations were in, our OH&S committees scored the nominations and SPOT reports and the award recipients were unveiled at an all-employee meeting. We also wanted to ensure that all nominees were recognized for their achievements, so we had a presentation highlighting all the individuals and project teams nominated for the Everyday Role Model and Special Projects categories. 
We've launched the program for a second year and look forward to seeing the innovative ways our employees are incorporating safety into their work. Our employees make it possible for us to maintain our high safety standards because they are committed to the goal, they watch out for each other and they come up with solutions. 
Our Safety Awards program will likely change over the coming years depending on how engaged employees are with the program. But, we will continue to find ways to celebrate safety at SRC and recognize the people who contribute to making SRC a safe place to work.