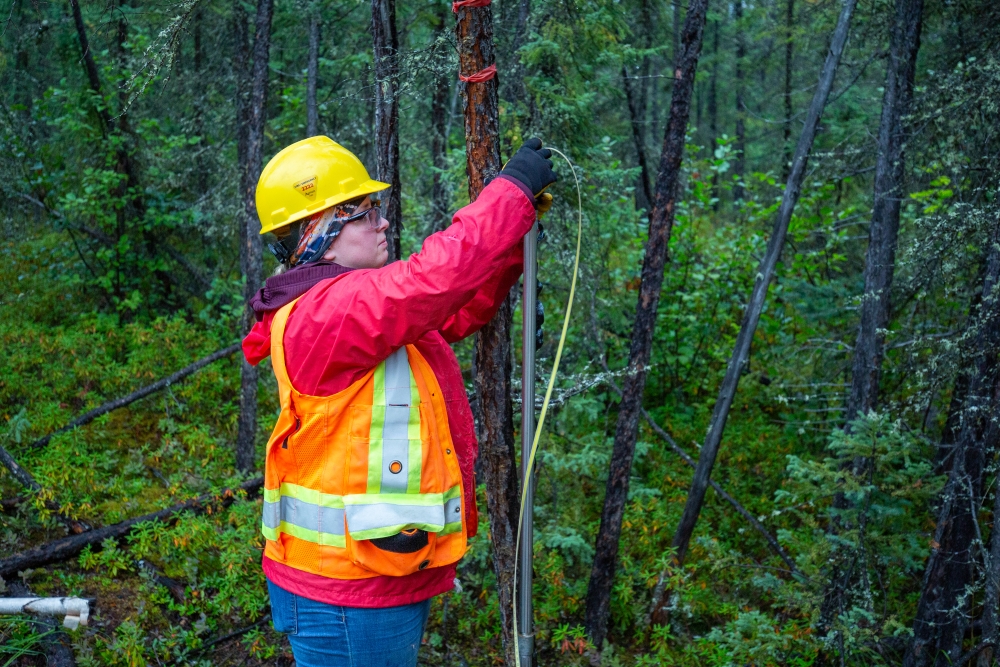 This is a guest blog post from Ashley Carlson, an environmental science student from the University of Saskatchewan and a two-time past participant in our Aboriginal Mentorship Program. Thanks for sharing your experience, Ashley!
Tansi (hello)! My name is Ashley Carlson. I'm from the community of La Ronge, Saskatchewan and a proud member of the Lac La Ronge Indian Band.
Growing up, most of my time was spent learning about the family commercial fishing business from my father and learning Cree traditions from my Khokom (grandmother). Spending so much time in nature made me out to be the 'tree hugger' that I am and gave me the drive to learn the scientific background of the environmental landscapes that surround and deeply reside within me. 
I chose to pursue a degree in environmental science because of the broad areas of study the program covers. Within the environment lies our socio and economic structures; to have a sustainable environment, our social and economic activities must not degrade our resources in such a way that future generations cannot thrive. There must be balance. 
I was told about SRC's Aboriginal Mentorship Program (AMP) by a previous AMP student and loved the idea of being paired with a mentor and working with other Indigenous students. When asked what area I would like to work in, I had no idea. My degree covers so many different areas of the environment that I wanted to get the most experience possible, and that's exactly what I got from the AMP program.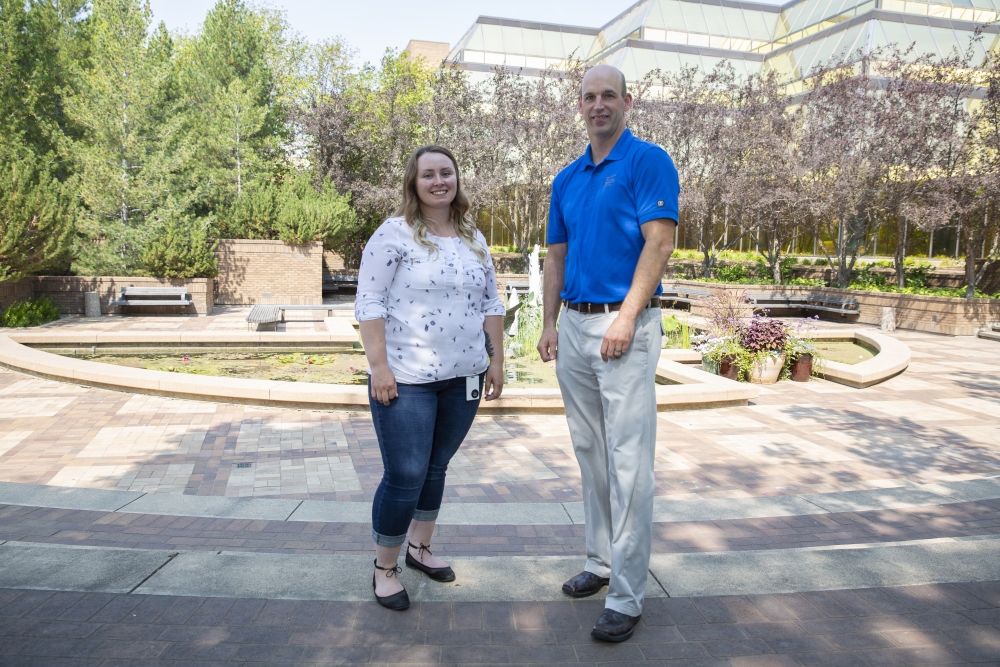 In summer 2018 and 2019, I was paired with my mentor Kenelm Grismer, who manages SRC's Environmental Performance and Forestry group. I had the opportunity to work with many different research scientists, some being veterans in the field and of course, they all worked in different areas! 
Here are some of my experiences working with each of these scientists and how this mentorship opportunity gave me a broad range of experience in the environmental science field.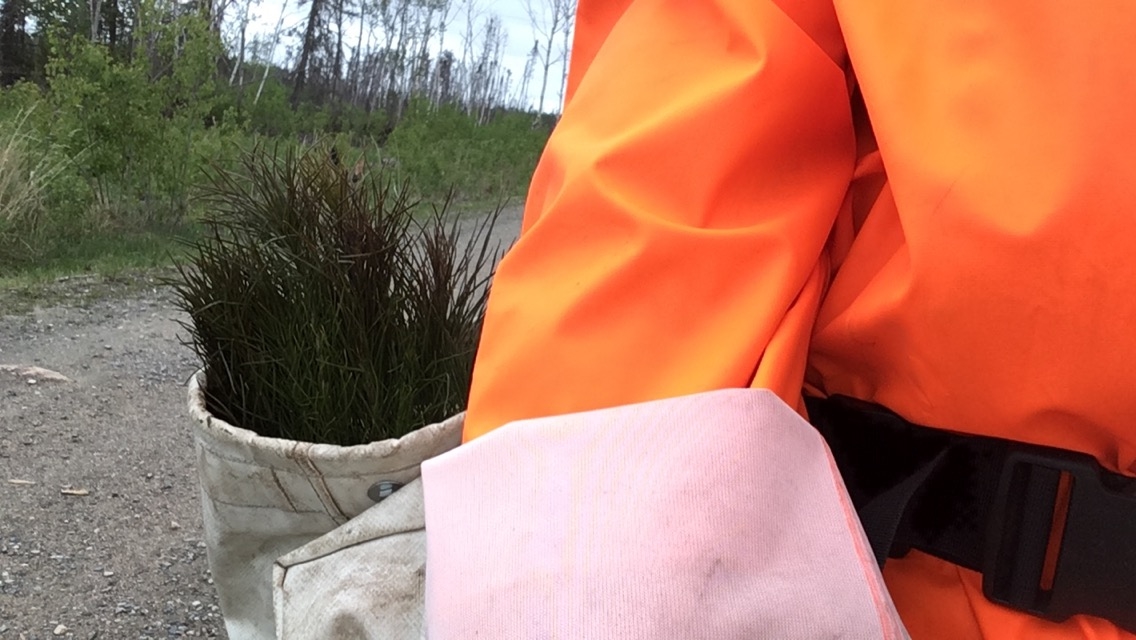 Forestry
Back in 2015, northern forest fires consumed around three hundred thousand hectares of the boreal forest; many homes, cabins, traplines and provincial parks were affected. Although devastating, I learned that fires are absolutely necessary for the health of the boreal forest. 
I had the opportunity to work with Research Scientist Mike Bendzsak in Waden Bay (about half an hour north of La Ronge) supervising and aiding tree planters as they replanted some of the camp sites in the area. To my surprise, tree planting was a bit more technical than I thought. 
As the topography of the area changes, so does the soil type, organic matter, water content and overall plant species. Plants are specific to the types of soils they grow in, so it's important to plant them in areas where they will thrive. 
I think the most important part of this process was that the planters needed proper spacing between trees. Overcrowding an area creates competition for nutrients between the different trees and could possibly disturb the natural regeneration. This area of environmental science was particularly interesting to me at the time because most of my classes were based on plant ecology and soil sciences.
Water
In northern Saskatchewan, there is often a constant visible flow of water – you can't go too far without seeing a lake, river, pond, muskeg or even a stream. Coming from a family of fisherman and Indigenous traditions, I was constantly reminded of the importance of water. 
In southern Saskatchewan, there is also a constant flow of water, but it is groundwater, which is very important to the hydrological cycle, and to municipalities and farming communities.
A large portion of my work with SRC's Environmental Performance and Forestry team was taking potable and groundwater samples with Environmental Research Scientist Ian Radchenko at a potash mine. We compared our water quality results to past trends to ensure that the tailings were contained and not leaking into the groundwater system.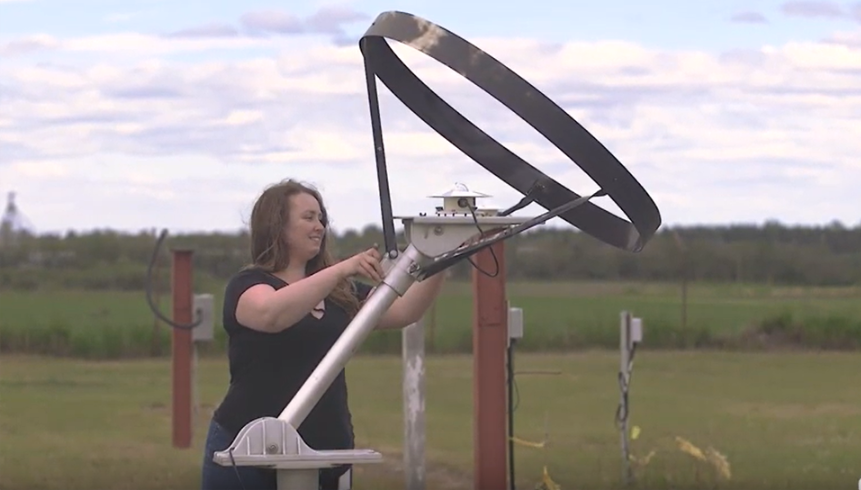 Weather
In a changing climate, I believe it's important to understand how our weather is monitored to identify the long-term trends that define our climate. My work with Climatologist Virginia Wittrock consisted of on-site maintenance at SRC's Climate Reference Station in Saskatoon and entering the collected data in the system, as well as attending a meeting on climate change with local Indigenous Peoples to better understand how their communities are being affected by the increased rates of wildfires and floods. 
Climatology was one of the fields that I was most unfamiliar with but is now one of my favourite topics in university. Working in this field gave me the background I needed to have a better understanding of our current climate, as well as what is expected in climate change.
Aerial Imagery
Working with geographic information system (GIS) Lead Jeff Lettvenuk, I travelled to the remote northern town of Uranium City. Multiple abandoned mine sites around the Uranium City area are currently in the process of being remediated by SRC (more info on Project CLEANS). 
I acted as ground support and a visual observer for Jeff who piloted an Unoccupied Aerial Vehicle (UAV) to acquire updated images of the sites. I also had the opportunity to go to the Gunnar Mine Site and place a Submersible Remote Operated Vehicle into the flooded pit. Doing these tasks with Jeff led me to develop an interest in the actual remediation processes for the abandoned northern mine sites.
This gave me hands-on experience in the remediation field. Many of my classes referred to remediation processes and I actually got to work on an active remediation project.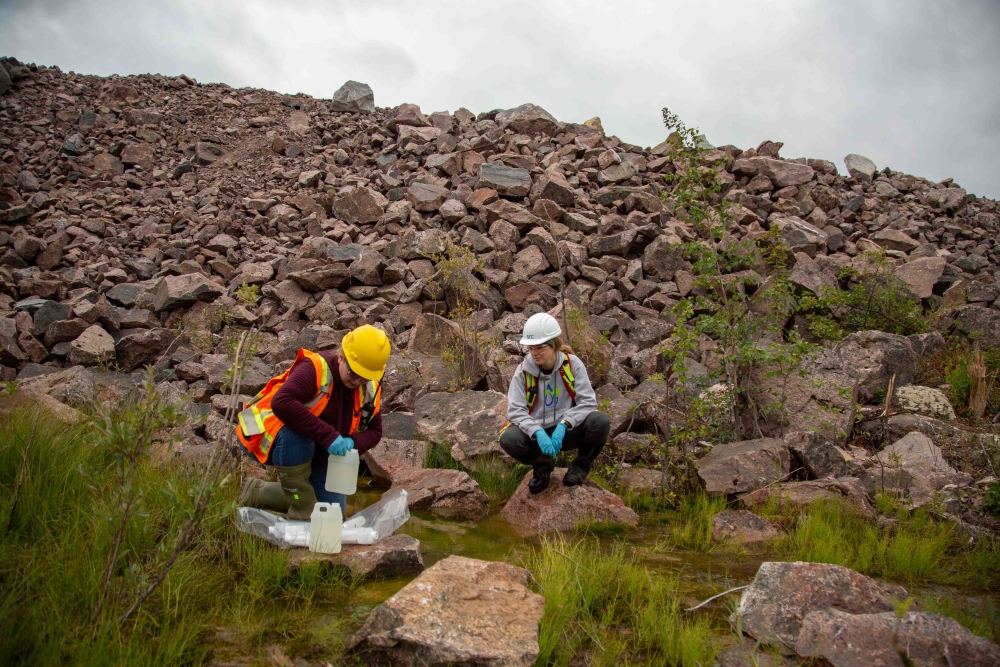 Remediation
Working with SRC's Environmental Remediation team has been very educational. I was able to become familiar with different remediation processes, reports, environmental guidelines and site classification systems. I worked with different project managers on remediation reports, as well as contaminated site classifications. 
I also gained further field experience with the team conducting surface and groundwater sampling. These tasks have prepared me for the final classes of my current post-secondary education and my future in this profession. 
From Lecture Room to Field  
To anyone who is interested in helping maintain a sustainable environment for the use of future generations, I recommend taking a degree or certificate in environmental science. 
My work over the past two summers with SRC and AMP has made it very apparent to me that there is a broad spectrum of study areas in environmental science and many career opportunities to consider. The biggest challenge is deciding which field you want to study because from what I've experienced, they're all enjoyable.
About SRC's Aboriginal Mentorship Program
SRC is proactively recruiting students for its Aboriginal (First Nations, Inuit and Métis) Mentorship Program (AMP). The Program aims to connect Aboriginal post-secondary students in the STEM disciplines with SRC mentors in the same or similar disciplines to help them take their education and experience to the next level.
AMP includes coaching and mentoring throughout the school year to help set students up for success, along with meaningful summer employment and opportunities to help students develop skills and gain work experience that will help them in their studies and future careers.
For more information, visit the AMP website.
Related Posts