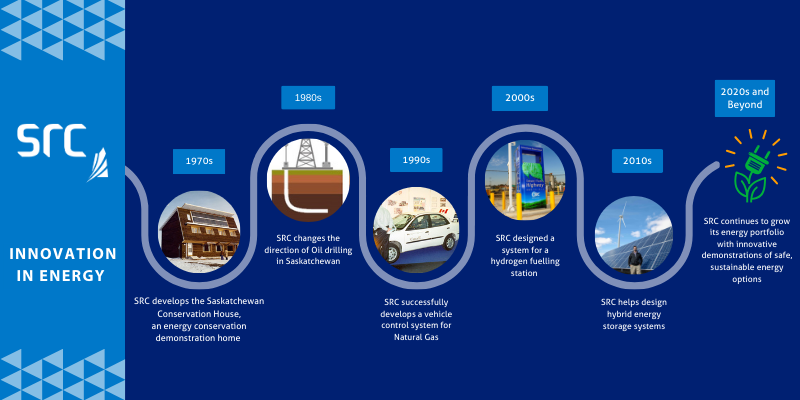 For over 75 years, the Saskatchewan Research Council (SRC) has focused on research and technology demonstration that directly affects the welfare of the province — helping find solutions for the agricultural, mining, environmental and energy industries.
With over 651,00 square kilometres of prairie fields and boreal forest, Saskatchewan's unique geography creates some energy challenges.
As a landlocked province, Saskatchewan's continental climate is responsible for wide temperature swings, going from bitterly cold winters to sweltering hot summers. This makes heating and lighting homes and business efficiently during long winters — or keeping houses cool in the height of summer — challenging. 
Saskatchewan's low population density also demands significant vehicle usage, and with that, more wear-and-tear from harsh winter weather. 
From the days of the oil and gas boom to the energy transition of the 2020s and beyond, moving people and goods efficiently across the province has been heavily dependent on the energy sector. SRC has a long history of exploring energy needs for Saskatchewan people and industries.
In its first year of operation, SRC investigated engine lubrication, aiming to improve lubricating oils and fuels efficiency in winter conditions. 
By 1959, SRC's former Department of Petroleum Engineering began investigating the pressure-volume-temperature characteristics of oil and gas reservoirs to determine reservoir performance. That same year, geological studies of the Lloydminster oilfield were conducted to evaluate the area's potential.
Throughout the decades, SRC's energy research has spanned a multitude of applications, from energy-efficient homes to oil and gas production to alternative energy solutions. 
Helping pioneer energy-efficient housing in the 1970s
The energy crisis of the 1970s began when the Organization of Petroleum Exporting Countries (OPEC) cut the production of oil worldwide and limited exports to certain countries. The price of oil spiked, leading to rising energy bills.
In Saskatchewan, the concern of affordable heat for homes prompted the Government of Saskatchewan to look at ways to reduce energy costs. SRC was tasked by the province to manage the development of an energy conservation demonstration home, called the Saskatchewan Conservation House. 
SRC provided guidance and oversight on constructing the Conservation House with recommendations based on research into energy efficiency. Specific wall thickness, insulation and the type of windows used in the build allowed the home to remain airtight, preventing heat from escaping the building. Monitoring revealed that the house consumed 85 per cent less energy than the average 1970s home.
The Saskatchewan Conservation House provided industry with a better understanding of heat loss and helped SRC establish basic design principles for energy-efficient housing, such as optimizing passive solar gains and necessary insulation.
Changing the direction of oil drilling in the 1980s
In 1987, Saskatchewan drilled its first horizontal oil well — known today as directional drilling. SRC played a key role in this groundbreaking development for provincial oil production, which started with a scale model of a well site near Lloydminster and a series of tests that demonstrated how a horizontal well could produce oil. 
Horizontal wells allow more oil to be pumped without re-drilling and, with extended-reach and multilateral wells, drilling horizontally allows producers to capture more of the deposit.
Today, 90 per cent of Saskatchewan's wells are drilled horizontally.
Looking to alternative fuels in the 1980s, 1990s and 2000s
Alternative fuels are a crucial component of the energy transition and Canada's goal for net-zero emissions by 2050. SRC has been focused on alternative fuels for decades and is one of the pioneers in alternative fuel vehicle work, which began in 1985 and was funded by the Saskatchewan Ministry of Agriculture. This work focused on clean burning fuel for farms and led to the development of a natural gas-fuelled tractor.
In the 1990s, SRC looked to other fuels — successfully developing a vehicle control system for natural gas on a Geo Metro, a popular small economy car. By 1997, SRC had turned its attention to hydrogen as an alternative fuel for vehicles, leading to the development of a hydrogen/gasoline Dual-Fuel™ system in the early 2000s.
The first dual-fuel system was installed in a 2001 GMC 2500 HD Sierra pickup truck. By 2010, SRC had designed a system for a hydrogen fuelling station, used to fuel a fleet of five hydrogen trucks.
Over nearly 40 years, SRC successfully adapted vehicles to operate on natural gas, hydrogen and ethanol using microprocessor control technology.
Powering a remote remediation camp with hybrid power in 2015
In the last two decades, SRC has turned its attention to energy optimization and hybrid power solutions.
Industrial sites and off-grid communities in Saskatchewan often require diesel generators to provide power but this type of power generation can lead to excessive fuel consumption, increased costs and risks to the environment.
In 2015, SRC used hybrid energy to power the remediation camp at the former Gunnar Uranium Mine and Mill Site. A customized hybrid energy container system, comprised of a generator, battery and inverter system equipped with remote control and monitoring systems, decreased the camp's reliance on diesel fuel. 
During its use, generator runtime was reduced by over 70 per cent — saving nearly $93,000 and reducing environmental risks.
Wind-battery project grows to First Utility-Scale Hybrid Solar and Wind Power Site
SRC has worked on hybrid energy storage systems for decades. Widescale testing began in 2013 with the first wind-battery project developed alongside Cowessess First Nation.
Starting with one wind turbine and a battery in 2013, the project grew into Canada's first utility-scale hybrid solar and wind power site in 2018, after the addition of 1,134 solar panels.
A bright future
SRC continues to grow its energy portfolio with innovative demonstrations of safe, sustainable energy options, exploring new opportunities and avenues as Canada's energy transition unfolds.