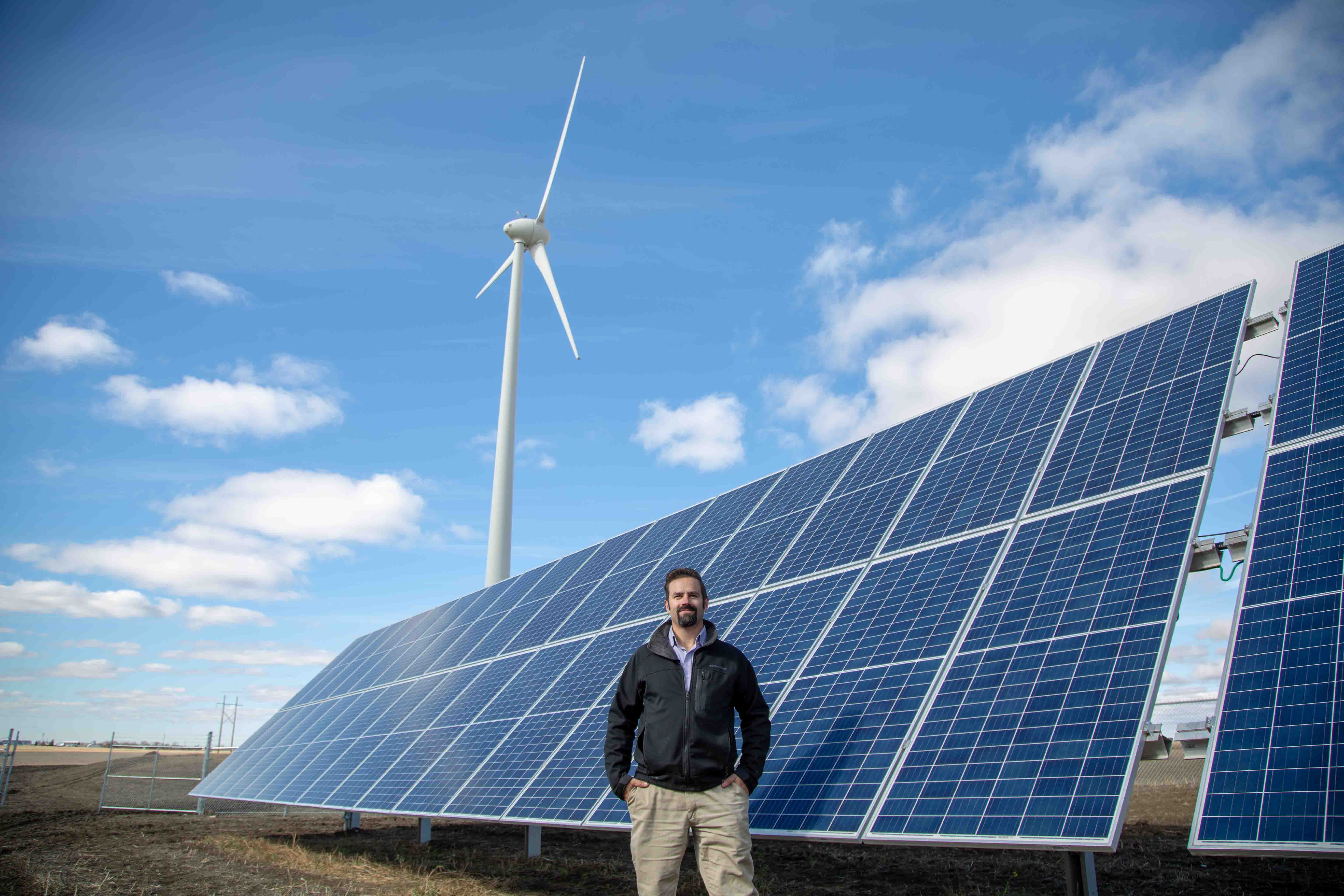 This is a contributed blog post written by former SRC employee, Andy Goodson.
The variability of wind and solar poses a challenge to anyone hoping to launch renewable energy projects. By combining multiple renewable sources, projects can come alive.  
Wind is the perfect example of this variability. However, there's another abundant energy source that can pick up much of the slack: sunshine!
Thankfully, Saskatchewan has a lot of it.
In cooperation with Cowessess First Nation, SRC has directed the installation of 1,134 new solar panels at the Cowessess Renewable Energy Storage Facility — a high-level wind turbine and energy storage project originally commissioned in 2013. This expansion, or second phase, builds on the facility's initial success, one that started as a research project and is now creating economic impacts. With the solar addition, SRC will continue to evaluate the system's performance over the next year of operation and to validate its capabilities.
The facility marks the first known utility-scale, hybrid wind-solar-storage system in Canada, and one that paves the way for further research in renewable energy generation.
How the System Works
The existing facility is already equipped with an 800 kW Enercon wind turbine and a SAFT lithium-ion battery system capable of providing 400 kW for 90 minutes. The solar expansion – an addition of solar photovoltaic panels covering roughly one hectare of land – provides 340 kW in addition to the wind turbine and battery, as well as 56.7 kW to power the facility itself. 
In total, the facility produces 2,828 mWh per year, enough to supply power to 344 homes.
Because wind speeds are highly variable, power output can change from 600 kW to zero in less than five minutes. This is where the battery steps in by smoothing volatility. Electrical energy can be stored and used when the wind is not blowing or when the sun isn't shining.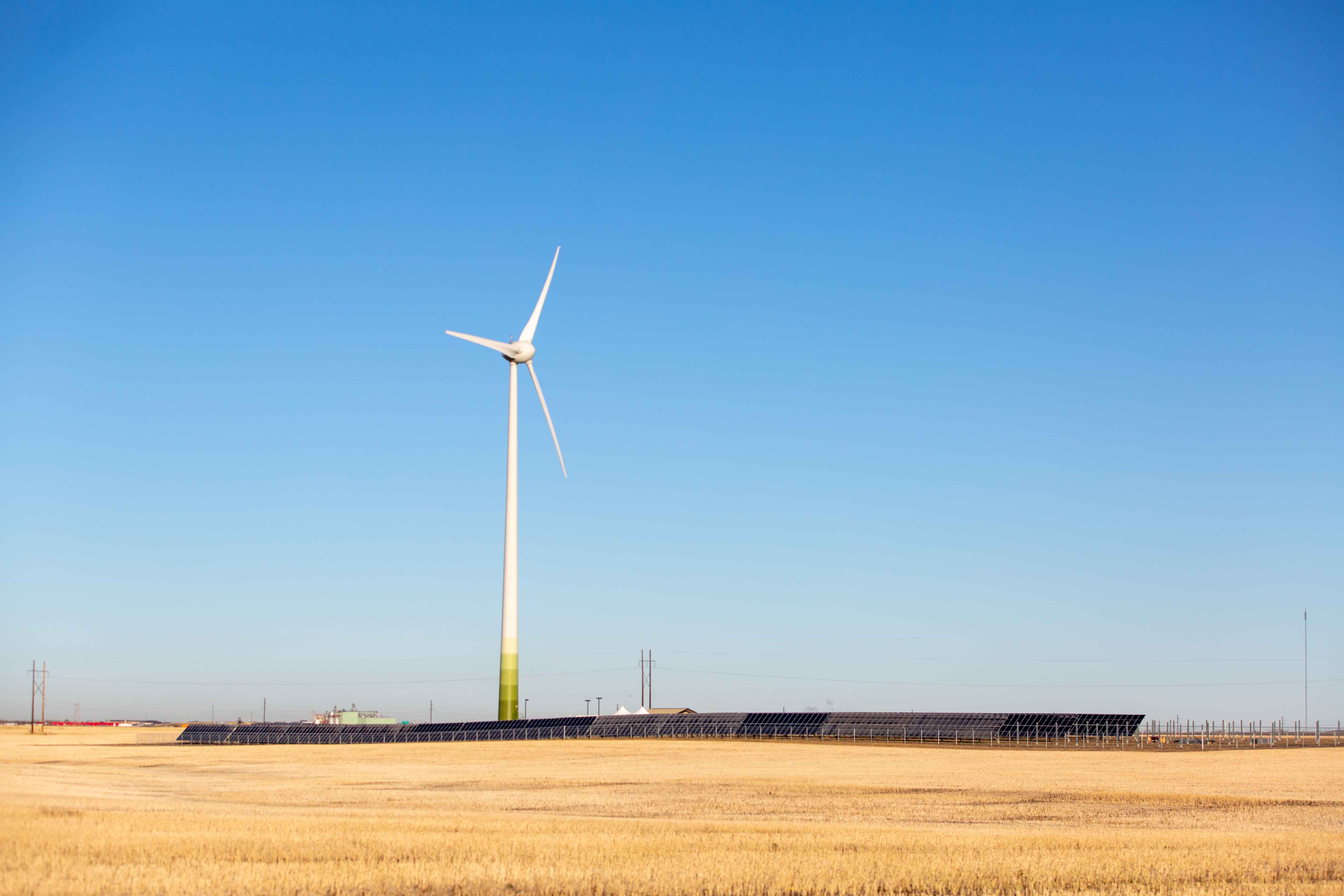 Why Combine Wind and Solar?
Wind and solar are popular examples of low carbon power generation technologies, and both perform well in Saskatchewan's environment. However, wind and solar alone cannot replace our carbon-based electrical generation system due to the variability of these energy sources. Wind and solar combined can complement each other, providing a more continuous and predictable energy supply.
Adding a battery to the mix takes it even further by limiting variability and allowing energy to be dispatched when needed. The hybrid system addresses the intermittency challenges of renewable generation and allows for greater displacement of carbon-based electrical generation.  
The Cowessess Renewable Energy Storage Facility was originally built with the option to connect additional power sources. With the addition of solar generation to the facility, it's expected that the economic return will continue to grow while demonstrating hybrid power and storage on a utility-scale rarely seen.
SRC continues to support facility operations as a technical advisor, training Cowessess employees on maintenance and gathering long-term operational data to monitor solar, turbine and battery efficiency. 
Beyond providing electricity to Saskatchewan homes, the facility also generates interest in renewables and their potential to provide clean, reliable energy for the future.