Saskatchewan is known for its expansive skies and quick shifts in weather. One can watch the ominous clouds of an approaching snowstorm only to see clear blue skies soon after, just in time for an outdoor hockey game.
Many Saskatchewan industries, such as agriculture, insurance, infrastructure and energy, are impacted by extreme weather events. Whether it's drought or flooding or forest fires, our changing climate is impacting the way we live and work. 
SRC's Climate Services team has spent decades observing and reporting on Saskatchewan's climate, particularly examining how hazardous events affect the economy, the environment and our society. By investigating how these events have changed over time, SRC can offer new strategies to help industry and government adapt.
SRC has developed and managed Climate Reference Stations (CRS) for almost 60 years. The first CRS was installed in Saskatoon, Sask., nearly six decades ago and is an invaluable resource for climate monitoring. A second station at the Conservation Learning Centre near Prince Albert, Sask., just celebrated its tenth year of operation.
"The climate reference stations are important for the province of Saskatchewan," says Virginia Wittrock, a climatologist at SRC who leads its Climate Services group.
"In addition to the standard air temperature, precipitation, and wind speed and direction information, the stations also measure other variables, including seven levels of soil temperature, three levels of soil moisture, sunshine hours, and global and diffuse radiation."
Why "climate reference station" and not "weather station?" Weather stations record information every hour or more often, and while SRC's CRSs could now be considered weather stations, as they are fully automated and do have hourly recordings, historically they only provided readings once per day. 
Wittrock and her team assist a variety of industries, in Canada and abroad, with climate and weather stations, some of which are installed in remote locations. These stations gather unique data tailored to clients' needs. 
Recently, SRC installed a small footprint weather station at Black Fox Farm and Distillery— located ten minutes southeast of Saskatoon. With acres of grain, fruit and flowers, Black Fox Farm and Distillery uses locally grown ingredients to create award-winning spirits.
"We call the station at Black Fox a "small footprint" station as all the instruments are located close together so as not to use too much valuable farmland," says Wittrock. "The instruments are the same calibre as SRC's high-end climate stations, so the data is comparable."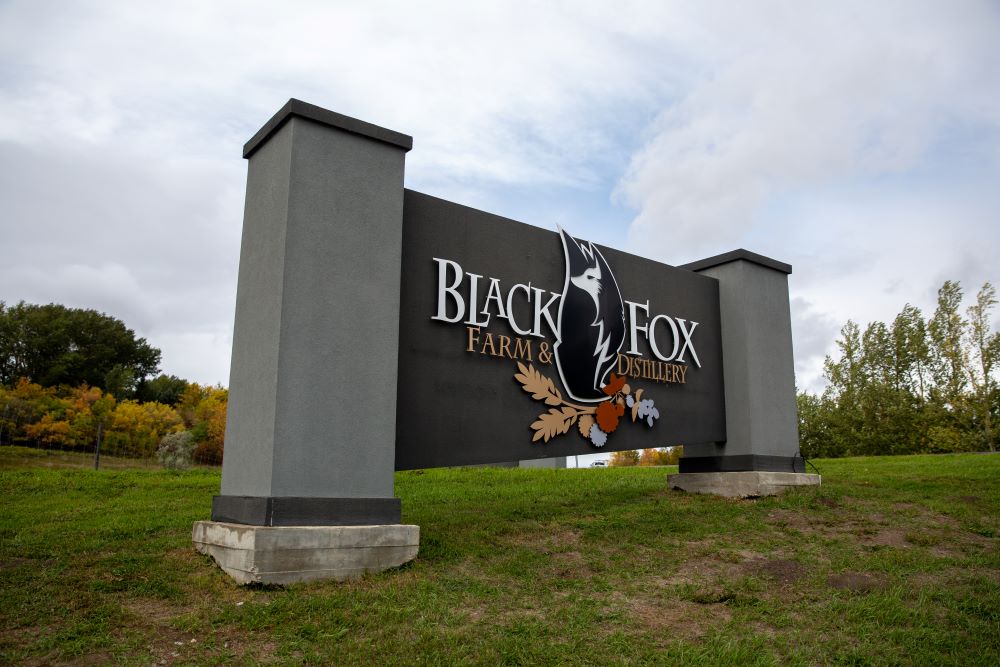 Setting up a weather station at Black Fox
The weather station at Black Fox Farm and Distillery offers a solution for owners John Cote and Barb Stefanyshyn-Cote, who need accurate weather data for their business. When their old weather station stopped working, John reached out to SRC to see if there was interest in setting up a small footprint station.
"We have experience in many types of weather stations, as SRC has established them at various places like mine sites, but we were excited to be able to install one at an agricultural location," says Wittrock.
The small but mighty weather station takes up minimal land surface while generating a lot of data—ideal for a farm that needs to maximize its land use. This weather station records information every hour and it measures air temperature, relative humidity, dew point, wind speed and direction, barometric pressure and global radiation for the full year, and liquid precipitation during the growing season. All this data is accessed remotely and is available in real-time.
The station is also off-grid, running on solar power and cell service, which allowed it to be installed and operated in a rural and remote location.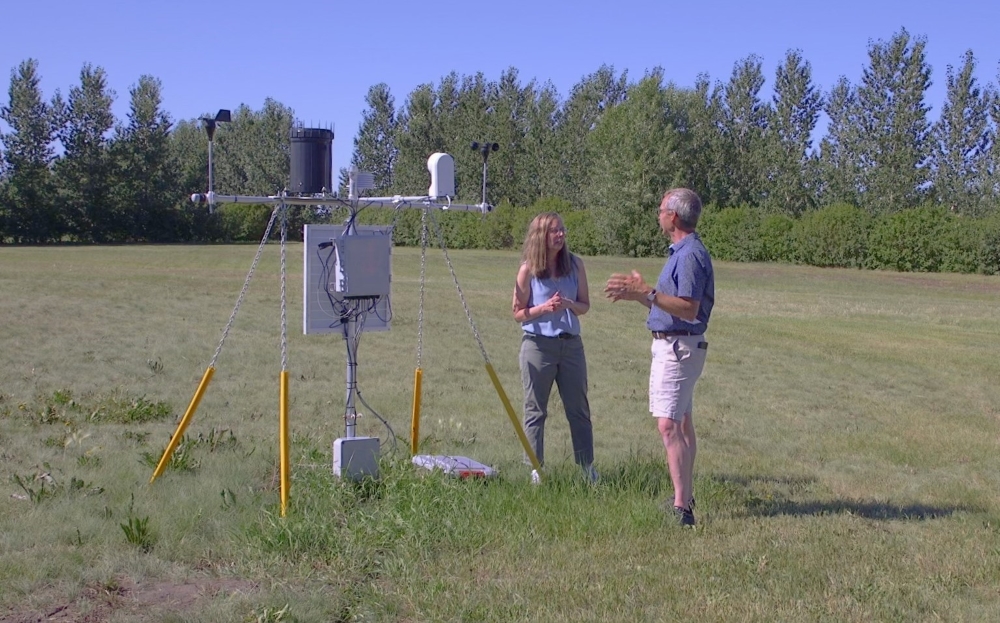 How weather data helps Black Fox plan for the future
Accurate weather data is important to Black Fox Farm and Distillery.
"There's an old saying in business management—you can't control what you don't measure," says John Cote. "In our business, weather impacts everything from the crops we grow to the way we store our spirits outside."
Black Fox Farm and Distillery age their whisky outside on the prairie, a unique process that allows the spirits to take on a distinctive Saskatchewan taste. This process is dependent on the environment.
Black Fox has access to all the data collected at this site and are using it to manage their on-farm decisions. SRC is also using the data to track weather and climate patterns. 
In about five years, the Black Fox weather station will have gathered a data set that will allow SRC to analyze weather trends and patterns, as well as compare it to the CRS in Saskatoon, helping monitor the farm's vulnerability to weather and climate events. 
"Eventually we'll be able to sit down with the data and be able to say here, this is the effect that the weather is having on what we're doing and how can we mitigate it or how we can use it to our advantage," says Cote. "So, it's all about where the business is going in the future. And if you don't start now, you'll regret it later."
SRC's station and monitoring services allow Cote to go about his day without having to think about gathering data or checking on the function of the station.
"What do I have to do in order to make it work? Nothing, that's the beauty of it," says Cote. "Having a group like SRC in the province and having access to really smart people—they're a terrific resource."
Climate data at your fingertips
"Technology has changed a lot since I started with SRC," says Wittrock. 
Wittrock started her career as a technician conducting manual observations onsite at SRC's CRS in Saskatoon. 
For decades, climate observations were 95 per cent manual and needed to be completed once a day by visiting the CRS. Wittrock says that someone had to be onsite daily at nine a.m. to collect the data. 
"Whether it was minus 40 or plus 40, we had to go to the Saskatoon CRS every day, in all types of weather conditions, to get the readings," says Wittrock. 
Climate monitoring has evolved a lot since those days.
"Data entry has changed from pencil and paper to massive data spreadsheets," says Wittrock. "I've gone from calculating the first 30-year normal for SRC's station in Saskatoon by hand to utilizing massive spreadsheets and comparing trends with more ease."
SRC's Saskatoon CRS successfully transitioned to fully automated in 2021. Its second CRS, near Prince Albert, SK, was commissioned in 2011 and is designed to be fully automated and off-grid. 
Wittrock says that the station at Black Fox Farm and Distillery is still in its infancy. Once established, the Black Fox station will provide SRC with data unique to the farm—allowing the Climate Services team to better understand weather trends in that area of Saskatchewan. This added knowledge will help develop strategies that better assist Saskatchewan's agriculture industry.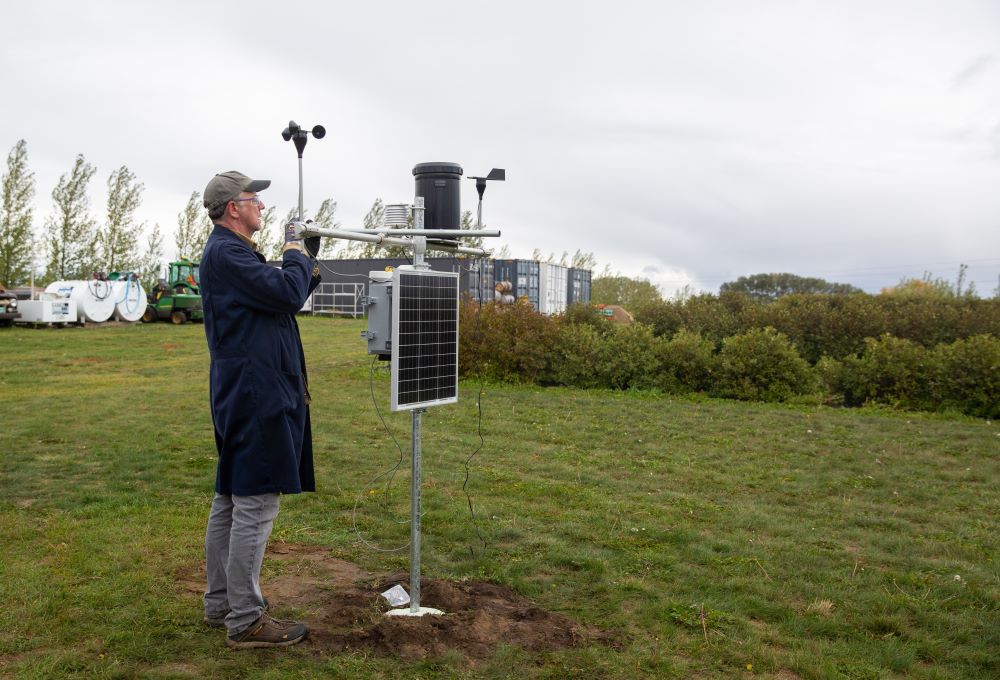 Future Forward
Climatology is evolving to keep up with changing climate patterns and shifting weather hazards. The data generated by the Climate Reference Stations allows SRC to work with industry to mitigate vulnerabilities.
Wittrock says that Saskatchewan has seen a decrease in the number of minus 40-degree Celsius days in the winter and that there has been an increase in the minimum temperatures during the summer months. 
The lack of cold days has a direct impact on the insect population in Saskatchewan, Wittrock explains. More insects are thriving—warmer temperatures mean more life cycles—and different species are migrating north. Changes like this in our ecosystem pose real challenges for the agriculture industry.
Adaptation is key, and Wittrock says that people can adapt to slow changes without being aware of them. Extreme weather events, on the other hand, make people sit up and take notice.
"Clients focus on extreme events as that's what impacts them the most," says Wittrock. These extreme events include heavy rain or snowfall, prolonged hot weather, freezing rain and droughts.
Tracking small changes in weather patterns and monitoring extreme weather events gives SRC the ability to help clients develop new approaches. With over half a century of experience and expertise in climate station installation, maintenance and monitoring, SRC has the skills and knowledge to help industry, communities and government make more informed decisions when dealing with Saskatchewan's increasingly volatile weather and climatic conditions.
Subscribe to our mailing list to receive SRC's monthly weather summaries from the Saskatoon and Conservation Learning Centre climate stations.