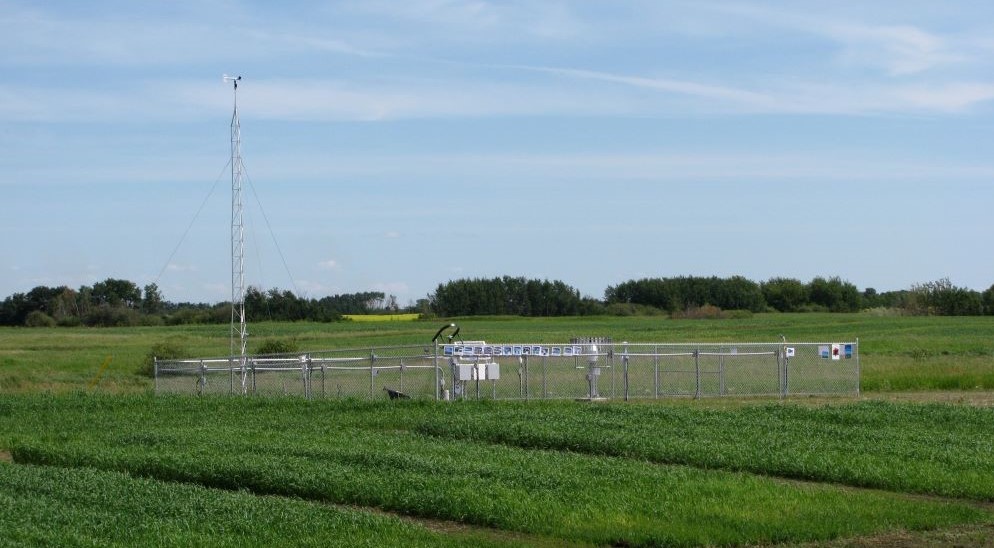 What is climate? According to Virginia Wittrock, Research Scientist at the Saskatchewan Research Council, climate is defined as "what we expect the weather to be, based on past experience or information." 
Climate stations and weather stations are the same thing but with two different jobs. Data from weather stations tell us what the weather is right now. Climate stations use the data to allow us to track trends and to answer questions such as, "How much rain did we get during the summer months for the last 10 years?" 
SRC has two high-caliber climate reference stations. They were established to track Saskatchewan's evolving climate over the long term. Our two sites collect a variety of data including standard temperature and precipitation, but also lesser measured but equally important information like bright sunshine, global radiation, soil moisture, snow depth and others on an hourly and daily basis. 
Data must be accurately documented, quality checked and described. This information assists in realizing new technological opportunities and social changes in many industries, such as agriculture, forestry, water and resource management, as well as health, transportation and many more.  
Setting up the New Site 
In the early 1960s, SRC established its first principal climatological station in Saskatoon. The Climate Reference Station (CRS) at the Conservation Learning Centre (CLC) was established in the summer of 2011 and became fully operational in January 2012. 
The two sites have the same instruments and observations but there are some differences. The CLC station, located about 20-km southeast of Prince Albert, Sask., is run completely off-grid, meaning power is obtained through solar radiation and the data communication is carried out through cell service. 
Finding a home for a new weather station can be difficult as it needs to incorporate both the landowners' requirements plus the landscape. For example, if there are a lot of sloughs in the region, determining where to place equipment is an important factor. 
The current site at the Conservation Learning Centre was a viable location because the water levels in a distant slough were very low. After the site was set up, there were a couple of years with high precipitation and at one point, the water in the once distant slough rose quite high and began encroaching on the established CRS. This was a concern as the 300-cm soil temperature sensors may have been sitting in saturated soil, which wasn't ideal for proper equipment functionality. However, the equipment continued to run properly, and the site has continued to function correctly at the Conservation Learning Centre. 
Standing Out
As Wittrock is based out of SRC's Saskatoon office, the Climate Reference Station at the CLC needed to be fully automated. During this process, the last instrument to automate was the diffuse ring for the diffuse radiation instrument. Diffuse radiation is also known as the radiation from the sun that occurs in the shade, similar to that of a cloudy day or sitting in the shade.  
Wittrock knew with Saskatchewan's extreme climate that a new design was needed. SRC engineers designed the automated diffuse ring so it would operate in below -40 C and above 40 C.  
Also, based on a client's need, we designed a program that sends out email alerts from the CLC when there are extreme rainfall events. This has many potential applications, such as assisting with an early warning system when there's potential for flooding in the region in real time. 
Using the Data
Many industries, governments and organizations in Saskatchewan rely on the data obtained from our climate stations, such as the agricultural community, mining and energy sectors, the Water Security Agency, local government and consulting firms, as well as researchers and students. Provincial agencies have used the information from our CRS at the CLC to assist in their fire-potential codes. 
The agricultural sector uses the information to assist with cropping practices and insect and weed management. The insurance sector has used the information to assist with knowing if there was bright sunshine at a particular time of a vehicle accident.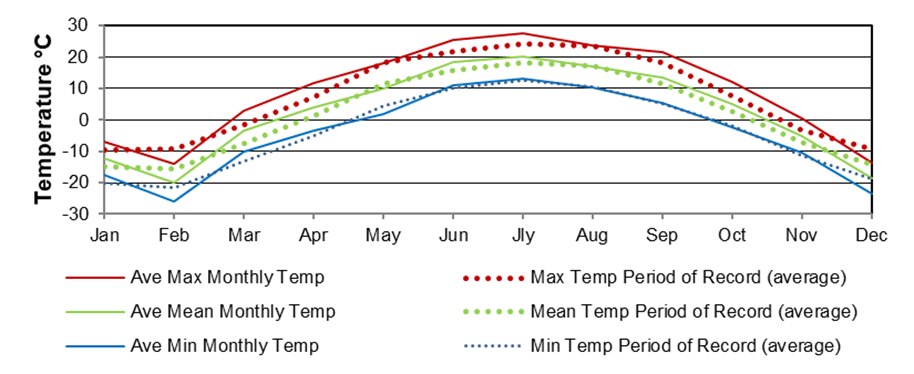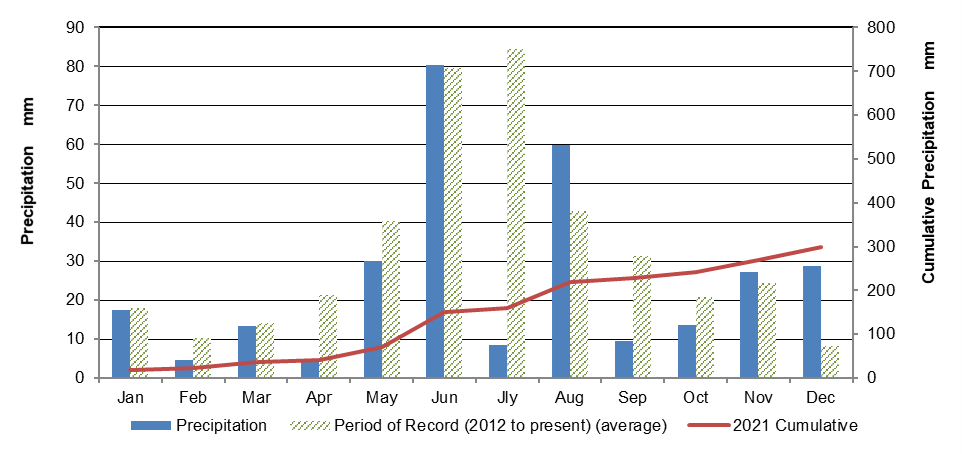 Celebrating 10 Years and Beyond
Climate data is important to not only understand the current conditions, but also to track historic climatic changes. 
Passing its 10-year milestone, our climate station at CLC is now considered a good site by industry standards and allows SRC to report 10-year averages in its annual reporting. With this important data piece, climatologists can create trends and compare current year events to what has occurred in the past.
For example, as shown in Figure 1 and 2, certain months (July) in 2021 were exceptionally dry and hot when compared to the 10-year average. While a climate station needs a minimum of 30 years of data to start reporting 'normals', our Saskatoon Climate Reference Station is sitting at the 58-year mark.
Nature keeps surprising us with an assortment of weather and climate events, but our CRS at the CLC will be around in the coming years to collect important weather and climate data as it occurs. The road to collecting historical climate data may be long, but our station at the CLC is well on its way.
If you would like to follow along on this journey tracking the changing climate, you can find the data at SRC's website or if you want to subscribe to monthly reports, you can sign up here. 
This post was written by former SRC employee Erin Shawaga.