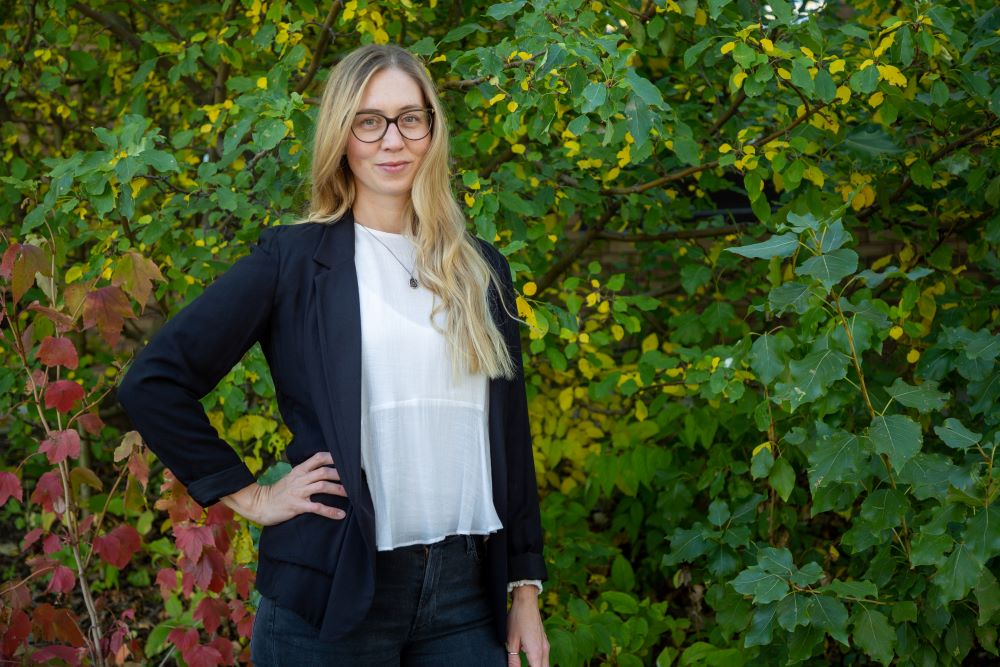 Skye Muirhead is the Operations Lead for SRC's Environmental Remediation team. This group of scientists, engineers and business professionals is responsible for Project CLEANS (Cleanup of Abandoned Northern Sites)—a multi-year effort focused on remediating 37 abandoned uranium mine and mill sites in northern Saskatchewan. 
Since 2020, Muirhead has taken on a leadership role, using her expertise and experience to help SRC's talented team tackle this massive project.
The project includes the Gunnar Mine and Mill Site, which is located on the north shore of Lake Athabasca, and the Lorado Mill Site, which was remediated in 2016 and is currently in the environmental monitoring phase. 
Muirhead has been working on Project CLEANS for nine years, joining the team as a project coordinator for the Lorado Mill Site in 2013. As the Lorado Mill Site transitioned into the monitoring and maintenance phase, Muirhead moved into the role of a project manager for the Gunnar Mine and Mill Site. 
"Because of the complexity and size of Gunnar, we split it into two projects within SRC," says Muirhead. "The first project is the Gunnar Tailings remediation project." The second phase involves other aspects of work at the site, such as covering waste rock piles, completing the hazardous waste landfill and capping mine openings.
At the height of its operations in the 1950s and 60s, Gunnar was operated by a now defunct mining company and generated 4.4 million tonnes of tailings. 
"One of the by-products of processed uranium is tailings, which is essentially a radioactive liquid slurry that gets pumped out as waste, and dries to look like sand," says Muirhead. "They disposed of the tailings by pumping them into a nearby lake that was over the hill [from the mill] and created about eighty acres of unconfined radioactive tailings."
After the first lakebed filled up, the tailings began to flow downhill into the next lake. Eventually, the tailings made their way into Langley Bay, a water system that is connected directly to Lake Athabasca. 
The site was shut down in 1964 with little to no decommissioning, leaving environmental hazards in place until nearly 50 years later, when SRC was contracted by the Saskatchewan and Canadian governments to clean up the sites.
The tailings are a major environmental concern for the Athabasca Basin region and pose a significant health risk for communities and wildlife in the area. SRC aims to mitigate these risks as it works to remediate the site.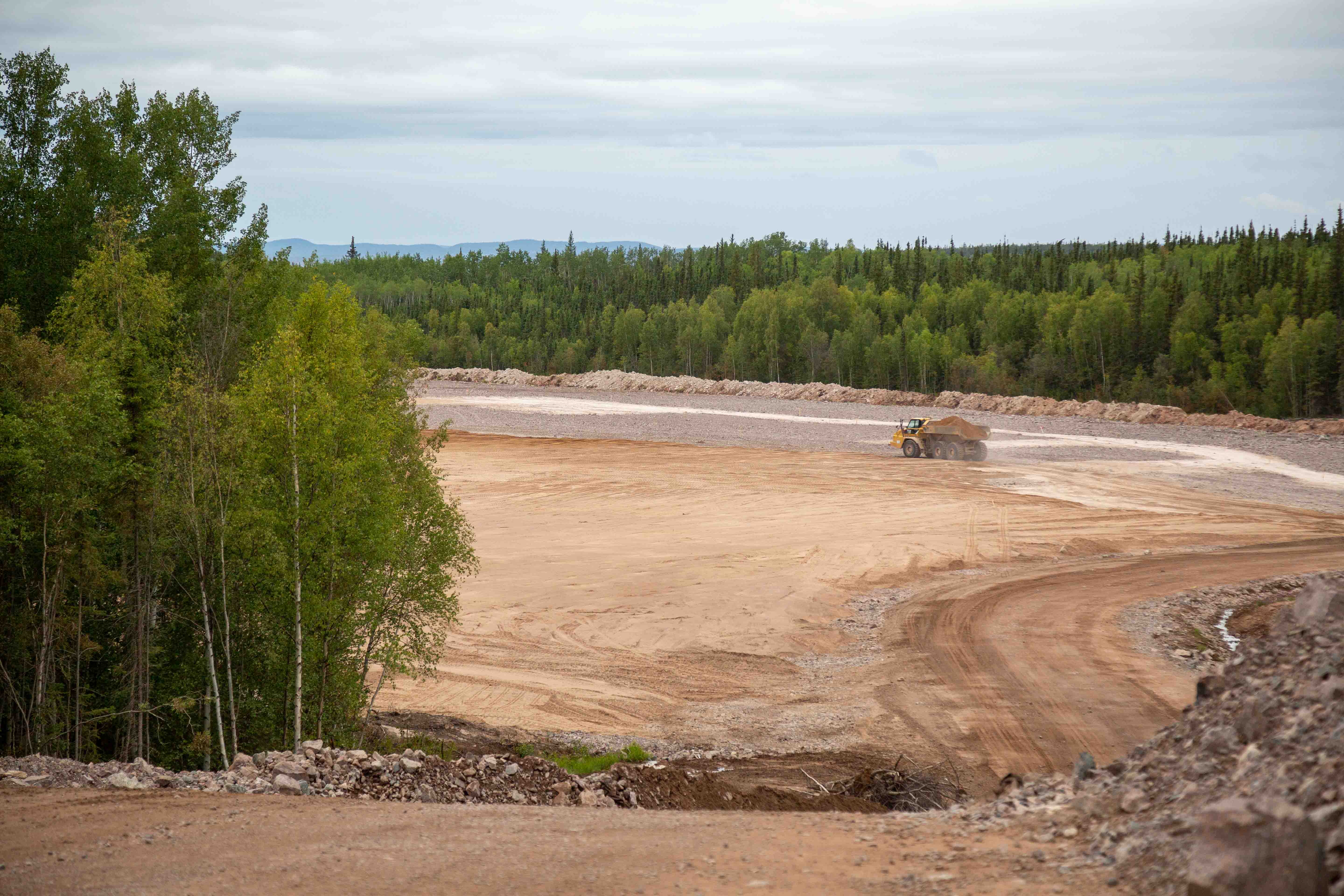 Pursuing a passion in environmental science
Childhood camping trips cultivated Muirhead's love of the outdoors. When she reached high school, Muirhead jumped at the opportunity to enroll in Saskatoon's outdoor school program.
"I knew from grade 11 on that I wanted to do something that would improve the environment," says Muirhead.
She completed her undergraduate degree in environmental sciences (with a minor in soil science) at the University of Saskatchewan (U of S). After two years of fieldwork as a junior environmental scientist, Muirhead decided to go back to school for her master's.
In her undergrad, Muirhead thought about becoming an environmental lawyer but later decided to attend the School of Environmental Sustainability at the U of S. Her thesis focused on environmental impact studies (EIS) and how they are conducted for offshore oil and gas projects in the Beaufort Sea.
"My master's thesis looked at expanding the EIS to a regional and strategic approach," says Muirhead.
For her work, Muirhead interviewed non-profit organizations, government, industry and Indigenous groups to get their perspectives on the assessments. This experience of engaging with diverse groups and community members has been beneficial for her role with Project CLEANS.
Muirhead has found that communicating with individuals who are directly impacted by environmental concerns and facilitating their involvement with the remediation process is critical to the work at SRC.
"It's a priority of SRC and the Ministry of Energy and Resources to properly engage with and provide opportunities for communities within the Athabasca Basin," says Muirhead.
To achieve this, SRC has conducted community tours to share project progress and receive feedback on the remediation process. Some other initiatives have included hiring local workers for the building phase of the projects and involving community elders and youth in seed selection for vegetation at the Lorado Mill Site.
Safety culture and community at SRC
SRC's Environmental Remediation team is unique—a hub of specialized expertise with spokes that radiate out across the Council. From overseeing project designs to conducting on-site fieldwork, this tight-knit team does it all.
Muirhead says that her team feels like a family.
"I think it's because there are only so many of us and we have this incredible task on our shoulders," says Muirhead. "We're really invested in the outcome."
The team frequently travels to northern Saskatchewan and visits communities within the Athabasca Basin, speaking with residents or conducting fieldwork at the remediation sites.
Muirhead believes the safety culture at SRC is key to the success of the project. The remote location, rugged terrain and nature of the remediation work require safety procedures that support all team members.
"I know that my coworkers care about me and my safety," says Muirhead. "I think it's why we feel really close because we've all had to develop [safety protocols] together and it's essential to make sure we all come home safe." 
SRC embraces a sustainable approach to remediation
From transporting equipment and people to accessing clean soil as building material, remediation efforts leave a mark on the environment. To minimize the environmental impact, SRC conducts sustainability assessments to determine the most efficient way to do the work.
Muirhead says that she had never heard of a sustainable remediation approach before joining SRC.
"SRC considers the bigger picture by thinking holistically and trying to improve the process as much as possible," Muirhead says.