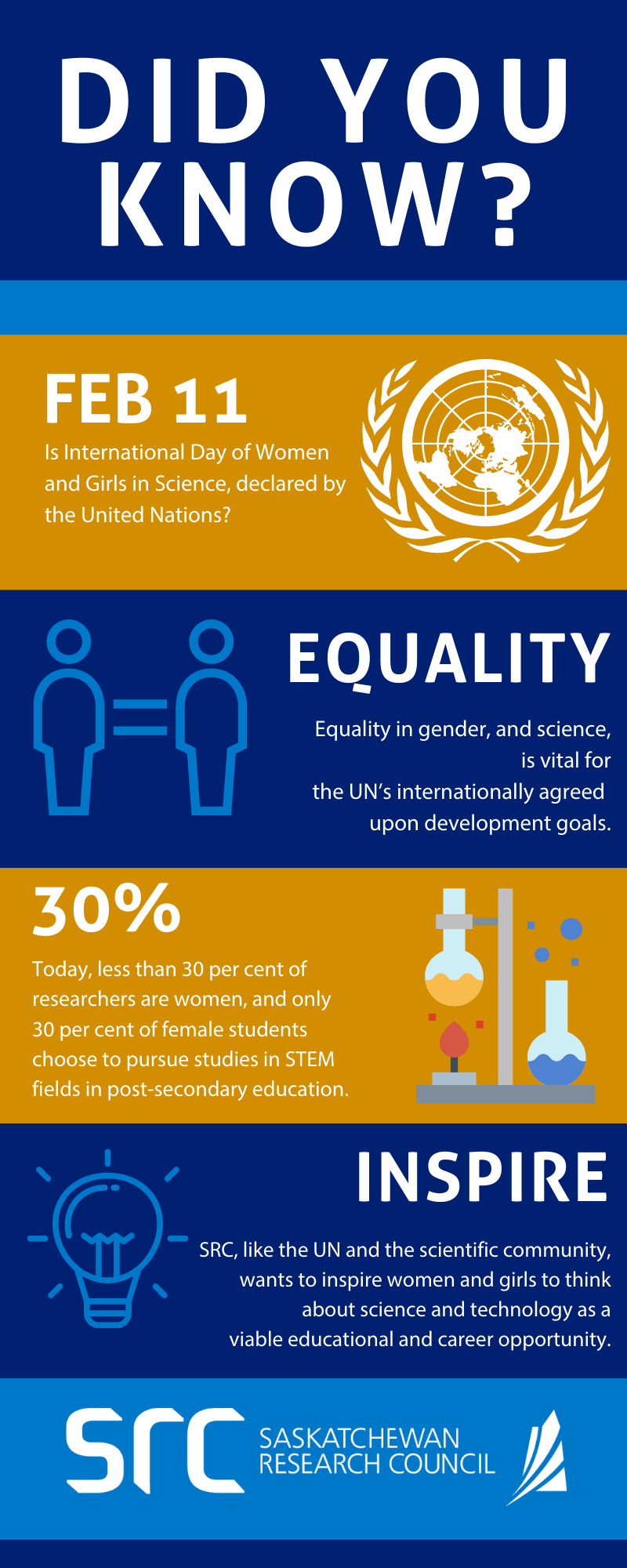 Welcome to part two of our feature on International Day of Women and Girls in Science, highlighting just some of women at SRC working in science, technology, engineering and math (STEM). 
If you missed part one, make sure to check out the first post to read about all the amazing women who are making a difference in industry, our communities and the world.
Say Hello...
Skye Muirhead, Operations Lead, Environmental Remediation
Skye Muirhead leads a diverse team that is remediating 37 abandoned uranium mine and mill sites in northern Saskatchewan, collectively known as Project CLEANS. These sites present many challenges, including environmentally impacted areas, hazardous materials, and mine openings—all at remote locations in the north. 
She joined the Project CLEANS team at SRC in 2013, working on the remediation of the former Lorado Mill and after it was completed, shifted to the Gunnar Mine and Mill Site. Because of its size and complexity, Gunnar is split into two projects: covering the tailings area and remediating other aspects. "This includes construction of an onsite landfill, grading and covering the substantial radioactive waste rock piles, and mitigating other impacted areas," says Muirhead.  
Her love of the environment got its start with family trips around Banff, Alberta. "We would spend a few weeks camping, hiking, and exploring. This instilled a love of the outdoors in me." An outdoor high school program introduced her to environmentalism and environmental science, and she went on to pursue environmental science at the University of Saskatchewan (U of S).
"The coolest thing about my education and work experience are the travel opportunities. I spent my 25th birthday in Inuvik doing research for my master's thesis."
"Because of a captivating soil science professor, I ended up taking soil science as my minor, and graduated with my Bachelor of Science," she says. Muirhead later went on to graduate studies at the School of Environment and Sustainability at the U of S where she did her thesis on offshore oil and gas in the Beaufort Sea. 
She has had some great experiences due to her career in STEM. "The coolest thing about my education and work experience are the travel opportunities. I spent my 25th birthday in Inuvik doing research for my master's thesis."
Muirhead is also proud of the team she works with. "Because of the remote nature of the work and the inherent risks involved, we have formed a tight group who is proactive with safety and takes care of each other," she says. "We all love working outdoors and enjoy 'geeking' out over new information or ideas."
Lucinda Wood, Business Development Director, Mining and Energy/Environment and Biotech
Lucinda Wood started her career working in the South African mining industry. She is a chemical engineer with a background in gold mining. "I did get my ears wet on shift work opening valves and sharing boiled sheep's head dinners with shift workers as the only woman in the plant," she says. 
After some time in mining, she turned her attention to the social side of mining and switched to working in rural development in Africa.  
Wood won a national award from the South African Institute of Chemical Engineers for a university project.
In 2004, Wood left South Africa for Argentina. She worked as a process engineer, where she was often involved in training and capacity-building of engineers who were largely oil and gas focused. Wood became an independent consultant and worked on social licensing issues in mine closure. "As my interest in the intersection of technology, environment and social issues grew, I joined the Argentinian Federal Mining Secretary as an Environmental Director," she says. It was there Wood was introduced to SRC, and in 2018, she accepted a position in business development for the mining industry. 
Wood has always had an interest in science. Her father is a scientist, and from childhood she was growing crystals with him in the microwave and collecting and classifying seashells. Wood was also interested in people. "My thesis was on a water treatment application for rural communities off the grid. I would say I have always been interested in technology and its role in society as a whole."
During her career, Wood has enjoyed some amazing experiences. She won a national award from the South African Institute of Chemical Engineers for a university project and visited the Hadron Collider at CERN.
Val Commanda, Metallurgical Technologist, Mineral Processing 
Val Commanda joined SRC four years ago as a Metallurgical Technologist in Mineral Processing. "I'm a jack-of-all-trades, but my main priority is supporting the Mineral Processing team," she says. "I assist with performing testwork, ordering chemicals or equipment as required, or researching and problem solving depending on what is needed to complete the project." She is also the Safety and Quality Champion for the team.
Commanda has a diverse education and work background, starting with three (three!) college diplomas from Cambrian College in Sudbury, Ontario.
Her First Nation is located about an hour from Sudbury, so studying close to home was always attractive. She graduated first as a Chemical Engineering Technician, then worked as a Metallurgical Technician in northern Saskatchewan.
After four years, she returned to school and studied as a Metallurgical Technician. Commanda then worked in an assay lab at a gold mine in northern Ontario. Her career took a detour when her First Nation began a joint venture with an Italian fur dressing company. "I was hired as the plant chemist, an interesting but demanding line of work," she says. Her career switched again a year later: Commanda found herself working for her community in the health department and getting her third diploma. Today, she is back where she started, working in metallurgy. 
Commanda has always had an interest in the sciences from the time she was a child, and she is also happy to see more Indigenous people starting careers in STEM. "During my years of study, I only ran into one other indigenous person in my department."
Her proudest moments have come from her education, and her work at SRC. "My parents and siblings were able to see me presented with the Governor General's Academic medal," she says. "I'm the only one to graduate high school in my family, so it was a proud moment for all of us. My parents always encouraged education and where it could take us in life, even though it was a difficult time for them growing up."
At SRC, Commanda's proudest moment came when she was presented with the Everyday Role Model award for safety. "I was honored to be recognized for my efforts towards safety that year."
Erica Emery, Senior Research Engineer, Process Development
Since joining SRC in 2008, Erica Emery loves how diverse the work is. "Because we deal with such a variety of projects, I've worked on recovering oil from oil sands, converting straw into ethanol and other renewable fuels, and recovering minerals from brine," says Emery. "And lately, alternative power production and reducing methane emissions have been areas of focus for me."
Emery earned her B.Sc and M.Sc  in Chemical Engineering from the University of Saskatchewan and was fortunate to work at both the Co-op Refinery and the Azko Nobel chemical plant prior to joining SRC. She has always loved math and science, so engineering was a natural fit when it was time to attend university. 
She has had many great moments in her career in STEM, and a highlight was working as a mentor in SRC's Aboriginal Mentorship Program. "I was lucky to get to give back to the community by mentoring an engineering student and I learned a lot about Indigenous culture at the same time."