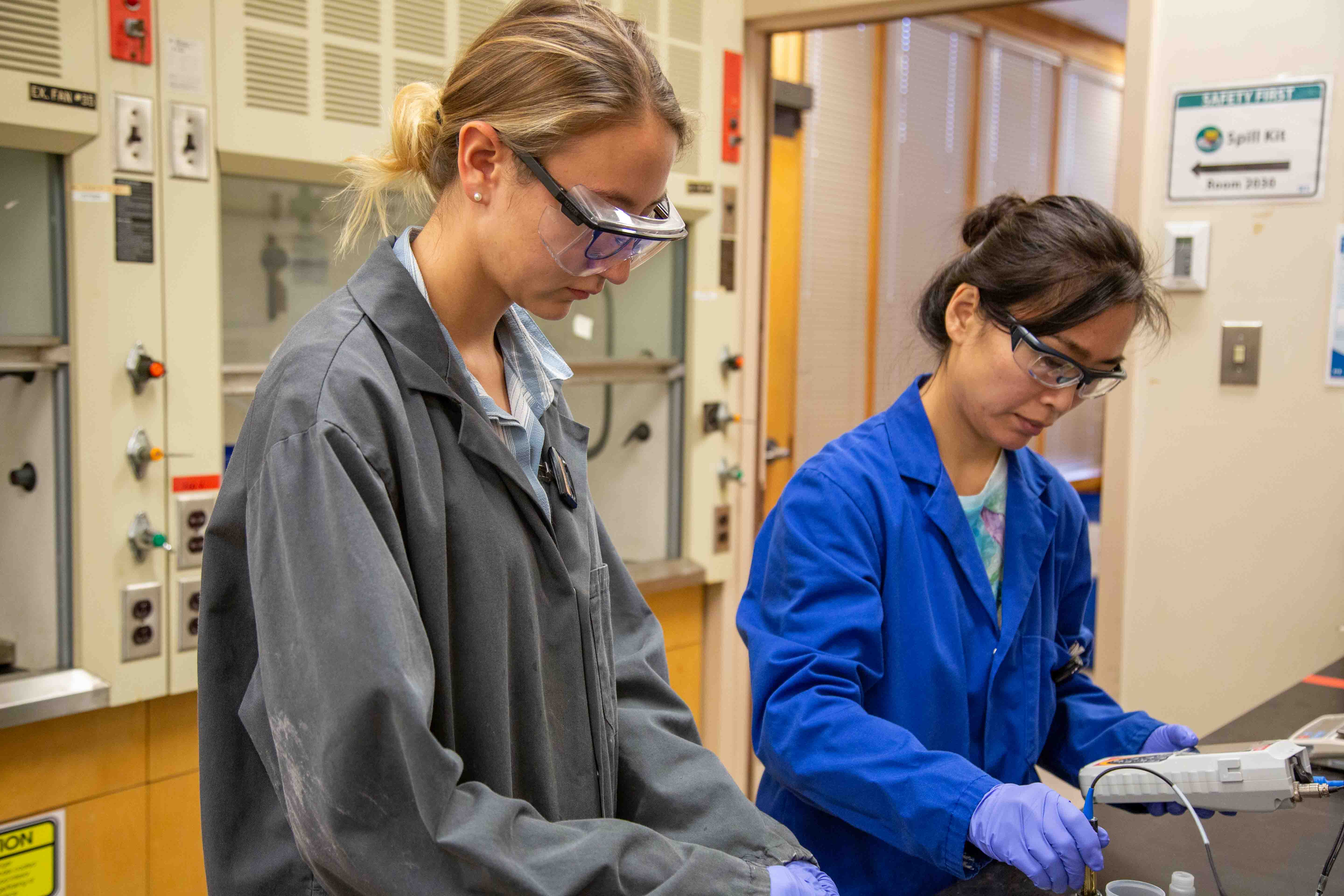 Did you know that February 11 is International Day of Women and Girls in Science, declared by the United Nations?
Equality in gender, and science, is vital for the UN's internationally agreed upon development goals. While much effort has been made to engage women and girls in science since International Day of Women and Girls in Science was developed fifteen years ago, there is still work to be done.
According to the United Nations, today, less than 30 per cent of researchers are women, and only 30 per cent of female students choose to pursue studies in science, technology, engineering and math (STEM) fields in post-secondary education.
SRC, like the UN and the scientific community, wants to inspire women and girls to think about science and technology as a viable educational and career opportunity.
In this two-part series, we're featuring some of the women within our offices and labs doing remarkable things in STEM that benefit industry, our communities and the world.
Say Hello…
Gay Renouf, Senior Research Scientist, Mining & Energy
Gay Renouf is a senior research scientist and a 29-year veteran at SRC. She's worked in many technical areas, but mostly in oil production.
Her path began with a love of math as a child—she loved to play with numbers in her head. Renouf would go onto PhD studies in chemistry at the University of Saskatchewan. "I dropped out to move to Regina and started with SRC as a technologist working in emulsions, doing a lot of grunt work," says Renouf. Eventually, she became a senior scientist, all while working part-time so that she could spend as much time as possible with her growing children.
Renouf was named one of 10 innovators in 2011 in New Technology Magazine.
Her "coolest career moment" came when she was one of the first scientists to apply "big data" to oil production, specifically waterflooding. "In 2005, when we started investigating heavy oil waterflooding, we didn't understand why some floods yielded 5% recovery and some over 20%.
"I gathered data from 200 waterfloods and used multivariate analysis to correlate success with different operating procedures. Math again!" (Multivariate analysis is a group of statistical techniques used for analysis of data that contain more than one variable.) For this work, Renouf was named one of 10 innovators in 2011 in New Technology Magazine.
Lucia Xia, Metallurgist, Mining and Energy
Lucia Xia joined SRC in 2018, working in Mineral Processing. Before that, she spent seven years at the University of Western Ontario as a research scientist and post-doctoral researcher. 
Xia is a Metallurgist with SRC and holds a PhD in Chemical Engineering. She loves working in research and development and has spent her career solving problems and finding solutions. "I am enthusiastic about research," says Xia. "The technology we work on helps our clients gain more valuable metals, produce less waste and reduce energy consumption. Every piece of positive feedback from our clients makes me feel good. And I am thankful that I have been working with such a good team here at SRC."
In 2020, Xia became the Technical Chair for the Manitoba/Saskatchewan Regional Canadian Mineral Processors Conference—a highlight in an already stellar career. 
Melanie Bartzen, Intermediate Technologist, Pipe Flow Technology Centre™
Melanie Bartzen started her career with a diploma in Chemical Technology from SIAST (now known as Saskatchewan Polytechnic). Her first job was at a uranium mine and mill at McLean Lake in northern Saskatchewan working in the metallurgical lab. "I saw the processes that went on in the mill, met lots of knowledgeable people, and gained some valuable experience in the lab."
She joined SRC's Pipe Flow Technology Centre™ in 2007 and has been there ever since. "Pipe Flow is an industrial place to work, which I really enjoy as we get to work on a variety of projects. Some can be as small as lab scale projects or as big as test pilot projects for big oil sand companies."
"The more tests I do, the more knowledgeable I become and the more intrigued I am to see if I can find out more on how to help improve processes."
One of her favourite moments at SRC came when a client called her expert. 
"I was caught a little off guard as a technician because, I usually didn't deal directly with many clients," says Bartzen. "But because I had conducted many of these bitumen froth tests, he said I should be considered an expert. He noted that I knew how to describe the different kinds of froths and knew what I was looking at without knowing the origins of the ore.
"Before this, I never really thought I was an expert. However, the more tests I do, the more knowledgeable I become and the more intrigued I am to see if I can find out more on how to help improve processes. I guess that is the 'science interest' in me—finding out the how and why things do what they do."
This post was written by Brook Thalgott, a former SRC employee.