This article was first published by Kipp & Zonen, a supporter of SRC's climate stations. Each station has a Kipp & Zonen Sunshine Duration Sensor.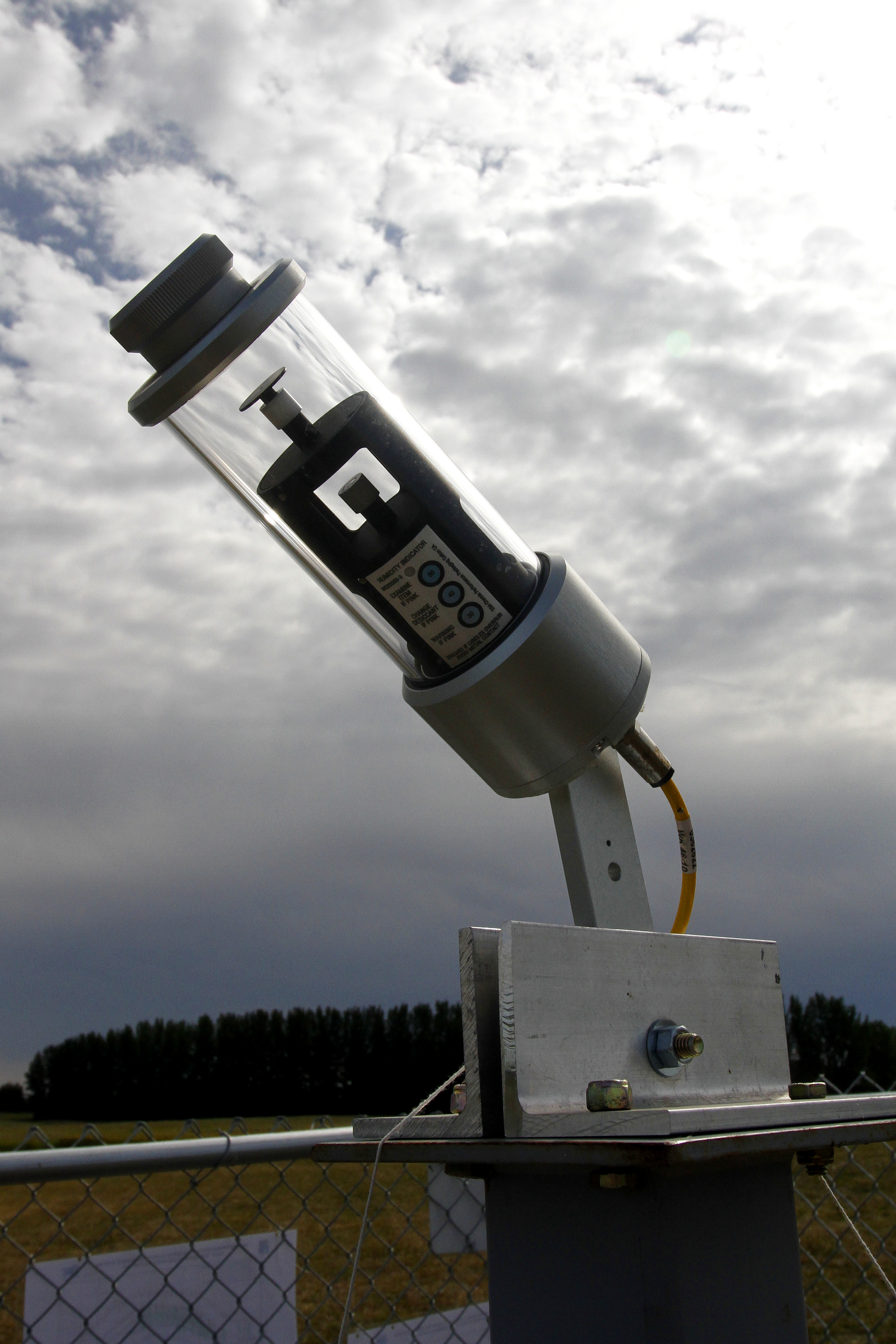 Saskatchewan, despite its long winters (or what feels like winters that won't end) is the sunniest province in Canada. The ability to measure and quantify that fact is important for industries in which weather plays a factor in planning and revenue. At our Climate Reference Stations, we use a sunshine duration sensor to help document Saskatchewan's brightest attribute.
Knowing when the sun is shining is valuable data used by various industries and sectors, including research, construction, agriculture, tourism, insurance and the legal communities. An example of insurance and legal interest is automotive accidents, which sometimes occur when the sun is shining squarely into the driver's eyes, resulting in an inability to see properly. Knowing if the sun was shining at that particular moment can be critical if there is an insurance claim or a legal matter to be settled.
A key parameter in tracking climate change is knowing the long-term trend of how the amount of sunshine hours is increasing or decreasing. Objectively measuring the number of sunshine hours per day, season and year (without the use of models) is critical to monitoring this important climate variable.
Climate Reference Stations in Saskatchewan
Meteorological observations were first taken at or near Saskatoon by the Royal Northwest Mounted Police in 1889 with only temperature recorded. In 1916, a climatological station was established by the University of Saskatchewan's Physics Department. SRC took over the program in 1963. Bright sunshine is one of twenty climate variables collected. We also record air temperature (maximum and minimum 2 levels), precipitation (intensity and amount), wind (speed and direction), solar radiation (global and diffuse), relative humidity, barometric pressure, soil temperature (7 levels) and snow depth.
In 2010 and 2011, we expanded our Climate Reference Station network to central Saskatchewan, setting up a station at the Conservation Learning Centre (CLC) near Prince Albert. The Saskatoon CRS began recording bright sunshine hours in 1966, and in the last 48 years has recorded some interesting variability and trends. It's possible for Saskatoon to receive up to 4,490.6 hours of bright sunshine in a year, but the average was 2,264 hours over the years from 1991 to 2010.
Tracking the Trends
The 1990s had the lowest number of bright sunshine hours for the period of record. The lowest year was 1992, recording 43.8 per cent of the actual to possible hours of bright sunshine. This drop was due to a downward trend during the summer season, which includes June, July and August. Since the 1990s, the trend is shifting to more annual bright sunshine, increasing further between 2006 and 2013. The greatest number of sunshine hours was measured in 2013 with 2,695.6 hours.
Due to the northern latitude, the number of sunshine hours fluctuates markedly depending on the season. Spring, summer and fall, while variable, don't have a strong upwards or downwards trend. The summer downward trend could have been due to various reasons, including three major volcanic eruptions around the globe. It's also projected that the amount of cloud cover will increase with climate change.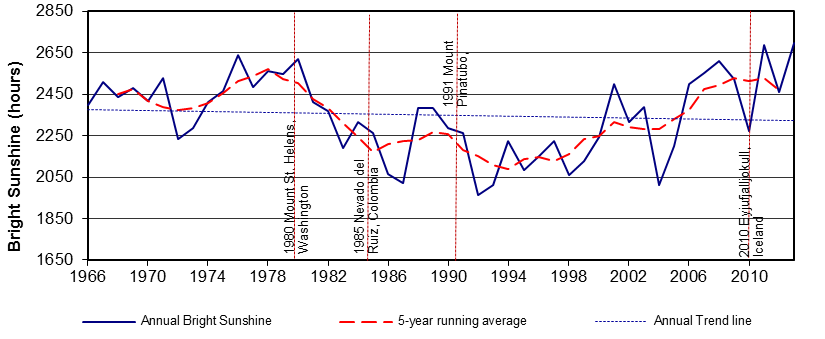 SRC's Climate Reference Stations provide a record of observed meteorological elements, so that Saskatoon and central Saskatchewan's climate areas and their changes can be accurately documented and described. The need for climatological data is growing as a result of social and environmental issues in which climate plays a dominant role.
Climatological information assists in realizing new technological opportunities and social changes. Local climate data is the basis for effective standards, planning controls and other regulations that ensure buildings and structures can withstand specific hazards and can provide safety. We may not be able to control the weather, but by tracking trends, we can be better prepared for its effects.
Learn more about our subscribe to data or become a supporter.