Watch a webinar presented by Petro Naktunyy on SRC's stage-gated approach.
It's okay to fail in technology development. But it's important to do it quickly and move on. 
When industry is developing new technologies to apply in the field, there are a lot of factors that go into the process—from concept to commercialization. At different points along the way, specialized expertise can be useful to keep the process on track and reduce development costs (or at least keep them in check), as well as make the most efficient use of time. 
It's particularly important for technology start-ups, who often don't have big budgets for multi-year research and development projects, to develop effective intellectual property and make the right connections in industry in order to trial their technologies. This helps to de-risk the technology development process.
And as history shows us, you really need to come up with a plan to compress timelines and reduce costs. 
Designing Successful EOR Processes
Looking back on new technology development in the oil and gas industry, one striking example of this is steam-assisted gravity drainage. It took more than 20 years from concept to the first pilot application. And then it was many more years before it had successful commercial application in industry.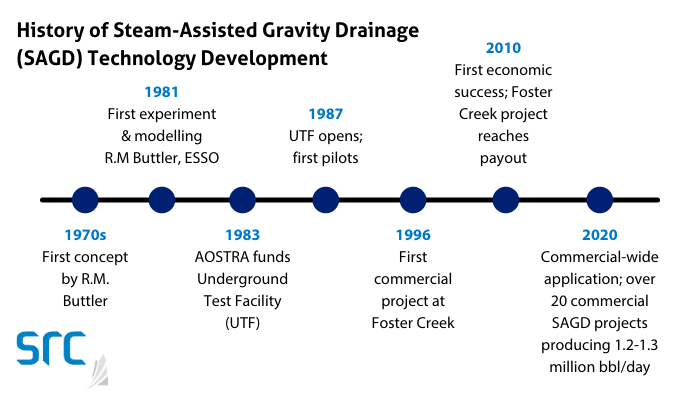 The world has changed dramatically in that time, and now, we cannot afford another 20 to 40 years for today's ideas to become reality. 
Our Enhanced Oil Recovery team uses a stage-gated approach to help small-to-medium enterprises develop their technologies and evaluate technical, market and commercial factors. This helps our clients save time and accelerate adoption. We operate across the whole spectrum of Technology Readiness Levels, from Concept-Feasibility (TRL 1-3) to Field Commercial Pilots (TRL 7). 
Stage-Gated Approach
Stage-gating technology development creates a roadmap for evaluating the field and the proposed technology at key points during the process. We've developed fast-to-fail tools that allow us to quickly test new ideas and identify any showstoppers. The review will either confirm the technology is ready to advance to the next stage or identify if further work is required, cycling the technology back through the previous stage. 
Our process prioritizes early evaluation of factors that are most likely to cause a technology to fail. If a technology is not likely to succeed, it can be cancelled at the lowest possible cost in time and resources. And that's the whole point of the fast-to-fail concept—it helps companies avoid the sunk cost effect, which is the tendency to persevere because of the resources invested, and provides milestones where we can ask, "Are we still achieving our goals? Does it make sense to continue?" 
With our clients, we develop a comprehensive roadmap that can realistically take the new technology or concept from the drawing table all the way to the field. It's a six-step approach that we've applied to several new technology developments and start-ups. We tailor the six-steps to the experiment goals.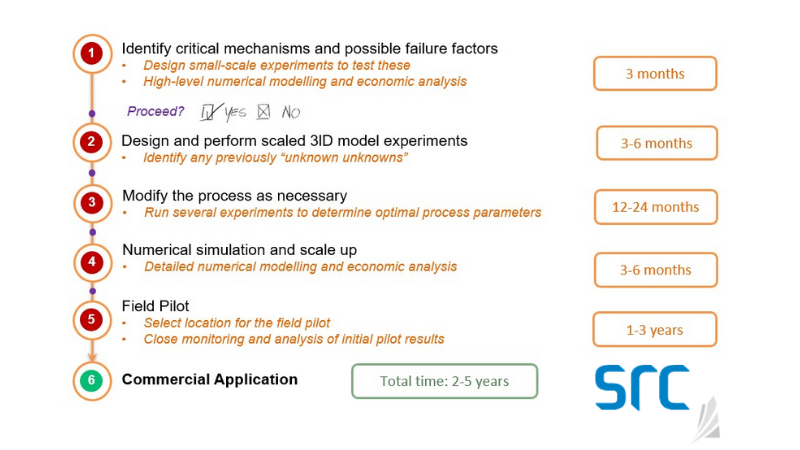 This approach starts with identifying the mechanisms and possible failure factors, so that we can address them as soon as possible. If it makes sense to proceed, the next step is designing and performing small and large-scale experiments. It is very important to choose the appropriate experimental design, including factors such as model size, aspect ratio, injection and production wells. 
This is particularly important when studying tight oil formations, with their complex flow paths and a permeability that ranges from sub millidarcy (matrix) to several darcies (induced fractures). Once the experimental set up is chosen and prepared, we run several of these experiments and what we often find is the initial idea needs significant modification for the technology to succeed.
The next step is numerical simulation and because we've already tested it at a larger scale, now it's a lot easier for us to predict field performance. After this, we plan the field pilot with our client, which often involves selecting a location and providing monitoring to help them determine how successful the technology is and/or what could be changed to make it even better. 
This approach has allowed us to take technologies from basically an idea to the field in under five years—much faster than the industry average.
Custom Physical Modelling
An important part of our stage-gated approach is the use of custom, large-scale physical models in our experiments. These 3-D models are designed and built by our experts and can be tailored to the process and specific application.
One example is a model that we call a "dual-permeability model": a larger scale cylindrical model that can incorporate a complex flow paths to emulate induced fractures. Either real reservoir core or a synthetic rock, custom prepared at SRC, can be used as a porous medium in this model. It allows us to study complex matrix-to-fracture interactions and evaluate the performance of various tight oil recovery processes.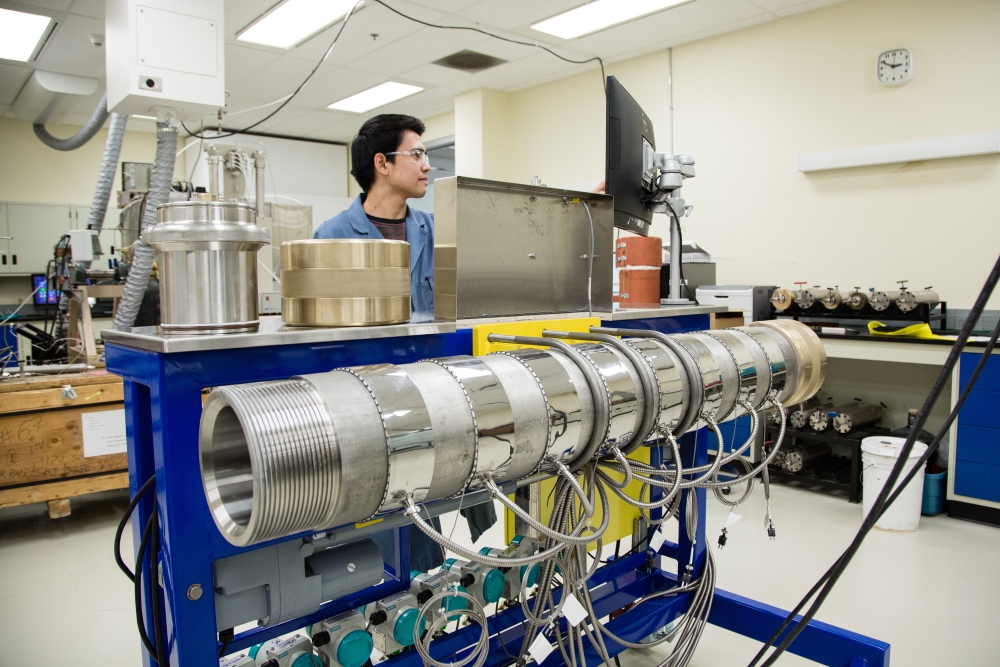 We use a variety of medium to large-size models, which allows us to incorporate important mechanisms related to the technology we're studying. Our models provide the capacity to scale up to field conditions, which also reduces experimental uncertainty and reduces the risk of unexpected issues at site. 
Our state-of-the-art data acquisition and control system allows us to record and understand what's happening in the experiment. We find there's less experimental error, too, when technology is tested at a larger scale, but it depends on what size of model will work best for the technology in question. 
Real-World Technology Development
Of course, none of this is valuable unless it works. Here are some examples of technologies that have successfully gone through our stage-gated approach. 
High-temperature surfactant testing: developed a medium-scale steam soak test, which helps to quickly test many different surfactants to see which ones can survive a high-temperature application, as well as improve the performance
Aqua thermolysis testing and modelling: tested and predicted in lab the occurrence of H2S from high-temperature water and oil 
GERI's Direct Steam Generator: tool optimization, field-scale modelling and real-time pilot monitoring
Nexen ISR Process: large, 3-D Model: significant process re-design as a result of large-scale laboratory experiments
This isn't the Apollo moon landing – failure is not only an option, it's a right of passage. It's very rare for a company to succeed on their first try. What's more important is that when you do fail, you have the right expertise and processes in place to figure out what didn't work and how to fix it so that you don't keep allocating resources to something that doesn't fit your needs.
So, keep going—the world needs new technologies, tools and techniques to help accelerate innovation in the field. 
SRC's Enhanced Oil Recovery team has provided science-based solutions to industry since 1986.