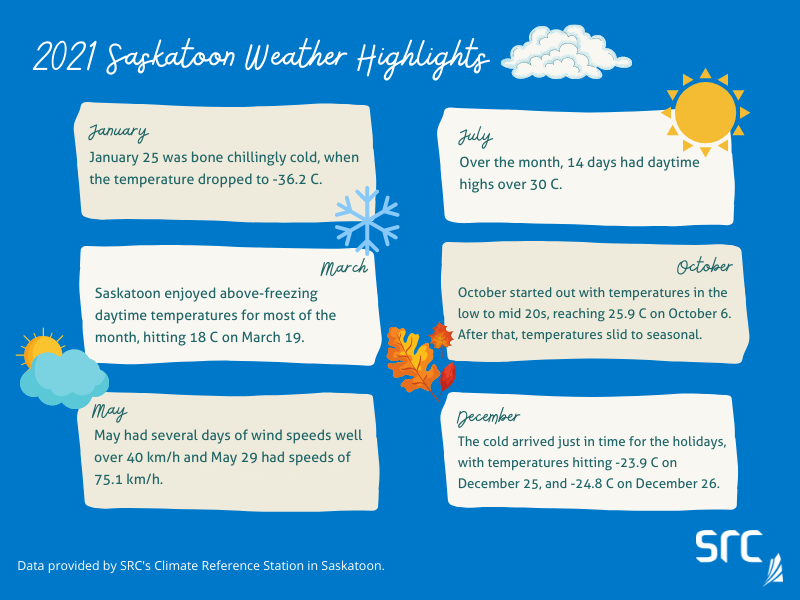 2021 was another year for the record books in more ways than one—just like 2020. Here's a look back at 2021 and the weather that came with it in Saskatoon.
The winter of 2020-2021 harkened back to what winter used to be like—cold and snowy. It was a hot and dry summer, and the year ended with cold and more snow. 
It was so dry in 2021 that it nearly beat 2001 as being the driest year on record. 2001 still holds that 'crown' by only 1.8 mm but 2021 is the second driest on record with only 167.6 mm of moisture recorded. The agricultural industry and many communities were watching the skies, hoping for more moisture the entire year.
Our data is managed by SRC Climatologist Virginia Wittrock and is generated from SRC's Saskatoon Climate Reference Station (we have two—the other is near Prince Albert). SRC has been collecting data on climate for nearly 60 years, monitoring temperature, precipitation and more. Plus, we share it with organizations, clients and government. 
Interested in receiving monthly weather reports? Subscribe to our newsletter.
January
The year started at a mild –6.9 C in Saskatoon and climbed to above freezing on January 2 and 3. It was a pleasant way to start the year.
To the south of us, the city of Regina was hit with a major snowstorm on January 14. Intense winds knocked out power and downed trees across the city.
January 25 was bone chillingly cold, with temperatures dropping to -36.2 C in Saskatoon. 
The month ended with four days of light snow, which often leads to Saskatchewanians saying "well, at least the farmers will be happy with the snow."
February
There are two words to describe most of the weather in February 2021: cold and windy. The temperature started to dip on February 3, and it didn't stop until February 19. The wind was also relentless, hitting 57.5 km/h on February 22.
February 14 was all hearts and flowers at a balmy high of –20.7 C, which was an improvement on the temperatures from the week before when we "enjoyed" -50 C with the windchill on February 8 and 11. Brrrr.
In a word—ugh. It was one of those months where many folks ask, "Why do we insist on living here?"
March
All hope was not lost in March, however. The month definitely made up for the frigid temperatures we suffered through in February. 
Saskatoon enjoyed above-freezing daytime temperatures for most of the month, hitting 18 C on March 19. That was the day we all stood around and said, "Maybe it's not so bad here after all," and started thinking about golfing and gardening.
The end of the month saw several days of rain/snow mix, and we ended with a high of 8.7 C on March 31. Out like a lamb!
April
April was also a pleasant weather month, breezing in on April 1 with a high of 16.2 C. April 4 brought bunnies, chocolate eggs and a high of 17.2 C. 
While the temperatures were great, the wind was not. We had lots and lots of wind. We saw plenty of days with winds above 40 km/h and we hit 57.2 km/h on April 7. 
Despite the overall warm temperatures, Saskatoon did see light snow on April 11, 12, 19 and 22. However, we ended the month at 25.5 C with plenty of sun and desperation for summer.
May
May was a repeat of April, with lots of warmth and plenty of wind. Saskatoon had a great streak of temperatures above 20 C from May 11 to 18. May 17 was the warmest day of the month, giving us a high of 33 C. Time to turn on the air conditioning and the barbecue!
Mother Nature messed with us a little on May 21 with a dusting of light snow.
Victoria Day weekend was cool, with May 24 hitting just 11.8 C and annoying gardeners.
Overall, the month was also windy, with several days having wind speeds well over 40 km/h and May 29 seeing speeds of 75.1 km/h.
June
If you love sun, storms and heat, June 2021 was for you. The month started with a high of 27.4 C on June 1 and rose to 32.8 C on June 2 and 35.5 C on June 3 (the month's highest temperature).
There were eight days in June with temperatures above 30 C, and the lowest daytime high was 18.0 C.
There were also seven days with thunderstorms, and three more with showers. It was also windy again, with June 15, 16 and 17 seeing gusts over 60 km/h.
The end of June would be a bellwether for what was to come in July and August. In a word: heat.
July
Canada Day long weekend, the official kick-off to a Saskatchewan summer, was HOT. Saskatoon hit 35.6 C on July 1, and 40.1 C a day later. Those were days to be spent next to an air conditioner or floating in the pool. 
Over the month we saw 14 days with daytime highs over 30 C, with just one day below 20 C on July 19.
Saskatoon also saw smoke roll in from forest fires, reporting smoke in the air from July 11 to 18, and had wind gusts hitting 81.6 km/h on July 22.
August
The beginning of August was like July—HOT. Saskatoon would hit a whopping 37.5 C on August 14. Mercifully, the heat began to ease by August 17. The second half of the month was much more temperate, with temperatures easing to well under 30 C. 
Showers fell over several days in the month, and the wind was better overall. 
The month ended with a daytime high of 27 C and a thunderstorm. 
September
Back to school was pleasant for the students heading back into classrooms, with September 1 coming in at 21.5 C.
The last weekend of summer, Labour Day, was warm with a high of 29 C on Sunday, September 5. 
September would be a pleasant month overall, with little precipitation and plenty of sun. A perfect way to start the fall, with only one low evening temperature reaching 1.2 C on September 17.
We would get one more blast of summer heat on September 18 (32.7 C) and September 28 (30.9 C).
October
October started out with temperatures in the low to mid 20s, reaching 25.9 C on October 6. After that, temperatures slid to seasonal, and the first frost arrived on October 12. The nighttime low was -2.8 C.
Nighttime temperatures would stay around or below freezing after October 12, and daytime highs became your typical prairie October. 
Halloween was above freezing, hitting 4.4 C during the day. Trick-or-treaters enjoyed reasonable weather as they collected candy around the city.
November
This month brought the first snowstorm for the 2021-22 winter thanks to an atmospheric river that made it over the mountains. 
Saskatoon and much of the province saw winter storm warnings on November 15 and 16. It was windy, snowy and made everyone remember what winter driving is about, and the system would bring the snow to stay. The snow was also very welcome for the agriculture community.
We fared better than our British Columbia cousins though, as they saw highways washed out, mudslides and major flooding in Abbotsford, Lytton and Merritt. 
Daytime highs were above freezing for most of the month, with a low of 10 C on November 24.
December
December started pleasant, with temperatures above and around freezing. December 12 was a lovely -0.1 C.
Snow was also a fixture this month, with 14 days over December seeing snowfall. The sun was also shy over the month, with just three days seeing more than seven hours of Saskatchewan sunshine.
The cold arrived just in time for Christmas, with temperatures hitting -23.9 C on Dec. 25, and -24.8 C on 26. 
The freezing temperatures remained for the rest of 2021, as we celebrated the end of the year at -27.6 C on December 31.
Learn more about our Climate Reference Stations.
This post was written by Brook Thalgott, a former SRC employee.