2020 was a year for the record books, and one none of us will soon forget. We spent our days starting in March at home, in the yard or awfully close to home. Let's look back at the weather we experienced in a year we were so glad to see the end of.
The data comes from SRC Climatologist, Virginia Wittrock and SRC's Climate Reference Station (CRS), found in northeast Saskatoon. The station has been monitoring and reporting climate data for almost 60 years. The CRS monitors temperature, wind gusts, precipitation, soil temperature and so much more. This data is shared with many organizations and clients, including government, universities and the agriculture sector—and it's home to decades of data to analyze trends over time. 
Interested in receiving monthly and annual weather summaries in your inbox? Subscribe here!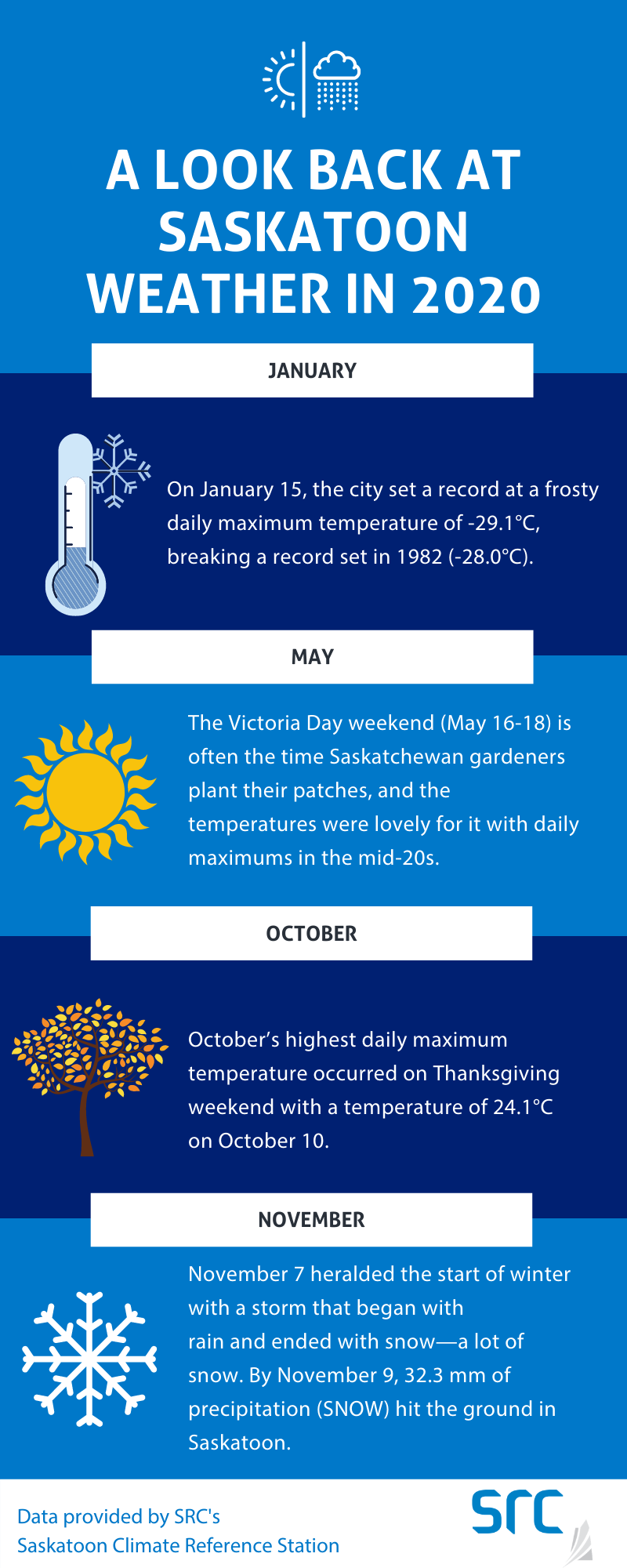 January
The new year started with a few days of relative warmth, with temperatures hovering around freezing. However, by mid-month the deep freeze arrived, and we "enjoyed" several days of icy cold temperatures. On January 15, the city set a record at a frosty daily maximum temperature of -29.1 C—breaking a record set in 1982 (-28.0 C). 
We finished the month with 11 cm of snow on the ground which is just below the normal of 12 cm of snow on the ground. We had slightly below the normal number of days of bright sunshine with 22 days in Saskatoon.
February
February was relatively pleasant in the first few days of the month. It started by tying a record at 6 C, but the deep freeze would return. February 12 was a particularly cold day, dropping to a record daily minimum temperature of -29.0 C.  
Things improved on February 29 (yes, 2020 was a leap year too) setting a new record at 6.4 C. The previous record was 6.1 C set in 1968. The month was also sunny, having 29 days of recordable sunshine, one more than the monthly record set 42 years earlier in 1978. 
February was also the month that things began to change in a lot of ways.
March
March 2020. The month the world turned upside down. As we watched COVID-19 make its way to Saskatchewan, winter had a difficult time leaving. The month started out pleasant enough, with temperatures around freezing, but in typical Saskatchewan form, there was a lot of wind. On March 1, we felt wind gusts of 67.5 km/h from the north along with light snow resulting in few people wanting to be outside to enjoy the warm air temperature. 
On March 11, Saskatoon was enjoying above freezing temperatures. It was also the day the NBA postponed its season indefinitely due to COVID-19. A day later, the temperature dropped slightly below freezing during the day—the same day the NHL called off its season and actors Tom Hanks and Rita Wilson announced they had been diagnosed with COVID-19 in Australia. 
Monday, March 16 was also warm, hovering just below freezing. It was also the day the Government of Saskatchewan announced that schools were closing by the end of the week, and anyone who could work from home should do so. Canadians abroad began to board repatriation flights and the federal government prepared to close the border to all non-essential travel. 
While we all went home and watched the world grapple with a pandemic, Saskatoon saw 30 days of bright sunshine and set a daily record for precipitation on March 31 (3.2 mm). The city saw 3.2 mm of precipitation, breaking the 1.5 mm record set in 1974. The month ended having below normal precipitation amount (the fourth month in a row).
April
April came in cold with four daily minimum temperatures setting new extreme low records, (but who noticed because we were all inside) but quickly improved. By mid-month, Saskatoon was enjoying temperatures above freezing and warming up fast. The warm temperatures did bring the stereo-typical Saskatchewan wind, with most days seeing wind speeds of 40 km/h or higher. 
As April warmed up, we tentatively made our way into the safety of our yards and gardens and farmers started going into their fields more because the soil temperatures were at or above zero by mid-April, heralding the beginning of 'green-up'. The warm temperatures also allowed us to go for a walk in the park (always 'socially distanced' of course!).
On April 1, Saskatoon set a daily minimum record with -13.2 C, colder than the -10.0 C set in 1974. However, by April 30, the city enjoyed summer-like conditions hitting 28.5 C, breaking the daily maximum temperature of 25.0 C record set in 1968. It was a lovely way to end a long month, which was long for other reasons (cough<pandemic>cough).
May
Hurray for May! The month began with temperatures in the teens and improved to the low 20s just in time for the May long weekend. May 15 was the last recorded overnight spring frost, dipping to -2.9 C. The Victoria Day weekend (May 16-18) is often the time Saskatchewan gardeners plant their patches, and the temperatures were lovely for it with daily maximums in the mid-20s. 
May 20 also brought thunderstorms and rain, with SRC's tipping bucket measuring 21.8 mm of much-needed rain. Unfortunately, May was the sixth month in a row with below normal precipitation. The Relative Humidity reflected the little amount of precipitation with three days of only 15 per cent. May 31 was a beautiful 26.9 C, but also very windy with gusts of 53 km/h from the southeast. 
June
June 1 was windy with gusts that day hitting 92.1 km/h. The month would see many windy days with four more days seeing speeds 60 km/h or more in the first half of the month. 
However, June also brought warm temperatures and rain, with 106.4 mm of rain falling over the month, in mostly showers. Saskatoon also saw a new record in precipitation on June 7, seeing 30 mm fall—breaking the 8 mm record set in 1981. It was the eleventh wettest June in the 56-year history of the Climate Reference Station in Saskatoon. Mid-June saw some summer heat, hitting 30.6 C on June 13. 
The rain was needed. If we had not seen its arrival, the growing season would have been quite different for the agriculture sector. 
July
With July came summer and the heat. Saskatoon enjoyed beautiful days with an average maximum daily temperature over the month of 25.9 C. The month was dry, with just 26.9 mm of precipitation. The wind also lessened a bit, with just one day seeing gusts of 66.3 km/h. 
Air conditioners around the city got a workout at the end of July. The hottest day of the month came on July 29, hitting 33.3 C. 
August
August was a wonderful summer month, with a short heat wave hitting mid-month when daily maximum temperatures were above 30 C. August 17 saw a high of 36.0 C (breaking the 34.5 C record set in 1984). The overall average maximum monthly temperature was a balmy 27.2 C, well above average of 24.9 C. 
The month also saw 15.9 mm of precipitation, coming in the form of both showers and thunderstorms over the month. The city also enjoyed 31 days of bright sunshine—what a way to end the summer!
Fun fact: The month also brought the restart of the NHL season on August 1. NHL hockey in August was strange but oddly comforting. 
September
September saw an average temperature of 19.5 C but was surprisingly cool overall. 
The first frost arrived on September 7, dipping to -0.3 C overnight. The frost-free season for 2020 was from May 15 to September 7. This resulted in the growing season being only 112 days long. The last time it was shorter was in 1989 with 104 days.
Summer temperatures did return on September 11, reaching 31.1 C. Saskatoon also had three days of smoky haze, and 20.6 mm of total precipitation, 44 per cent below normal September amounts. Unlike the Septembers of 2018 and 2019 that had over 44 mm of rain, the dryness of September 2020 allowed most of the harvesting to be completed.
October
October, the month of turkeys, pumpkins and a modified Halloween, was warm for the first two weeks of the month. Saskatoon's highest daily maximum temperature occurred on Thanksgiving weekend with a temperature of 24.1 C on October 10. 
The second half of the month brought that fall feeling, with nighttime temperatures dipping consistently below freezing. The city also had its first dusting of snow on October 20, but luckily the snow cover had all melted away by Halloween (boo!).
November
The first few days of November were above freezing and quite lovely for the time of year. However, it would not last long. November 7 heralded the start of winter with a storm that began with rain and ended with snow—a lot of snow. By November 9, the city saw 32.3 mm of precipitation (SNOW) hit the ground. The city's municipal election had to be postponed to November 13, allowing voters enough time to dig out to get to the polls.
Despite the snow, Saskatoon did enjoy 19 days of sunshine over the month. Also, due to the snow cover, soil temperatures stayed at or above 0 C in November. 
December
December, the last month of the longest year ever, was relatively pleasant overall. Saskatoon enjoyed several days of above freezing temperatures and 21 bright sunshine days. There were several days of light snow and rain, ending the year with 284.5 mm of cumulative precipitation. 
Christmas Eve was a warm 1.5 C, and New Year's Eve dipped to -11.5 C—but who cares because 2020 was finally on its way out!
You can view monthly and annual climate data from our Climate Reference Stations on our weather summaries page. 
This post was written by Brook Thalgott, a former SRC employee.