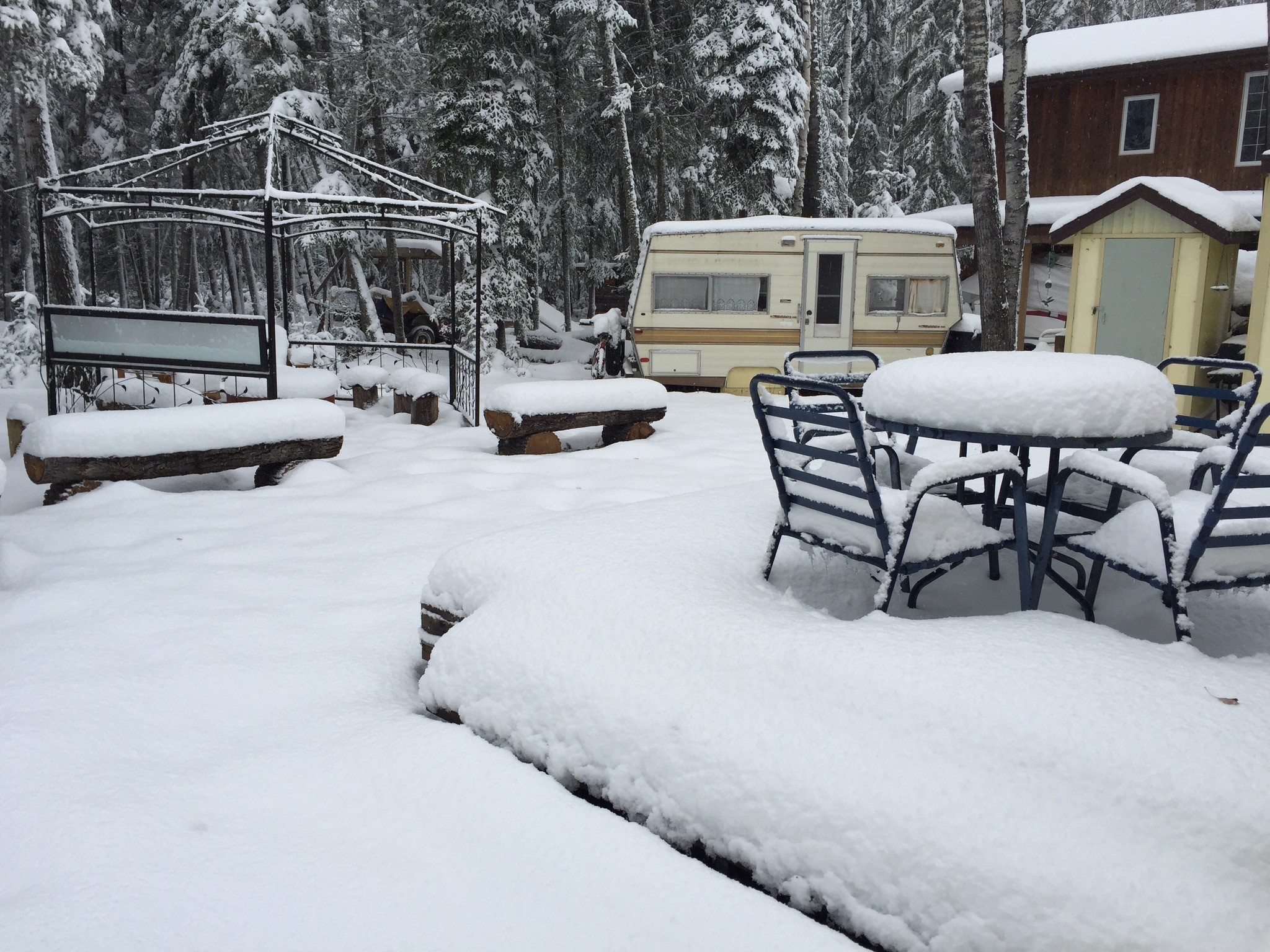 A few months ago, we discussed the extreme summer weather hazards that can wreak havoc on Saskatchewan's economy, society and environment. Another summer has passed (sorry to say) and our focus shifts to winter. And all the joys that cranky Old Man Winter's arrival brings, like skiing, snowmobiling, tobogganing and ice fishing. It's all the weather hazards that come along with it, like blizzards with white-out conditions, heavy snowfalls that bury cars and extreme cold warnings, that make us question why we live here.
For the past two years, Saskatchewan has experienced warmer weather than normal and less precipitation than our neighbours in the Eastern provinces. While this makes winter more manageable in some ways, it messes with other things that affect us.
Take our favourite insect, the tick (ha!). They keep moving northward and every summer, it seems like they're worse than ever. If we don't experience prolonged periods of cold temperatures, we're more likely to have bug infestations, like ticks! And no snow? That hurts our agriculture industry, which relies on moisture from the snow for crops. Not to mention how cranky all those folks are who can't go snowmobiling when there's no snow (which can impact local retailers and tourism).
Whether you fly south for the winter months or put on those holey long johns and hunker down with a hot cup of cocoa, it's important to be prepared for extreme winter weather events. Just because you're sipping piña coladas in 35 C, doesn't mean your house is. The more we can anticipate and plan for these events, the more we can reduce their risks and impacts on us.
This means digging into winter's blustery past to look at the trends, events and impacts. The saying, "Know thine enemy" comes to mind. But maybe that's too harsh. After all, Old Man Winter does give us big fat snowflakes that melt on our tongues and frozen ponds to skate over.
Here's a break down of some of the big winter weather hazards.
BLIZZARDS
A blizzard is defined as severe winter weather characterized by strong winds (40 km/hr or greater) with heavy or blowing snow, resulting in reduced visibility of 400 metres or less for at least four hours.1,2
The last noteworthy blizzard in Saskatoon was 10 years ago: 35.2 mm of precipitation was recorded, the greatest amount of precipitation recorded at SRC's Climate Reference Station in Saskatoon for January 10 in its period of record.3 That day, the temperature fell and the winds got stronger throughout the day. Wind speeds peaked at 73.6 km/h from the northeast. The wind chill was downright vicious, equivalent to having exposed skin freezing in less than 10 minutes. Schools, businesses and roads were closed - an all-round nasty day.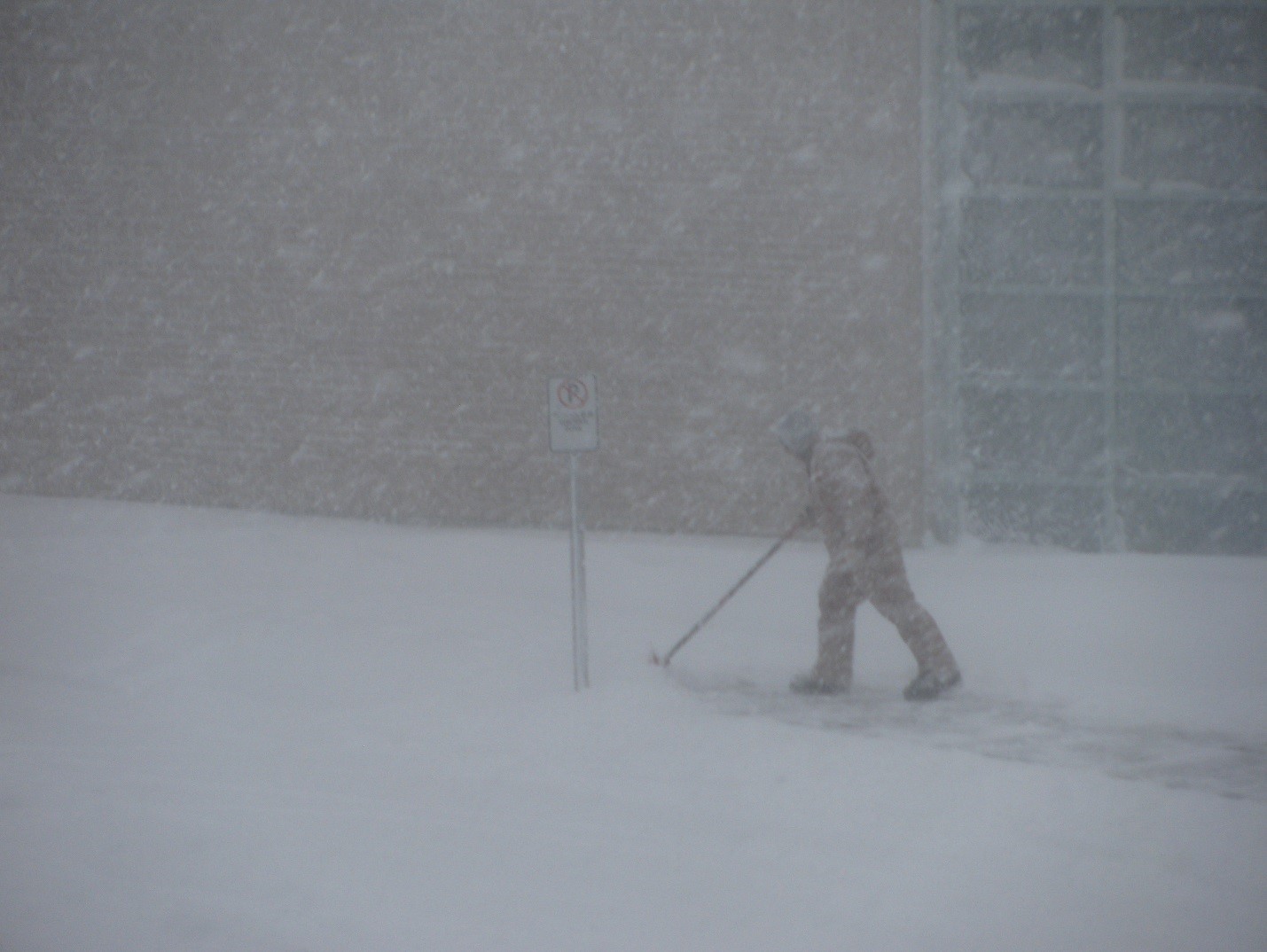 In general, the further south you live in Saskatchewan, the greater number of "blizzard hours" you will have. Saskatchewan is typically the focal point of the Canadian Prairies for having the greatest number of blizzard hours.4
HEAVY SNOWFALL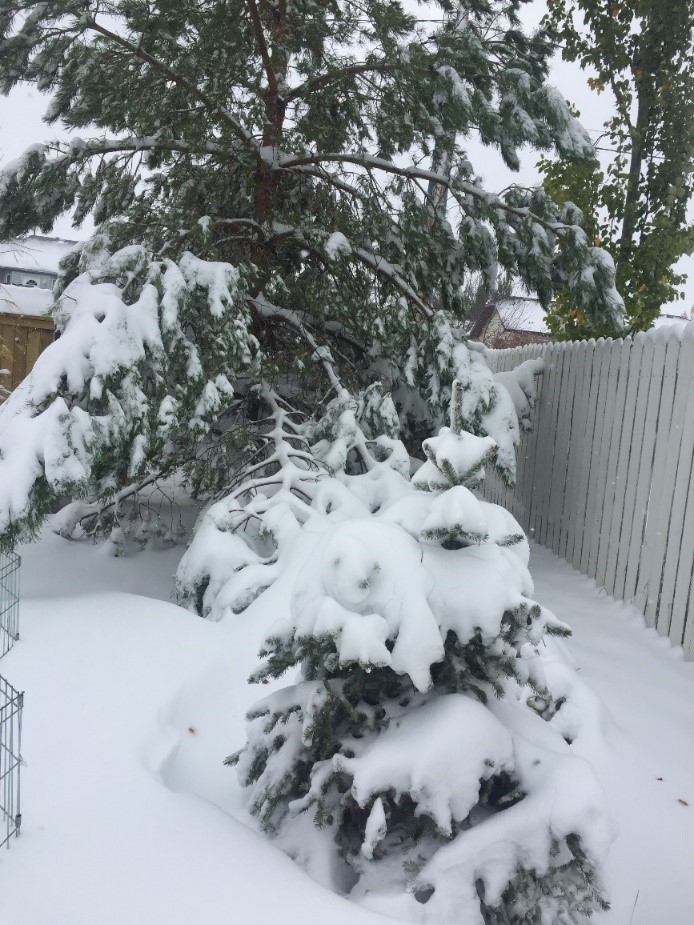 For the Prairies, a heavy snowfall has at least 10 cm of snow within 12 hours, or at least 15 cm of snow within 24 hours.4 In general, Saskatchewan has one to two days per year when 10 cm of snow falls, which tend to fall during the 'shoulder seasons' (September/October and March/April).
Let's go back to Thanksgiving weekend, 2016. Saskatoon recorded nearly 20 mm of precipitation (i.e., rain/snow mix).5 Many people postponed their holiday plans because roads were treacherous. This snowfall added to farmers' frustration levels for harvesting crops because of high soil moisture levels that occurred in 2016.
FREEZING RAIN
Freezing rain, the scourge of our warmer winters, is defined as rain or drizzle which falls in liquid form and then freezes upon contact with the ground or other object, forming a coating of ice. While it can be beautiful, it is also extremely dangerous and can cause wide-spread power outages and impassible roadways (and walkways).
On average, Saskatchewan has a wide variety of number of days with freezing rain, ranging between 5 and 12.4
COLD
Canadians, particularly those living in the Canadian Prairies, know what cold is. We even have our own sayings: "Is it cold enough for you?" and, "But it's a dry cold."
The coldest measured temperatures recorded in many parts of Saskatchewan have been below -45 C.4 Many of the really extreme cold temperatures (like -50 C) occurred in the late 19th century: Saskatoon's lowest temperatures of -49 C and -50 C were recorded in 1892 and 1893.6
We haven't had those really extreme cold days for a long time. In fact, the number of cold days has decreased. For example, the last time SRC's Climate Reference Station in Saskatoon recorded -40 C was January 28 and 29, 2004 when temperatures of -41 C and -40 C were recorded.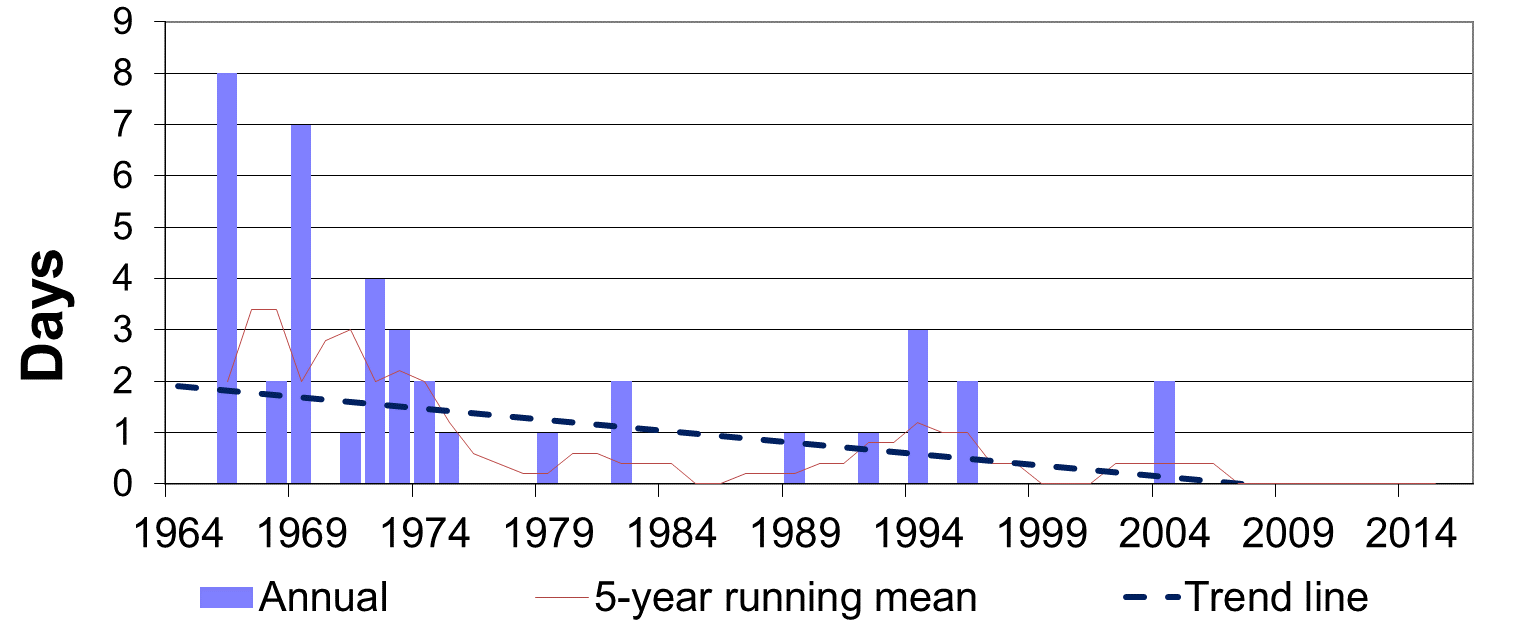 WIND CHILL
Now we get to wind chill. Wind chill is when the wind makes cold temperatures feel colder. Wind chill used to be calculated as how much energy (or heat) the body loses in a second, depending on how much skin was exposed and it was measured in watts per square meter. But other than a few science geeks, people didn't know what that meant. So now, wind chill is reported in "wind chill equivalent temperature." This means that when we have a temperature of -20 C and a wind speed of 20 km/hr, we have a wind chill value of -30: exposed skin (e.g., face, fingers) can freeze in 10 to 30 minutes.
Saskatchewan usually has at least 30 days per year with wind chills below -30 C and at least 10 days with wind chills below -40 C every year. We usually have one day every year when wind chills are below -50 C.4
In 2016, SRC's Climate Reference Station in Saskatoon had two days when wind chills were below -40 C (January 16 and December 17) and 21 days when wind chills were at or below -28 C.5
EXTREME WINTER WEATHER SAFETY REMINDER
It's important to make sure you are prepared for the winter season – Old Man Winter is full of surprises. Make sure you check the forecast and road reports before heading out (read more safety tips for winter driving). A winter driving kit is good to have in your car and a 72-hour emergency kit for your home or cabin can keep you safe if there's bad weather.
So whether you love winter or you loathe it, it's part of Saskatchewan's climate. Grab your cross-country skis and toque or a peppermint mocha and a book and settle in – winter is here for a little while, but spring is always on the horizon.
References
Environment and Climate Change Canada. 2017a. Public Alerting Criteria. Website: https://www.canada.ca/en/environment-climate-change/services/types-weather-forecasts-use/public/criteria-alerts.html 
Environment and Climate Change Canada. 2017c. Winter Weather Hazards. Website: https://www.canada.ca/en/environment-climate-change/services/seasonal-weather-hazards/winter.html
Beaulieu, C. and V. Wittrock. 2008. Climatological Reference Station Saskatoon Annual Summary 2007. SRC Publication No. 10440-1E08.
Environment Canada. 2011. Canadian Atmospheric Hazards Network: Prairie and Northern Region. Environment Canada.
Wittrock, V. and S. Dunn. 2017. CRS Annual and Monthly Weather Summaries. Website: http://www.src.sk.ca/climate-reference-stations/crs-weather-summaries
Environment and Climate Change Canada. 2017b. Wind Chill Index. Website: https://www.canada.ca/en/environment-climate-change/services/weather-health/wind-chill-cold-weather/wind-chill-index.html#table1
Additional Information:
SRC's Climate Reference Stations in Saskatoon and at the Conservation Learning Centre near Prince Albert provide high quality and consistent climatological observations that address climate change effects and the increased climate variability on the Prairies. Take a virtual tour.
SRC's Climatology team develops, tests and transfers climatic information, which can lead to environmental, economic and social benefits for Saskatchewan and the world. They study climate hazards, provide climatic impact assessments and adaptation strategies, and monitor climate variability.