Take Our Kids to WorkTM is an annual nationalprogram in which Grade 9 (or equivalent) students are hosted by parents, friends, relatives and volunteers at workplaces across the country every November.
This blog post was written by a former SRC employee, Meghan Gervais.
As a relatively new parent, I'm most comfortable spending time with adults and toddlers. So when I heard a group of Grade 9 students would be visiting SRC for Take Our Kids to WorkTM day, I took it as an opportunity to step out of my comfort zone and get to know the energetic and creative minds of the future.
Three Engineers. Three Different Career Paths.
Two colleagues and I introduced the students to wind turbine technology, and equipped them with the tools and parts required to build their very own desktop model wind turbine. Prior to getting started on the project, we each introduced ourselves and talked about the path that led us to the roles we are in today. The students seemed to find the introductions interesting, given that the three of us are engineers, but there is very little overlap in the type of work we do at SRC.
Looking back to when I was making early career decisions, it definitely would've been valuable to learn more about how a similar education can lead to such varied career paths – not to mention the time and tuition I may have saved along the way! I think that insight into career planning must be one of the most impactful aspects of Take Our Kids to WorkTM day for the students.
Building a Mini Wind Turbine
The wind turbine project required the students to measure and cut pieces of PVC pipe and wire, and to collect elbows, tees and other small parts required in the final assembly. One of the students described the task of assembling the required parts as a "science potluck," given that each student independently selected the parts they were planning to use. Both hands-on activity and analytical thinking were needed, as the students had to figure out what order to assemble the turbines and stands in to ensure they were able to complete the project.
I was impressed with the students' immediate willingness to don the required personal protective equipment (PPE), which meant wearing gloves and safety glasses when sawing pipes and cutting and stripping wires. Safety is an overriding priority at SRC, so the kids were given a full safety orientation at the beginning of their morning, outlining PPE requirements for the different places they attended and projects they worked on.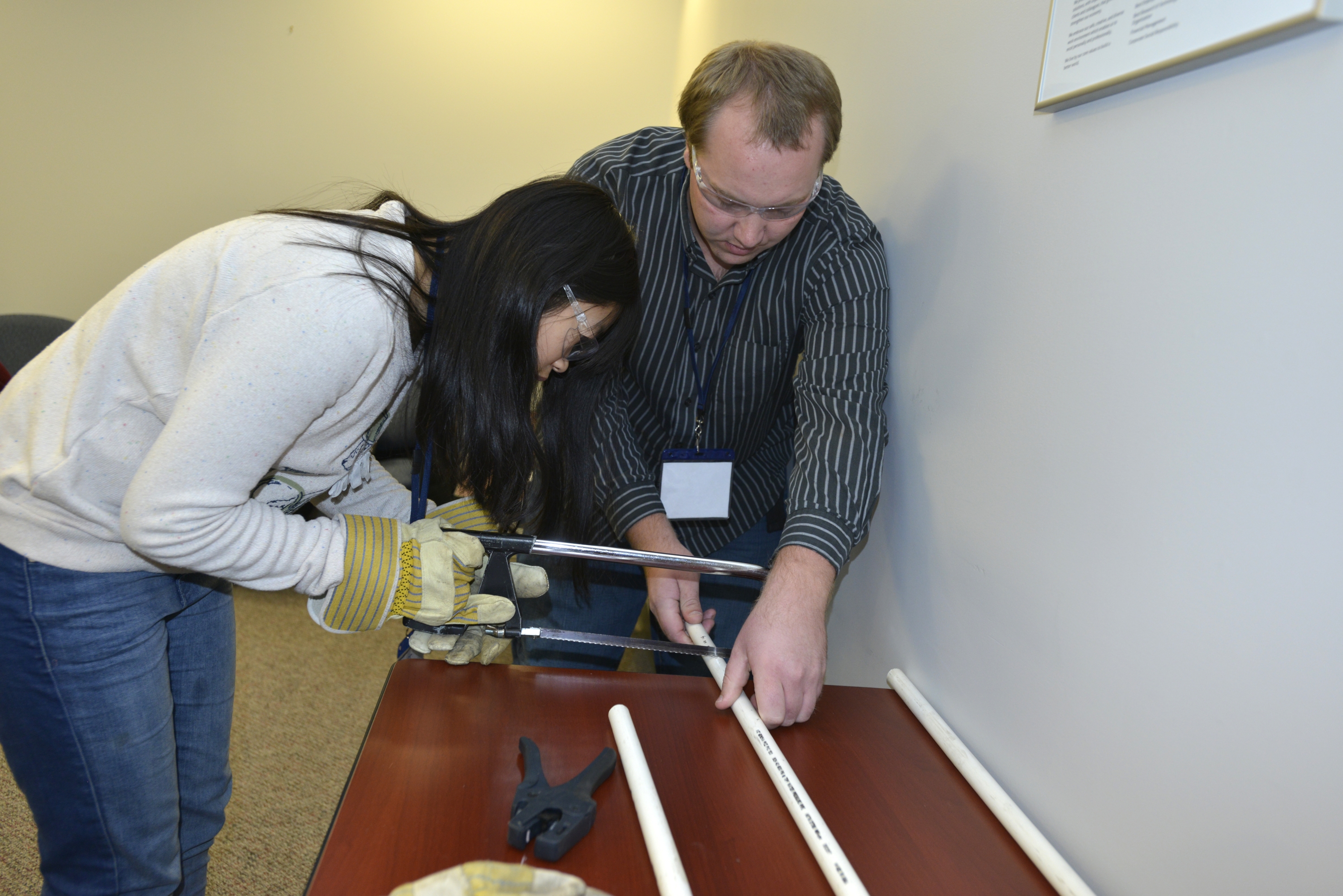 It was interesting to watch the students' faces as they grasped the range of tasks they were asked to complete. For some students, the project was intuitive and they quickly related it to Lego® kits. In other cases, the students had never done anything quite so hands on, and it took a bit of time for them to get comfortable working with the small tools that connected the wire inside of each turbine. In either case, the students were clearly proud of their accomplishment as they gingerly whispered, "Cool…that's awesome!" when their battery was connected and their turbine began spinning.
Participating in Take Our Kids to WorkTM day was even more fun than I had expected, and I'm grateful to have had the chance to get to know the students who visited SRC. The career choices available to today's Grade 9 students are quite different than those I was aware of when I was in their shoes. When asked at the beginning of the morning what kinds of careers the kids could see themselves having as adults, we heard a lot of the typical jobs like lawyer, doctor and teacher. Hopefully, spending time at SRC opened the students' eyes to some of the different, unique job types that are out there. And even if they aren't yet sure what path to go down, they can now all add "building desktop model wind turbines" to their first resumes!
Related Post - Smoothing It Out: Improving Wind Turbine Reliability with Energy Storage