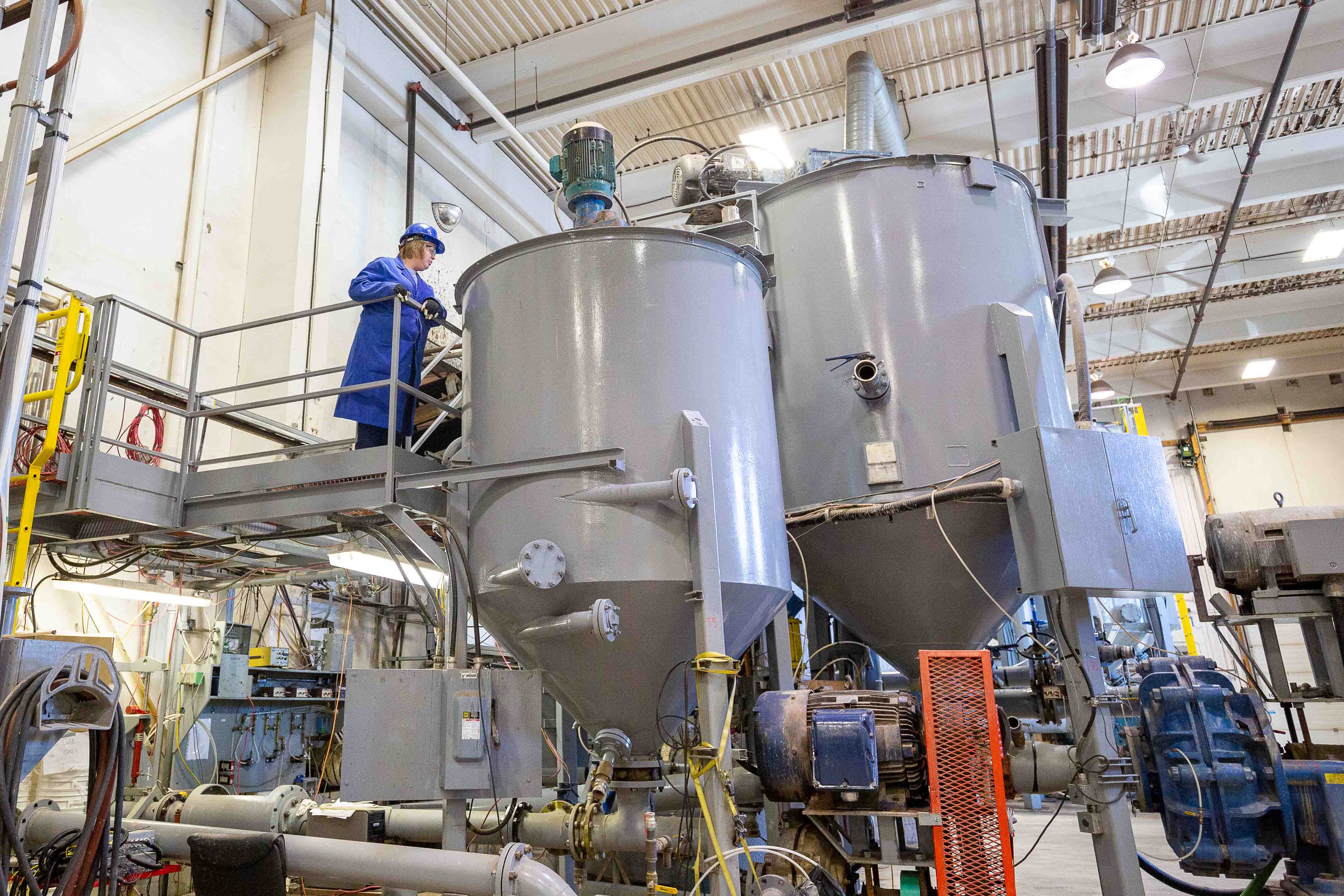 When you walk into SRC's Pipe Flow Technology Centre™, you can't help but feel that something really important is happening within its walls. At Pipe Flow, SRC's experts and technologists work on solutions to real-world industry challenges—what they develop gets applied to field situations for testing and, if all goes well, implementation. 
The second thing you notice are all the pipe loops of varying sizes that run across different areas of the facility. Inside the loops is where the magic happens, where experts study the transport of slurry through a pipeline, also known as slurry fluid mechanics. 
During mining, ore (a solid) is mixed with water (a liquid), which creates a slurry. This is common in mining operations where at some point in the extraction process water and chemicals are mixed with ore to help extract the minerals of interest. Frequently during mineral processing, fluids need to be transferred from one area of the plant to another, or to the tailings pond once extraction is complete. 
SRC's Pipe Flow Technology Centre™ offers mining and other resource developers a unique opportunity to study slurries and test industrial samples and processes in a controlled environment that mimics the client's actual operating conditions. 
Lesley McGilp, who has managed SRC's Pipe Flow Technology Centre™ for more than a decade, says, "This is very valuable to industry because it's difficult for them to trial new technologies in the field with live operations where the feed material is always changing." Lesley provides a short history of Pipe Flow in this on-demand webinar.
The data generated from this testwork is then used by the Pipe Flow's experts to better understand, and improve, the client's operations.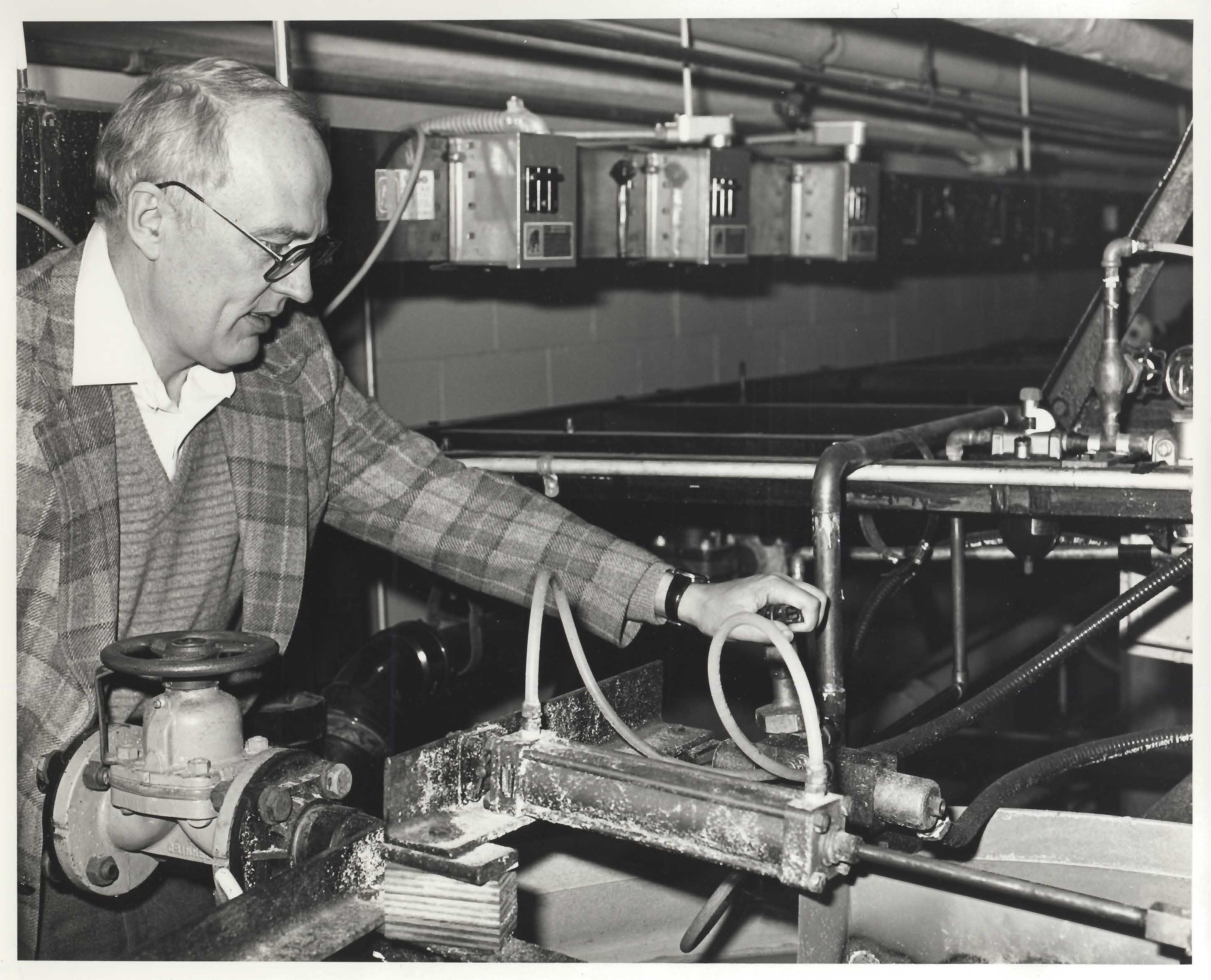 A Pipe Dream
Pipe Flow is celebrating its 60th anniversary in 2020. Looking back over 60 years, Lesley highlights a couple key people who were instrumental in developing the facility's foundation and culture of learning, starting in the 1960s with Dr. Cliff Shook.
At that time, Dr. Shook was a professor in the College of Engineering at the University of Saskatchewan. He saw the potential of SRC's technologists and with SRC's Engineering Division, led by Bill Husband, initiated a slurry pipeline research program, which eventually became the Pipe Flow Technology Centre™.  
An accumulated understanding of slurry flows laid the foundation for the development of the first SRC Pipe Flow Model, a primarily mechanistic model that describes the pipeline flow of settling slurries. Built on historical research from hundreds of slurry pipeline research and development programs, the SRC Pipe Flow Model has continued to progress from its origins in 1980, as the understanding of slurry flows continues to improve. 
In 2013, SRC developed a Multi-Species Pipe Flow Model, which was primarily the work of Dr. Randy Gillies, a crowning achievement to his 38-year career with SRC. Even though he retired several years ago, Dr. Gillies still contributes to client work and model improvements as an SRC Researcher Emeritus. 
Both models are industry standards for slurry transport design, particularly for the oil sands industry in Canada. SRC shares these models with industry through courses, including the Slurry Pipeline Systems Course, taught jointly with Paterson and Cooke. The foundational slurry course has been taught to over 700 industry professionals from around the world, while the multi-species course (launched in 2015) has reached over 100 participants to date.  
Dr. Shook and Dr. Gillies led the development of SRC's training approach to distributing the models. "We want engineers, who are faced with designing a slurry transportation system or troubleshooting an existing installation, to have the right tools and know how to use them," says Lesley.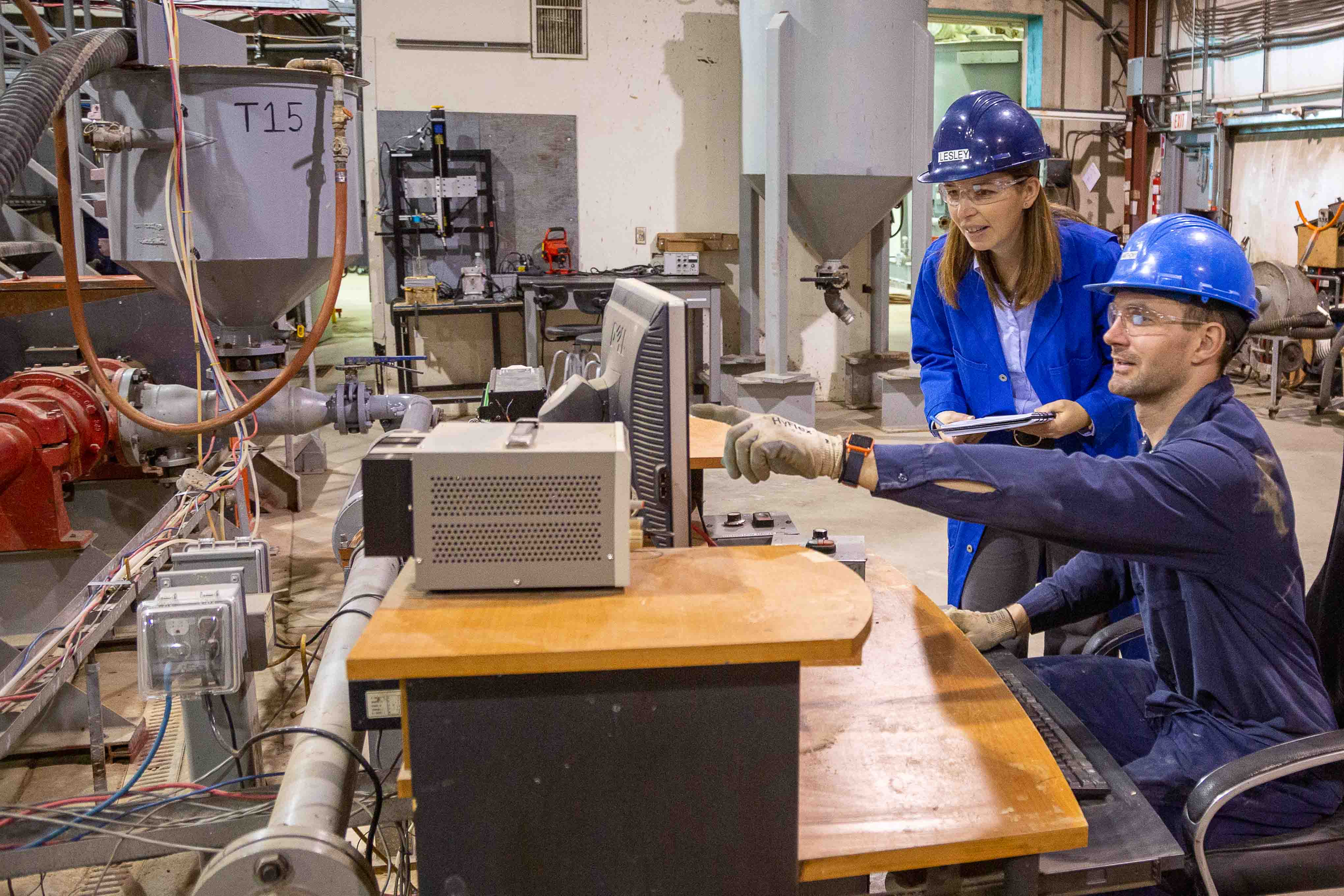 A Collaborative, Integrated Team
This culture of learning and sharing has been preserved throughout the years as Pipe Flow's team has evolved to meet industry needs. "We have a really positive culture," Lesley says. "It's a very strong, integrated team. Everyone works together. And there's a high level of respect across the group. That's kept people here." 
It's clear from talking to Lesley that it takes a team effort to come up with the right solutions for clients. "Pipe Flow employs some of the world's leading experts in slurry fluid mechanics. We also have a strong group of technologists. These two groups work together to design and run experiments, ensuring we get the high-quality data that is so important to addressing the challenges our clients are working on." 
The team has risen to the challenge many times, whether it's something new or something different that hasn't been done before. 
This is where SRC's sweet spot is—helping companies navigate the Valley of Death: the make or break point for most technology developers. Lesley says, "I think that's really just part of the fabric of what SRC is—taking on those sorts of challenges."
Collaboration also plays a big role, both internally and externally, to solve industry challenges; often, with industry themselves. "Some of our meetings with clients are creative and innovative discussions on how to move something forward or how to adopt a technology in a new way."
Pipe Flow has been involved in some bigger, multi-client projects that involves bringing together experts from a variety of industries and specialties, including Dr. Sean Sanders at the University of Alberta and Rob Cooke from Paterson and Cooke. "Collaborations have propelled us forward faster than we would have gone on our own," says Lesley and anticipates more of these types of projects in the future. 
Weathering the Storms
2020 has proven to be a challenging year all around but has hit the oil and gas industry particularly hard. "We never closed our business," Lesley says, "and we were fairly busy at the end of March and through April, so the team accomplished a lot in the throes of the crisis, despite some team members working remotely."
Things are getting busier again at the facility with clients, who had scrimped and saved during the worst part of the pandemic, now keen to get back in the lab. And so are the staff. "Not seeing everyone every day took a toll on the team." All the staff at Pipe Flow are back onsite working under new safety protocols. 
Pipe Flow isn't new to downturns and has weathered many storms in its 60-year history, including the recent oil and gas decline in 2015-2017. "We put energy into process improvement projects and facility improvements. There was a lot of effort into diversification, too—how to take what we know and apply it differently." This helped broaden Pipe Flow's strategic focus and identify potential growth areas, which are now being actively pursued. 
"Diversification is a key element of Pipe Flow's evolution," Lesley says. She recognizes that the next 20 years will look different as the oil and gas industry changes. "How to adapt will be important in terms of continuing to shift and evolve with industry needs."
Some of the projects the facility is working on now aren't dramatically different than they would've been 10 or 20 years ago, but one thing that has changed is the instrumentation the facility has to work with. "We have some new and powerful tools that have changed what we can do," Lesley says. 
One example is their 2-D Gamma Ray Tomography (GRT) unit, which helps SRC's experts better understand slurry flows. "Sixty years ago, it would've been impossible to analyze near real-time measurements of that style," Lesley says. "Even 20 years ago, our computing capacity wasn't ready for this kind of technology. The data involved is just massive." With any new technology comes a learning curve, too. Pipe Flow's experts had to develop the techniques and methods to analyze the GRT's data. 
Another example is the opening of the Shook-Gillies HPHT Facility in 2015, which is capable of handling volatile materials and is equipped with a high-pressure, high-temperature flow loop. "We're still learning how to apply all of its experimental capabilities to industry's needs," Lesley says. "It's a long-term process and we're learning something new all the time."
Sometimes a new technology comes out of developing expertise, such as the work the Pipe Flow is doing on instrumentation development for clay analysis. Recently the team was successful in obtaining funding from NRCAN's Clean Growth Program for a project, led by SRC with Suncor Energy Inc. and the Northern Alberta Institute of Technology as partners.
The project involves developing a technology to provide near real-time measurements of the active clay content in oil sands and mine tailings. This technology is important to enhance tailings treatment technologies, which are something SRC has been active in trialing with industry over the past decade.  
Clearly, none of this expertise is developed over night. It's been a culmination of studying slurry fluid mechanics for over 60 years. 
The Future of Pipe Flow
What does the next 60 years look like at the Pipe Flow Technology Centre™? "The instrumentation development work we've done is really interesting and very important to industry," Lesley says. This work dovetails with the industry trend toward automation and process analytics. Pipe Flow saw a gap in this area they could fill with their expertise.
"For a processing plant to adopt process automation, they need to be able to measure key parameters. This can be problematic when slurries are involved, as the slurries can erode instrument components, and bitumen in oil sands applications can coat and obscure sensors," Lesley explains. 
"We are leveraging our background in taking measurements in slurry environments to help develop better instrumentation for industry. As these instruments get developed and implemented, we can then move on to that next step of process analytics—taking the real-time measurement data, running the calculations and applying it." Lesley says the results can lead to changes in the process to make pipelines more efficient, which can also reduce their environmental impact as well. 
With mounting pressure from the public and regulators, you can imagine the environment is top of mind for industry—it's not a trend, but a new way of thinking. Lesley says projects with an environmental focus have accounted for a significant portion of Pipe Flow's work for several years, but particularly over the last decade. 
"We've done quite a few projects related to optimizing tailings management or treatment. We've done projects related to improved energy use, like thermal recovery or equipment that draws less energy, but still accomplishes the goal of that process." Lesley anticipates this type of applied technological research will not only continue, but grow, and help industry minimize their environmental footprint.
"We work with the Canadian Oil Sands Innovation Alliance on environmental challenges spanning from tailings and water use to emission reductions." While emission reductions aren't traditionally in Pipe Flow's scope of work, Pipe Flow can leverage equipment and experience from working with oil sands and mining clients, as well as draw on other expertise from within SRC. 
It goes back to the notion of problem solving, which requires having the right people and the right tools —something SRC's Pipe Flow Technology Centre™ has developed over the past 60 years.
"From our clients' perspective, I think they're impressed with our ability to turn things around when a problem occurs," Lesley says. "We try to figure out a way to get past it and come up with a solution. We don't give up." 
It's that kind of attitude and work ethic that will see Pipe Flow through another 60 years and beyond.