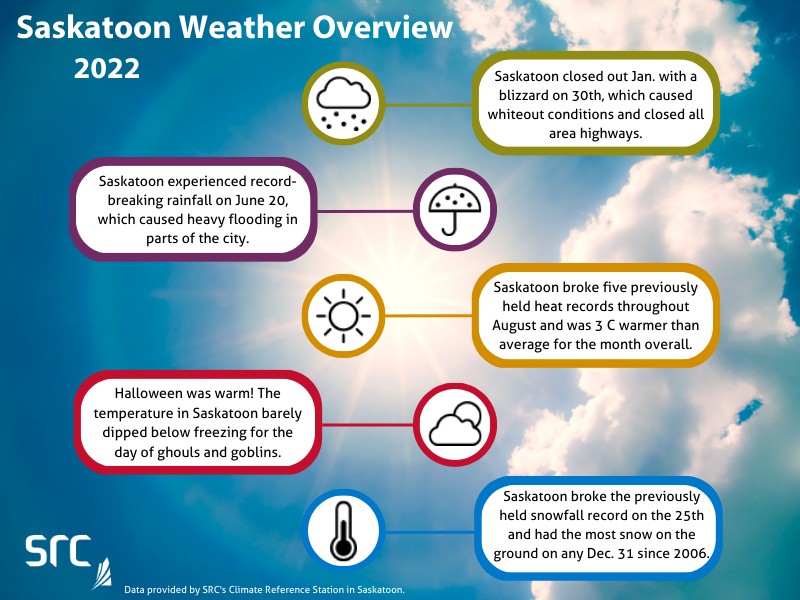 2022 will be remembered for many reasons. We experienced the world beginning to reopen, but as per usual for Saskatoon, we also experienced record-setting weather.
Saskatoon residents endured extreme weather throughout the year, with many temperature and precipitation records being broken—particularly in the summer months. Overall, there were many days to write home about. 
The data described here is from SRC's monthly summaries recorded at our Climate Reference Station (CRS), which is located in the northeast part of Saskatoon and is managed by SRC Climatologist Virginia Wittrock. SRC's Saskatoon CRS is celebrating its 60th anniversary of collecting weather data in 2023.
Join me as I reminisce about the weather we experienced in Saskatoon throughout 2022!
Interested in receiving monthly and annual weather summaries in your inbox? Subscribe here!
January
The weather in January of last year is best described in one word: average. The statistics indicate that overall, our weather was pretty typical for a January in Saskatoon with no new records set.
We did experience some frigid days, as Saskatchewan residents have grown to expect. January 6 saw temperatures drop to a low of -36.7 C and reach a daytime high of only -29.2 C.
We closed out the month with a blizzard on January 30, which caused whiteout conditions and closed all area highways to travel. Also on this day, Saskatoon experienced the highest wind speeds of the month with gusts reaching 74.9 km/h.
February
The first few days of February brought bone-chilling cold temperatures. However, as we reached the end of the first week of the month the weather began to warm up. Saskatoon reached a welcomed high of 0.2 C on February 6. The mild conditions (above 0 conditions) lasted for five consecutive days with the added delight of freezing rain and rain on February 6, 9 and 10.
As we approached the middle of February, temperatures once again began to dip. As Saskatchewanians celebrated Family Day (Feb. 21), the temperature reached a low of -27.0 C in Saskatoon. Suffice it to say that many opted to spend the statutory holiday indoors.
March
Almost half of the days in March had some variety of precipitation, resulting in a monthly total precipitation nearly double the average, giving hope that the 2021 drought was over.
On the final day of March, Saskatoon broke the previously held precipitation record by over a millimetre (4.3 mm in 2022, previous record 3.2 mm in 2020).  
Much like January, temperatures in March were what we have grown to expect. But we began to consistently reach positive daily highs in the second half of the month—an appreciated relief from what always seems like a long winter in Saskatoon. The warm temperatures resulted in the snow cover totally disappearing by the spring equinox.
April
Contrary to the popular adage, April did not bring showers. In fact, Saskatoon experienced less than half the average precipitation, which is a trend in SRC's reliable CRS data from the previous five Aprils.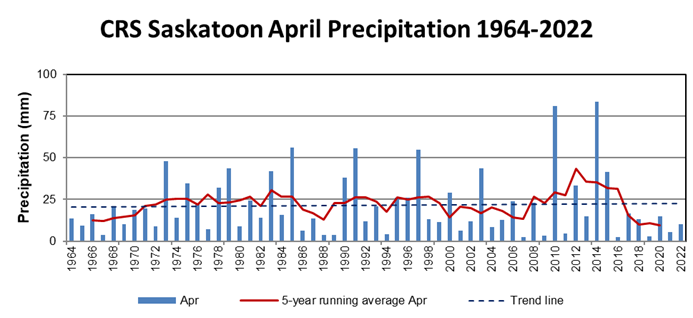 What April did bring was unrelenting wind, with wind speeds reaching a peak gust of 67.8 km/h on April 26. It's safe to say that "running like the wind" was easier said than done in April!
The last week of April had all daily highs in the double digits, with the final five days bringing the warmest temperatures of the month—a fitting end to the first full month of spring.
May
As we entered May, Saskatoon experienced more wind, but thankfully we only dipped below zero twice in May—once on the fourth and once on the twenty-first. The last spring frost of -0.9 C on May 21 caused some issues for the early seeded crops in the region. 
Early in the month we enjoyed a taste of summer, with temperatures reaching 27.8 C on May 5—the warmest day of the month. 
Contrary to statutory holidays earlier in the year, Victoria Day weekend brought pleasant weather. Saskatoon reached a daytime high of 23.0 C on May 23. An excellent weekend to spend in the yard!
June 
June brought positivity to the streets of the Bridge City. No negative temperatures were recorded all month for the first time in 2022!
Saskatoon experienced heavy flooding on June 20 due to record-breaking rainfall, bringing many parts of the city to a standstill. Underpasses on the east side of the city were barricaded by the police and many businesses closed. City officials scrambled to get Saskatoon up and running again!
Despite the flooding, Saskatoon experienced less rainfall in June than normal.
July
Canada Day delivered the coldest temperature of the month, reaching a low of 7.9 C. However, fears about July being cold proved to be unfounded as the month continued.
Although the good people of Saskatoon have grown to appreciate July for its heat, July 2022 was sizzling hot. We shattered eight heat records throughout the month.
We reached a sweltering high of 36.6 C on July 16, breaking the previous record by nearly 3 C! With the following day reaching a high of 29.7 C, this was a great weekend to spend pool or lakeside.
August
Not to be outdone by July, August also broke heat records. However, with fewer and less extreme days with five records broken by smaller margins throughout the month.
Saskatchewan Day proved be one to remember with warm temperatures and no rain. What a way to celebrate our province! 
Overall, August was HOT! We experienced blistering heat, beating the average daily high by over 3 C.
September
September broke several heat records and was the fifth driest on record. Are you beginning to sense a theme here?
Between the heat and the lack of rain, it seemed that summer wasn't ready to leave on the Prairies. The first day of fall brought temperatures that didn't have Saskatoonians reaching for cozy sweaters and Pumpkin Spice Lattes—the day reached a high of 21.2 C.
The heat continued into the end of the month, with the final day of September bringing a high temperature over 5 C warmer than the average.
October
The month of ghouls and goblins began with weather that was anything but frightening. The first days of October brought temperatures in the 20s. 
The middle of the month gave us our first taste of freezing temperatures—the final nail in the coffin of summer and a sure indicator that we were rapidly approaching winter in Saskatoon. The first fall frost on October 6 resulted in 2022 having 137 days in a row with above-zero temperatures.
Everyone growing up in Saskatchewan has memories of wearing their snowsuit over or under their Halloween costume, but this ritual would have to wait for another year. Halloween barely dipped below freezing.
November
In a welcome turn of events, November had more precipitation than normal. However, this did not change how dry Fall 2022 was overall. We recorded the eighth driest fall in the Bridge City.
November marks the unofficial beginning of winter in Saskatoon, which means that we usually get our first snowfalls that last throughout winter. This year was no exception. Although Saskatoon had snowfalls during the first week of the month, the snow was here to stay on November 7.
As November 11 rolled around, we experienced frigid temperatures, reaching a daytime high of only -11.8 C. This was much colder than our normal high on Remembrance Day—0.0 C. 
December
Saskatoon experienced a bitterly cold December. The average daily maximum temperature was -13.7 C—nearly twice as cold as the normal average.
In the week leading up to the holidays, frigid temperatures set in, with Saskatoon not reaching warmer than -20 C for most of the week. As an added bonus to the blistering cold, Saskatoon also had light snowfall on most days of this week.
Although the cold snap in Saskatoon broke on December 24, the snowfall did not follow suit. The increase in temperature also brought an increase in snowfall. On December 25, Saskatoon broke the previously held snowfall record. This record-breaking snowfall led to Saskatoon having the most snowfall on the ground of any December 31 since 2006.
About SRC's Climate Reference Stations
SRC's CRS is a principal climate reference station and is the only station of its kind in Saskatoon and one of only three like it in Saskatchewan. The station provides data to governments, universities, insurance agencies, agriculture sector clients and a wide variety of other industries. It is also a valuable research tool for evaluating long-term climate trends. 
2022 marked a milestone year for SRC's CRS located at the Conservation Learning Centre. This station celebrated its 10th anniversary and now provides historical weather data!