Data for this summary and the graphic was provided by SRC's Climate Reference Station in Saskatoon, SK. Thanks to SRC's Climatologist, Virginia Wittrock, for working her data magic every year and sharing it in this post!
Saskatchewan residents are pretty patient when it comes to weather. Bracing against a northerly gale with a wind chill of -40 C in January. Watching frost creep over green lawns in early October, foreshadowing the cold months ahead. Shaking off 11 days straight of rain in June. Visitors think we're crazy. Relatives living in the west or the east or in tropical climates want to disown us and our down-filled jackets. "You need to warm your engine?" they cry.
In our darkest hours (you know, the ones where you go to work in the dark and come home in the dark?), we secretly lament, "Why do we live here?!"
Cue the buds popping on a warm spring day. The giddy adults and kids jumping into one of Saskatchewan's glorious lakes to escape the summer heat. Leaves falling like confetti and crunching beneath your feet on a sunny autumn day. Launching your first well-packed snowball at a co-worker.
Four seasons can come with setbacks, but the perks outweigh them all. Which is why we live here. Continue to live here. Continue to be patient with the weather. And why you'll see us throwing our jackets aside when the mercury slides above 0 C. Summer's coming. And there's nothing like a Saskatchewan summer.
2014 Saskatoon Weather Highlights
We're lucky to have Virginia Wittrock, our in-house climatologist, who has squeezed and mashed together the data recorded in 2014 at our Climate Reference Station in Saskatoon. I asked Virginia for the climate highs and lows of 2014. She made it rain climate stats:
It was a wet year. The eighth wettest year in the last 51 years, in fact. (Tweet this!)
It was a little chilly. Maximum temperatures for all seasons were below normal. 2014 was the first year since 1994 with no days above 32 C. But we did reach 32 C! Oddly enough - on May 23.

Coldest day? -34.2 C on March 1. Good thing it was only one of seven days below -30 C.

It was frosty. Out of 365 days, only 141 were frost-free. But, we actually had one of the longest summers because the first frost is usually in mid-September and in 2014 it was Oct. 3.
It was sunny when it was cold. Winter had 74 days of sunshine. Near normal bright sunshine hours were recorded for the year. (It must have something to do with our sunny disposition.)
Interesting in receiving monthly weather summaries? Subscribe here!
BAM! We've visualized the data!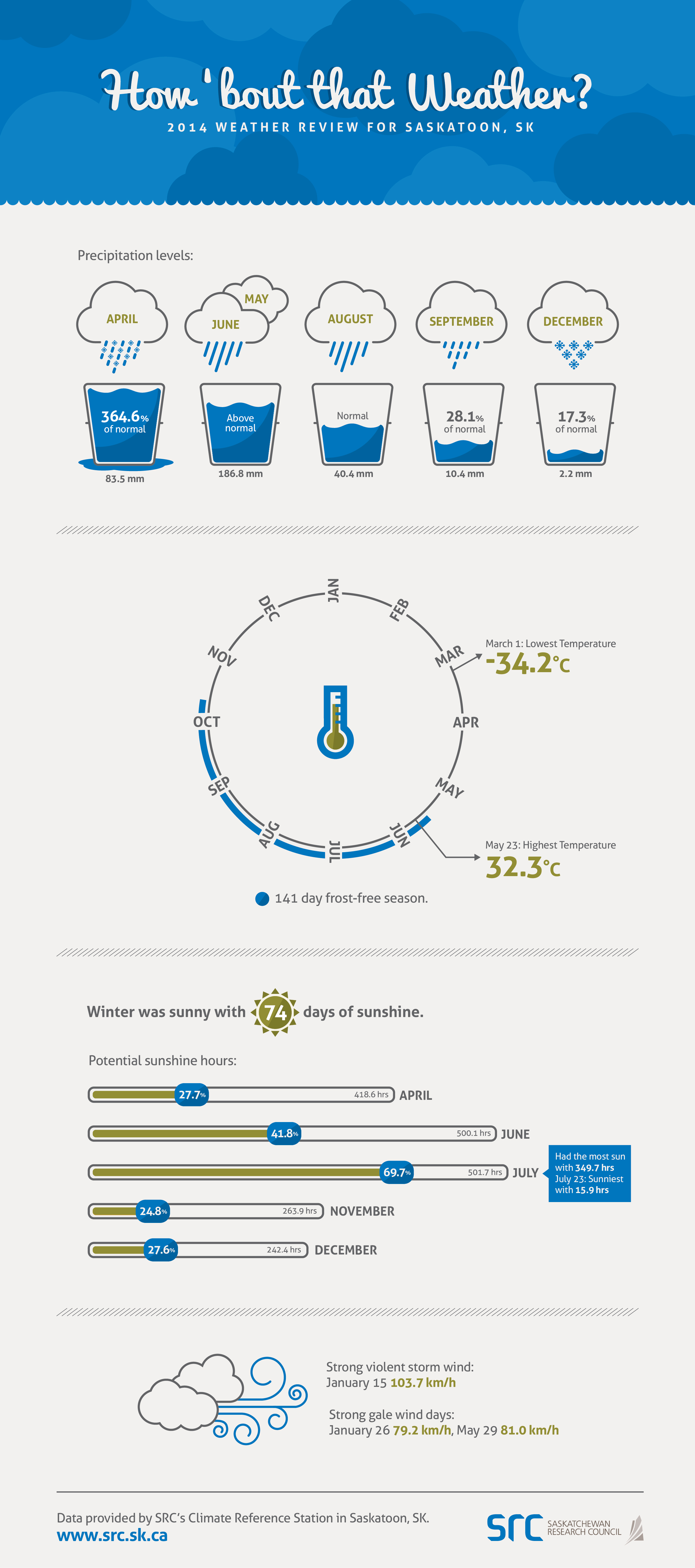 About SRC's Climate Reference Stations
For more than 50 years, SRC's Climate Reference Station (CRS) in Saskatoon, SK has provided high quality and consistent climatological observations that address climate change effects and the increased climate variability on the Prairies. A new sister station became operational January 1, 2012, at the Conservation Learning Centre (CLC) south of Prince Albert, SK.