The year of 2019 won't be remembered in Saskatoon's history books for its weather. That's because overall, when averaged over the year, the weather was very typical for Saskatoon and surrounding area. Some might even have called it unremarkable.
In talking with SRC's Climatologist, Virginia Wittrock, she said during the summer and fall periods, people kept asking her for weather highlights like records broken or trends seen. However, Virginia said that once we got past the extremely dry first six months of the year, we didn't measure many new records – meaning all of the data showed pretty much close to average temperatures, average precipitation and so on.
So, while the year as a whole may have been fairly unremarkable, there were still some notable weather statistics and events using data from SRC's Climate Reference Station (CRS). The station, located in the northeast part of Saskatoon, has been recording climate data for over 55 years to determine climatic trends for the city. It tracks things like high and low temperature, wind gusts, precipitation amounts, sunshine hours and soil temperature data just to name a few.
SRC's CRS is a principal climate reference station and is the only station of its kind in Saskatoon and one of only three like it in Saskatchewan. The station provides data to governments, universities, insurance agencies, agriculture sector clients and a wide variety of other clients. It is also a valuable research tool for evaluating long-term climate trends.
Follow along as I recount some of the highs and lows from this past year – weather pun intended!
Interested in receiving monthly and annual weather summaries in your inbox? Subscribe here!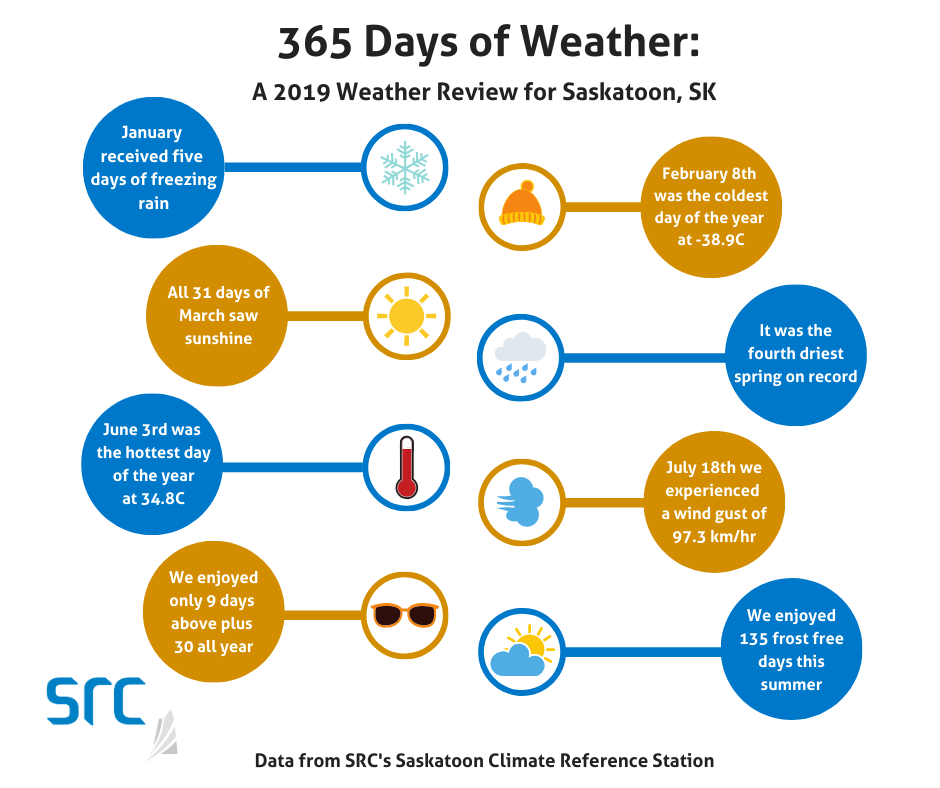 January
2019 kicked off with a warm spell, leaving Saskatonians basking in temperatures that were 10 to 20 degrees warmer than the average. In fact, the lowest temperature recorded in January at the CRS was -32.4 C on the 18th. Making January seem even more bearable was the fact that Saskatoon only received 8.4 mm of snow on the ground throughout the month. And at month end, Saskatoon only had a total of 9 cm of snow on the ground.
Additionally, during our warm spell, we received five days of freezing rain which made for some icy road conditions in and around the city.
February
But residents didn't get to put their parkas away for too long as one could only describe February 2019 in one word…COLD. It was so cold that it ended up being the second coldest February in the last 56 years with an average monthly temperature of -22.4 C. The coldest February still belongs to the year 1979 with an average temperature of -23.9 C.
During February, we shivered through 7 days with temperatures at or below -32.5 C and 4 days at or below -35 C. Not surprisingly, the coldest day of 2019 also came in February with a temperature of -38.9 C on the 8th. The last time February had a minimum daily temperature that low was in 1996 with a temperature of -39.9 C.
Hopefully you were one of the lucky ones that snuck in a hot holiday somewhere warm in February and got a break from the bitter cold!
March
What a difference a month can make! Even though March started off cold, it ended warm and gave us a lot of sunshine in-between. In fact, it was the sunniest March on record at the station with 273.9 hours of sunshine. The previous record was 253.5 hours recorded in 2014. The 1981-2010 average is 182.0 hours, so we saw almost 100 more hours of sunshine in March than normal!
In order to make this possible, all 31 days of March recorded some sunshine. We also had a record-breaking number of days (28) that received at least five hours of sun, whereas the previous record was in 2014 with 26 days.
All that sun quickly melted away the small amount of snow we had received over the winter as our last day of winter snow cover was March 18. This meant that it felt like spring came earlier than usual last year! 
April
The winter dryness continued into April. It ended up being the third driest April in Saskatoon since the station opened in 1963.
Additionally, it was the third driest January through April for the site. 
May
Unfortunately, the dry spell continued into May. While only 11.7 mm of precipitation was measured in May, we did see some light snow on the 3rd. But it was so dry in Saskatoon that Spring 2019 (March, April, May) is now categorized as the driest spring on record for the site. 
The good news was that Spring 2019 also had the highest amount of bright sunshine in the station's history with 890.4 hours. That is a lot of sunshine, seeing as the previous record in 2015 saw 872.8 hours and the 1981-2010 average is 666.1 hours. 
The last frost of the year was on May 17 allowing Saskatonians to get their gardens in over the May long weekend last year. 
June
Saskatoon finally got some rain in June with a number of short, sharp bursts that even resulted in above normal precipitation for the month and even broke some daily amount records. June 20 received 20.9 mm of precipitation and on the 22nd we received a total 32.4 mm. 
The hottest day of the year occurred on June 3 with a temperature of 34.8 C. This gave everyone hope for a hot summer. However, that is not how things turned out.
July
July continued to provide Saskatoon and area with some much-needed precipitation. But this didn't jive well with summer holiday goers who might have seen more rain on their vacations than sunshine. In fact, it was the tenth wettest July on record with 82.1 mm of precipitation.
On top of the rain, we also experienced a lot of wind. The 18th had a wind gust of 97.3 km/hr, which is just slightly higher than the speed limit on Circle Drive in the city.
Fun fact: on that same day, the umbrella in my backyard blew into a neighbour's yard and in the process, shattered a glass patio table.
August
If August felt less like summer this year and more like fall, that's because the average temperature in Saskatoon for the month was only 17.0 C.
In fact, in 2019 we enjoyed only 9 days where the daytime maximum temperatures were at or above 30 C (normal is just over 15 days) and only 3 days when the day time maximum temperatures were at or above 32.5 C (normal is nearly 6 days). 
September
September felt colder than usual since the maximum temperatures were cold, but the minimums were actually warmer than usual. In fact, the minimum temperatures did not fall below 0 C in Saskatoon in September at all.
October
The minimum temperature finally dipped below zero on October 2 and the cool day time high's streak continued from August and September into October, as we experienced the eighth coolest month on record with an average mean monthly temperature of 2.6 C. 
We did, however, enjoy a longer than average frost-free season this year at 135 days. The 1981-2010 average is 124 frost-free days. 
November
Saskatonians experienced a wide range of weather in November. We saw everything from rain to snow to freezing rain. We saw some cold weather and also some warm weather. November 23 even saw the temperature go above plus 10.
Overall, though, the station recorded near normal temperatures and normal precipitation amounts. We didn't experience the usual sunny skies we're used to in Saskatchewan, as it was quite cloudy with only 70.9 hours of bright sunshine in the city.
December
It was fitting we finished off the year with normal temperatures in December. And while no records were broken throughout the month, we did experience both cold and warm days. We recorded a low of -29.1 C on the 14th and a high of +4.5 C on December 3. One fun fact was that Saskatonians woke up to a truly "White Christmas" this year as it snowed very early on December 25.  
You can view monthly and annual climate data from our Climate Reference Stations on our weather summaries page.