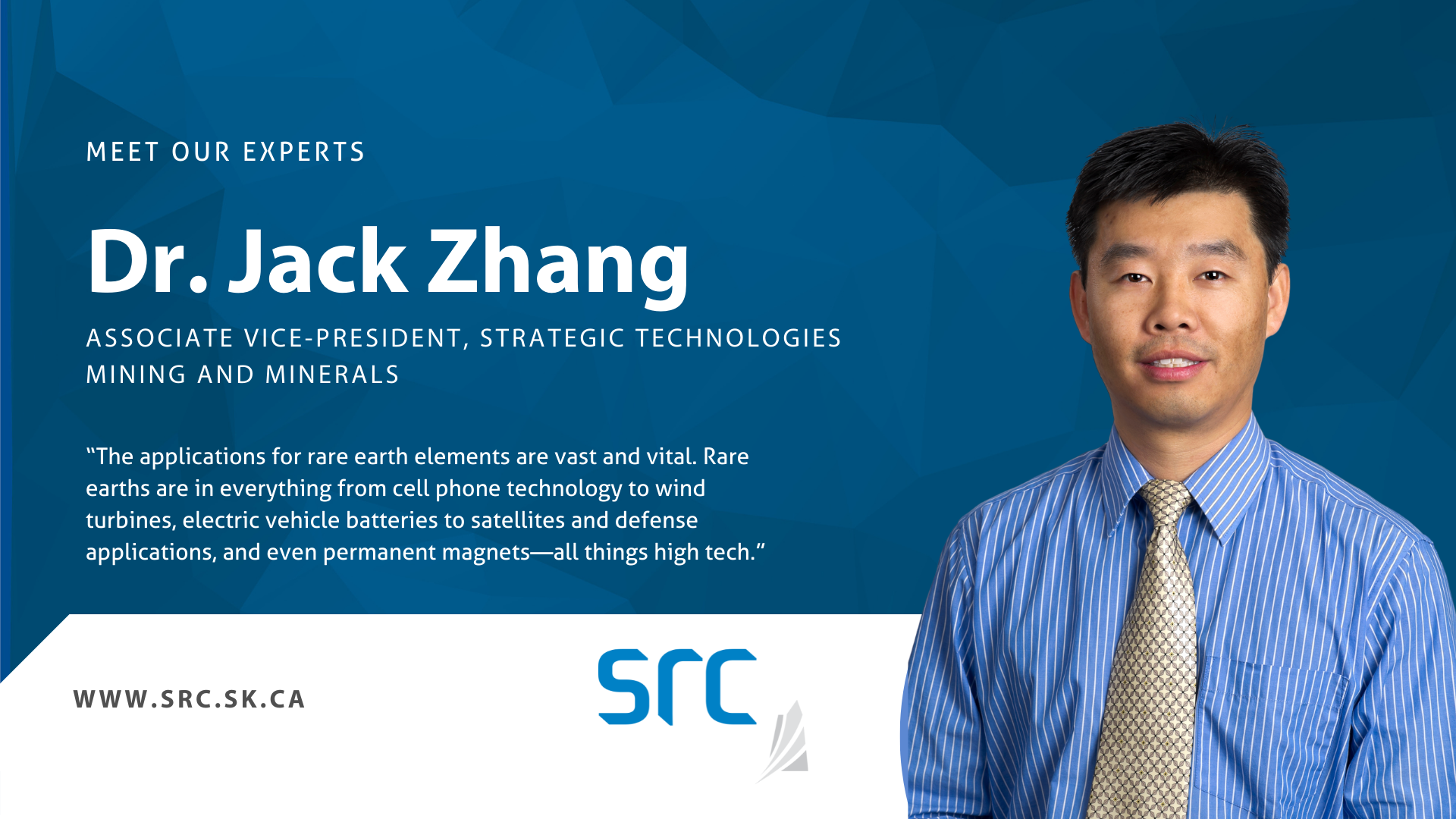 As the world looks to secure access to critical minerals vital for telecommunications, computing and clean energy, Saskatchewan (and Canada) are positioned well to meet that demand. Did you know Saskatchewan is home to 22 of the 31 critical minerals—among them rare earth elements—on Canada's critical mineral list? Beyond our access to rare earth elements and other critical minerals, SRC will soon be home to Canada's first Rare Earth Processing Facility—currently under construction in Saskatoon.
The team leading SRC's foray into rare earth elements processing includes Dr. Jack Zhang, the Associate Vice-President of Strategic Technologies in SRC's Mining and Minerals Division. Jack began his career studying chemical engineering, specializing in petroleum refining. In 2003, he enrolled at the University of Saskatchewan to begin his graduate work for a PhD, working in oil and gas refining research and catalyst development.
"My interests changed, and I switched to mining in 2007," says Zhang. "Then, an opportunity opened up with Cameco." Zhang headed for Cameco's uranium operation at Rabbit Lake, where he began his career as a plant metallurgist. In 2010, Zhang joined SRC as the first employee in the mineral processing unit and helped build the unit from the ground up. "I worked on building capacity, and my background in uranium was valuable to that work."
Work in rare earths would come soon after for Zhang. "I started dealing with rare earths in 2011 and began working on business and technology development." Around that time, over 250 rare earth junior mining companies rushed into the market with all kinds of challenges and SRC, like it does in many areas, began to support industry in this area.
SRC's Mineral Processing team focuses on three major areas: 1) dealing with the challenges of complicated mineralogy by developing a highly efficient ore beneficiation process, 2) developing innovative hydrometallurgical processes to reduce costs and environmental footprints, and 3) developing a rare earth solvent extraction separation process to produce high purity end-use products.
The development of beneficiation and hydrometallurgical processes was mainly done through working with the rare earth industry in North America. The development of separation technology was mainly done through internal SRC funding as the majority of rare earth companies are in the earlier stage of development and are not yet there.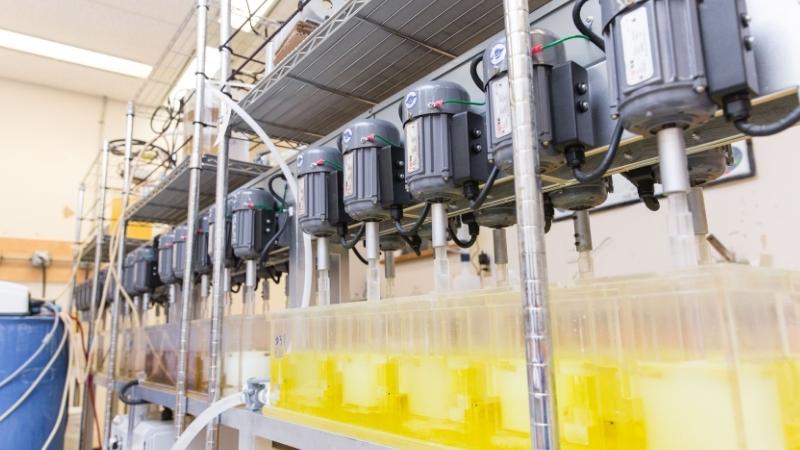 Zhang and the Mineral Processing team have achieved significant progress in all three of these aspects. For, example, SRC has successfully produced ore concentrate with about 60 per cent rare earth oxides, developed hydrometallurgical processes with minimum wastes, and separated individual rare earth elements with high purity. Today, Zhang provides technical guidance for rare earth processing as construction continues on the new rare earth facility, due to start initial processing in 2023.
According to Zhang, rare earths are not "rare" at all. They are found everywhere. What makes them rare is their concentration—and that's where Saskatchewan and SRC's Rare Earth Processing Facility enter the picture. "Concentration of rare earths is what we're focused on. You can find rare earths in your backyard, but they are not concentrated enough to be valuable," he says.
"Our work is focused on working with mining companies that provide rare earth ores that are concentrated enough to be usable," says Zhang.
SRC's processing facility will take these rare earths, and both concentrate and separate elements for industry use. 
"The applications for rare earth elements are vast and vital," says Zhang. "Rare earths are in everything from cell phone technology to wind turbines, electric vehicle batteries to satellites and defense applications, and even permanent magnets—all things high tech."
While processing sounds "easy," Zhang explains it will take a complicated, multi-staged process just to get to concentrations. "Our location close to ore bodies is an asset," he says. "We're hopeful to be in stage one concentrations by mid-2023 and separating rare earths by late 2024."
Learn more about SRC's rare earth element services and its Rare Earth Processing Facility.
This is a contributed blog post from former SRC employee, Brook Thalgott.