This blog post is part 2 of 3 in our Intelligent Business Series.
Can small and medium-sized enterprises (SMEs) do competitive intelligence (CI)? Should SMEs do CI? And, can SMEs implement a CI program without diverting a lot of resources — namely staff and money?
I recently presented on this topic at the Saskatchewan Trade and Export Partnership (STEP) Conference in Saskatoon and my answer to all of these questions is yes.
The bad news first. Then some good news.
The bad news isn't surprising. Implementing a CI program takes time, and someone — or some group — should spend a part of his or her workweek gathering intelligence.
The good news is that you probably already do some kind of CI already. And even better, your company doesn't have to be an immediate expert. Developing an effective program is a process and you can find out what does and doesn't work for your company through trial and error. Your CI program can be informal, but probably not ad-hoc (that is, it should be done continuously).
What is Competitive Intelligence?
Before jumping into how to go about CI, here's a definition from Fuld+Company:
Competitive Intelligence is the delivery of timely, in-depth competitive and global insight while helping decision-makers illuminate the uncertainties of tomorrow's markets.
For me, the key takeaways from this definition are that CI:
Provides insight and not information: CI should try to analyze the information based on what is important to the company and produce actionable knowledge
Helps decision-makers: if no one is using the analysis to make a decision, then it's probably not needed; CI incites action
Highlights risks (and opportunities): it's future-focused
Provides timely insight: information gathering and analysis, if done on a regular basis, can make your program more valuable
What does CI cover?
Jan Herring provides a good, but somewhat intimidating, overview of the key topics that are typically covered in an intelligence program.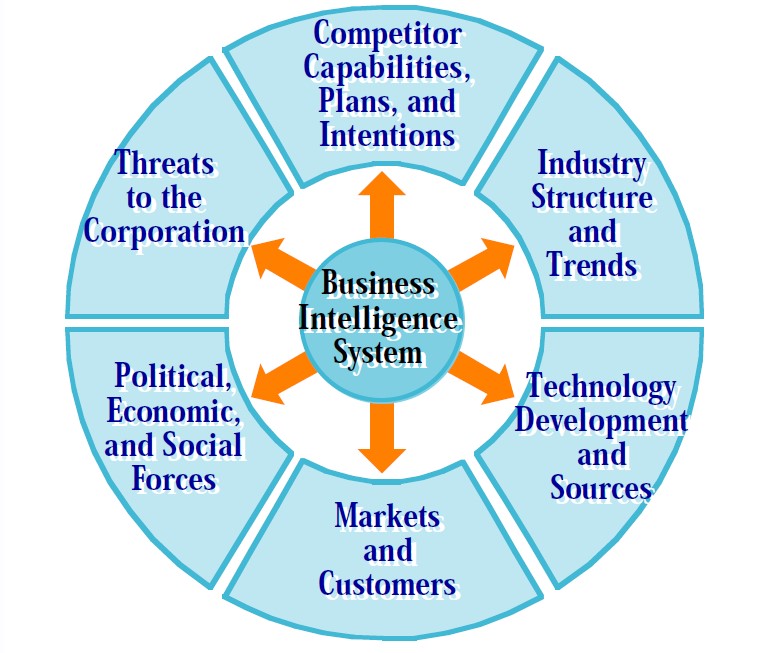 How can a small company cover all of these points and make the analysis meaningful, all the while preventing the CI analyst from running out the door?
Four steps to lead you to the path of CI enlightenment:
1. Start small and focused: Break CI down into reasonable requests
A simple first step is to identify two or three topics that your company is most interested in. Don't try to tackle everything at once. Generally, the key intelligence topics fall under strategy, opportunities and key players. Jan Herring suggests asking three directed questions to guide the research:
Strategy: What is a key decision that your company will make in the next few months and where can CI help?
Opportunities or Threats: What are a few topics your company doesn't want to be surprised by in the near future (e.g., a new technology)?
Key Players: What three or four key players do you need to know more about?
2. Collect Information – Two Key Tools Anyone Can Use
Once you have some key topics, collecting information can be more focused and the analysis can better serve your company. But even with this focused approach comes the challenge of collecting useful, timely information, given the large amount of data that is out there.
Two simple methods I like to use are Google Alerts and RSS Feeds. These tools are easy to set up and are effective for monitoring issues on a regular basis.
If I want to track a key player, for example, I can set up a Google Alert which will flag discussions about the company in the news. These alerts often catch press releases from the company too. 
Some companies offer RSS feeds on their websites. Using RSS feeds means I don't always have to check a website for updates; it's basically done for me.
3. Get Your Track On
Some other monitoring methods are:
Joining an industry association and subscribing to its newsletter (if available)
Attending at least one trade show which  many of your competitors are attending
Reading investor blogs that provide sector analysis in your areas of interest
Subscribing to industry newsletters (there are many— try some out and pick your favorites)
4. Avoiding Analysis Paralysis
Analysis is an essential part of the process. Analysts always need to ask, "What does this information mean to our company and how can I present it so it's meaningful for the company?"
In their book, Analysis without Paralysis, Babette Bansoussan and Craig Fleisher discuss twelve tools that analysts can use to organize and evaluate collected information. A few of these methods are:
Strength, Weakness, Opportunity, Threat (SWOT) Analysis
Competitor Analysis
Five Forces Industry Analysis
Product Life Cycle Analysis
Political, Economic, Social and Technological (PEST) Analysis
Scenario Analysis
Knowing when and how to use these tools is a learning process. The real benefit of any tool is to force the analyst into considering how the information may impact the company.
Hopefully what you've learned here can help you develop timely insights for your company that lead to good business decisions. If you have other tools and steps to share, I'm interested in seeing them, so please add them in the comments.  
Sources
Bansoussan, B. and Fleisher, C. 2013. Analysis without Paralysis: Twelve Tools to Make Better Strategic Decisions.  2nd Ed. Pearson Education Inc.
Fuld+Company Website. "What is Competitive Intelligence?" Retrieved at: http://www.fuld.com/what-is-competitive-intelligence
Herring, J. 1999. "Key Intelligence Topics: A Process to Identify and Define Intelligence Needs." Competitive Intelligence Review, Vol. 10(2) 4–14. Retrieved at: https://www.wlu.ca/documents/22437/04_Herring___KITs__A_Process_to_Identify.pdf