When I think back in my career, there are pivotal moments where someone gave me an opportunity to explore an interest – I learned how to work on cars with a mechanic, I laid paving bricks for a summer, I shadowed a lawyer.
While I didn't become a mechanic or a landscaper or a lawyer, every experience has defined who I am by opening my eyes to possibility and different perspectives.
Young women are presented with so many options and so much of who you meet and what you experience guides the decisions along your career path. It's important that we, as teachers and employers and parents and mentors, create opportunities so that young women can explore and "try-on" careers they're interested in.
These hands-on learning experiences are especially important for women considering a career in a science, technology, engineering or math (STEM) disciplines.
Often this comes in the form of a mentorship opportunity, a chance to work alongside someone who is already working in a STEM career. For instance, SRC has an Aboriginal Mentorship Program, in which students in STEM disciplines are provided the opportunity to work, alongside a mentor, in a lab, or an office, or with clients or in the field.
Our hope is that the experiences we provide these young women and men, along with encouragement from their mentors, will help them take the STEM world by storm.
We're fortunate that many women in STEM careers have chosen to work here – scientists, engineers, researchers, technologists. The knowledge and innovative thinking they bring to projects and solving client challenges is mind melting. And you'll find out in a minute how five women at SRC came to be in a STEM career and what and who inspired them - and continues to inspire them - to stick with it.
Having a curious mind and someone to look up to has always been important no matter what career or country or culture you come from. These five women are just a handful of all the women at SRC who are real-world role models paving the way for future generations.
Jenna Smith-Windsor, Lead Technologist, SRC Environmental Analytical Laboratories
From an early age, Jenna Smith-Windsor was an analytical person. She points to her interests in chemistry, math and physics as indicators for where her career aspirations began. "I had a great chemistry teacher who helped me fall in love with chemistry. I knew that someday I'd be in that field and studying it," she says.
Flash forward to present day. Jenna now works in SRC Environmental Analytical Laboratories' radiochemistry lab as a lead technologist, looking for isotopes in environmental samples. "I love what I do because I'm constantly learning new things all the time. Technology, math, science is always evolving."
With new techniques to learn and new processes to develop, Jenna finds a lot of her education happens in the lab. She explains, "There isn't a lot of education for radiochemistry in our province or in Canada. So a lot of the training for radiochemistry you do is hands on, right here at SRC."
Jenna encourages young women to pursue whatever career path they feel drawn to – whether it's science, math or English literature. "There's a lot of opportunities out there for women, so explore. Try different things, see what you like. Hands-on experiences are great."
The opportunity to learn every day, to see technology advancing and to figure out how things work are reasons why Jenna finds a career in STEM so rewarding. And she's not afraid to embrace what she calls her "inner geek." She encourages everyone to shine a little light on the nerd within. "We all do at SRC – we love to be the geek, and still have fun doing so."
Jane Danoczi, Senior Process Engineer, Minerals
As the first girl in her high school to receive the science award, Jane Danoczi was already headed down a STEM path. "Math and science were always my strong subjects at school," she says. But she was uncertain what career she wanted to follow, so she joined the South African Navy. "Here I realized my passion for solving problems." Jane worked on many projects, from degaussing minesweepers (reducing a ship's possibility of detection by sea mines) to figuring out why torpedoes sometimes go astray.
A career change led Jane across the Atlantic and eventually to SRC. Jane improved the screening process for determining the percentage of sand, silt and clay in ore and till samples. She was instrumental in designing a facility that allows SRC to find important micro minerals from a large sample. She's now working on another facility that will enable SRC's clients to improve diamond recovery.
For young women considering a STEM career, Jane points to the variety of work and problems to solve as being reasons to pursue it. "You are always finding out new methodologies and new solutions. You get to write technological papers and to present at conferences. You get to collaborate with like-minded people."
A career path in STEM can be challenging, particularly for women, Jane says. "You may face opposition on all sides, but don't let it deter you. Push through it, build your skills and know that the sciences are the building blocks for a better tomorrow."
Melissa McKibben, Principal Research engineer, Pipe Flow Technology Centre™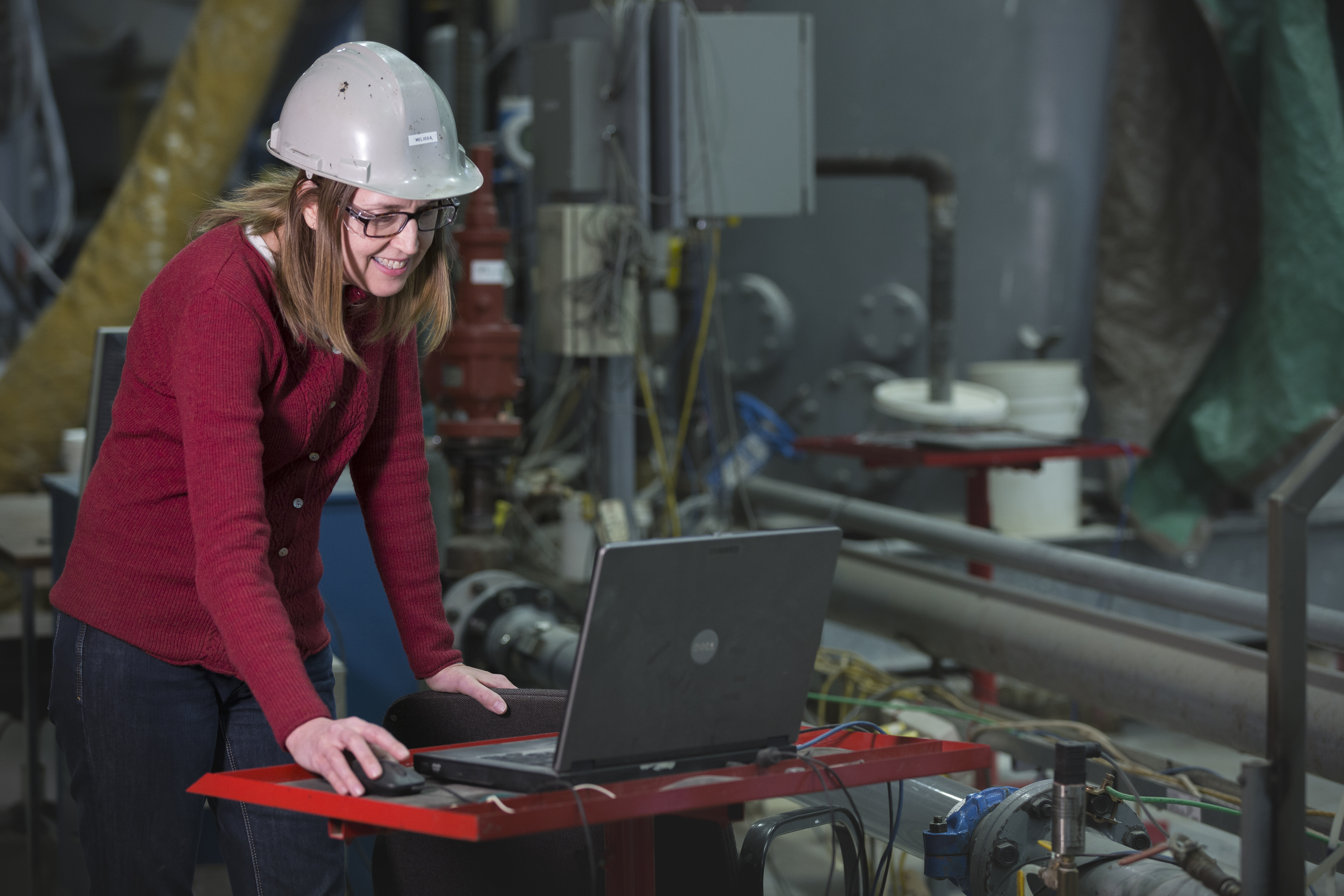 Inspired and encouraged by several high school science teachers, Melissa McKibben decided to pursue a career in engineering. "I also had good exposure to the practical side of this career during my early teens when my family built a lakefront cabin on a hill." Melissa's father, who is also an engineer, "got the entire family involved in the process, from surveying to electrical installation."
As an engineer with SRC's Pipe Flow Technology Centre™, Melissa leads client-sponsored research programs in fluid mechanics. While the facility has a wide range of expertise, Melissa explains, "Our key area of study is the flow of complex mixtures, such as combinations of fluids, solids and gases, in pipelines." Melissa's main roles are designing and supervising experimental programs that will solve their client's industrial problems. "We then interpret the test results and report on them."
"I think one of the best things about a STEM career is that you can do so many very different things with a single degree, so you're never limited to a fixed career path," she says. "STEM careers are also often on the leading edge of technology, so you're always being challenged and learning new things."
Stephanie Snider, Senior Instrument Technologist, SRC Biotechnology Laboratories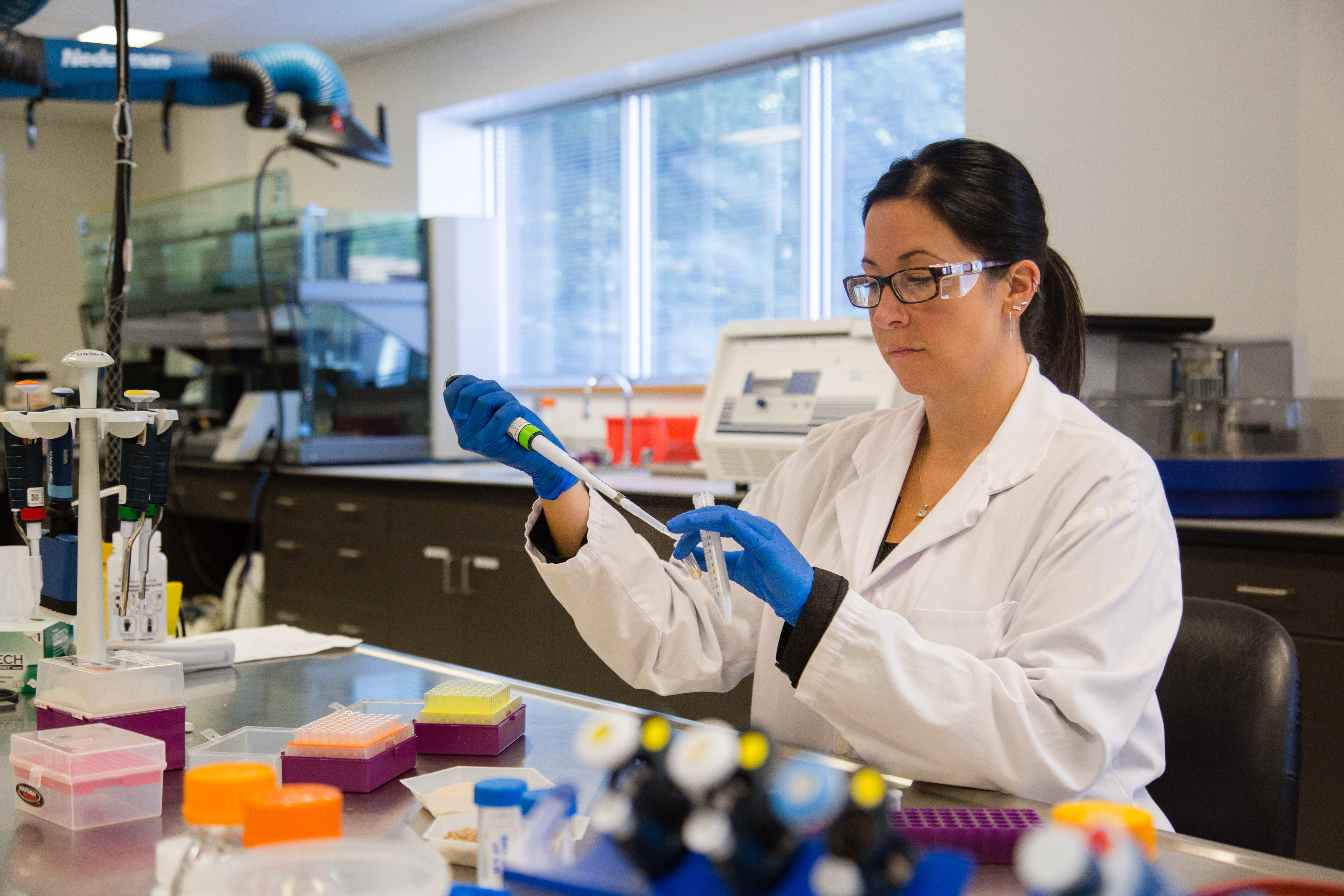 "I realized early on that science is cool," says Stephanie Snider. "It's everywhere, all around us."
Based on an interest in science and math, Stephanie studied biotechnology in post-secondary school. "We studied a broad range of classes - microbiology, genetics, immunology, statistics. There, I found out I loved genetics."
Stephanie has worked at SRC for over 11 years, starting as a Technologist 1 and is now a Senior Instrumentation Tech in SRC Environmental Analytical Laboratories. Stephanie puts quality at the forefront of her work where she performs DNA extractions, runs different tests, and analyzes and reports results. She's also involved in developing new methods and tests to provide to industry.
"It's awesome because I am always learning as the industry keeps evolving with bigger and newer technology," she says.
Elizaveta Petelina, Environmental Remediation Specialist, Environmental Remediation
Elizaveta Petelina is a former SRC employee on the Environmental Remediation team.
With a love for science fiction and inspired by her parents' passion for biology and storytelling, Elizaveta Petelina's curiosity for how the world worked led her into a STEM career. "I pursued a career in science as a lifelong quest for answers to fascinating questions," she explains.
"Some people may think this career is too challenging or boring, but I would disagree. It lets you follow your curiosity and satisfy your natural desire for knowledge," she says.
Liza encourages young women to consider a career in STEM because of the variety it offers. "There are endless opportunities to learn something new, so life becomes an adventure where new knowledge and experience are your reward." She also says women in STEM can have a successful work-life balance, as in any career.
SRC was named one of the Best Workplaces for Women for 2017 and one of the Best Workplaces for Inclusion for 2018 by Great Place to Work.TM Our goal is to create an environment where all employees feel safe and supported, with equal opportunities to contribute and succeed.