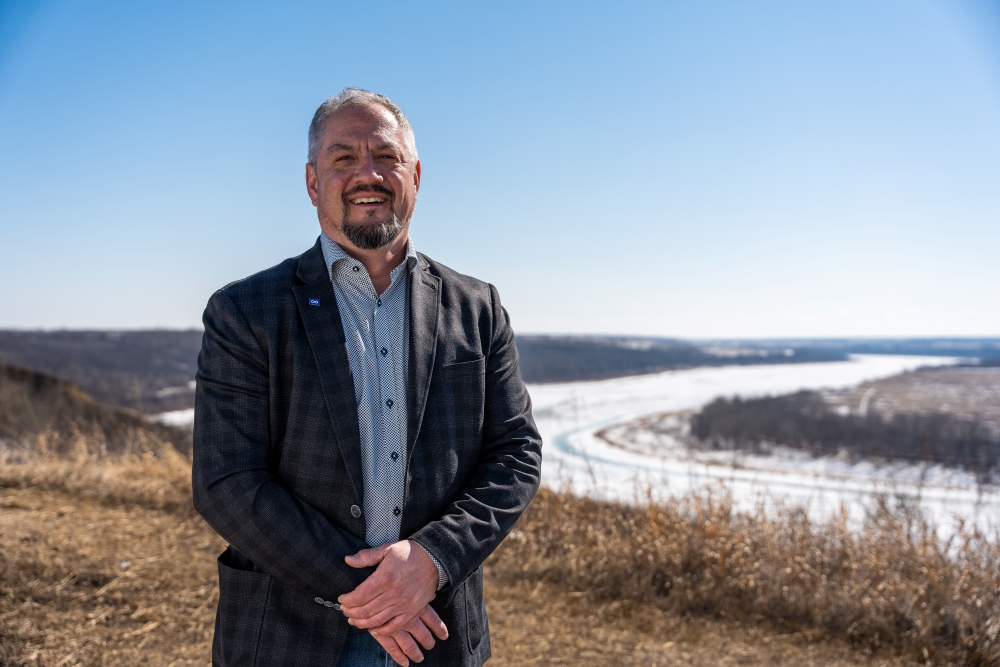 As a member of the Métis Nation-Saskatchewan, Mark Calette knows the importance of building strong relationships.
"For Indigenous people, relationships mean everything to us," says Calette. "That's the fundamental backbone of how we want to work with anybody. We want to build those relationships first and then trust can start and we can move forward."
Over the years, Calette has been a leader in community engagement and has helped SRC build trust between Saskatchewan communities and industry partners. 
Calette started his career at SRC working with Indigenous communities in northern Saskatchewan as part of a multi-year project called Project CLEANS (Cleanup of Abandoned Northern Sites). This work involves remediating 37 abandoned uranium mine and mill sites.
Calette's new role as Director of Indigenous Relations expands his work in community engagement to other areas across SRC. He is excited to engage in collaborative discussions and help make new connections, build trust and maintain relationships with Indigenous communities across the province.
Communication is key to fostering trust 
Calette believes that listening to and learning from communities is the starting point for any industry project.
"Industry often makes the mistake of speaking with communities after they have made important decisions," says Calette.
The first steps to a successful approach are establishing communication, building trust and taking time to foster relationships that are collaborative. Calette says that finding out the community's needs is an important step in the process and can make a world of difference for everyone involved in the project. This important feedback can inform any project-related decisions and the process through which they're made. 
For example, the Project CLEANS team meets regularly with different communities in the Athabasca Basin, whether in person or checking in by phone or email. 
"Spending as much time as possible talking with community leaders and members, and in a variety of different ways, is a great way to facilitate strong relationships," says Calette.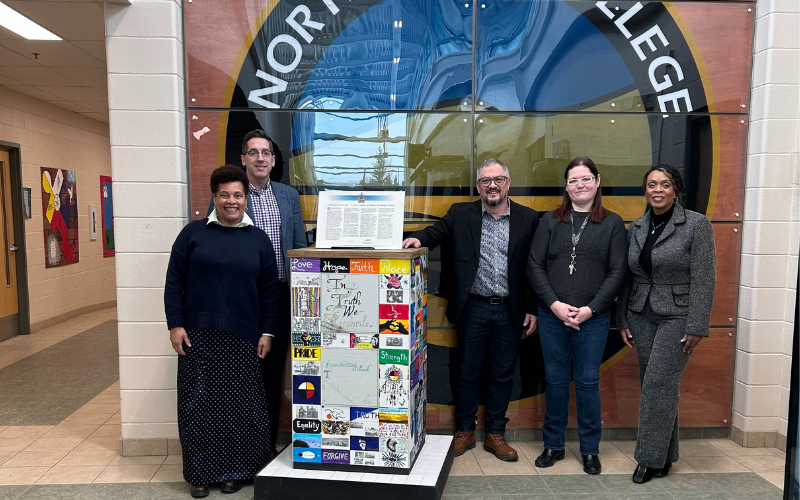 Looking towards the future of community engagement
After his work with Project CLEANS, Calette left SRC to join Métis Nation-Saskatchewan as Senior Director of Administration. Now back at SRC, Calette is entering his ninth, non-consecutive year with the Council and is excited for the future.
"It's a great place to be and I think it's a special time," says Calette, "I think how we're going to engage with the Indigenous communities is going to be really exciting and important."
Calette brings his passion and expertise to his new role and hopes to expand on the work that SRC has done over the years. His goal is to continue to help Indigenous communities connect with SRC on new and existing projects.
Collaboration between SRC and Indigenous communities is an on-going process.
"When I first joined SRC, the Indigenous engagement piece was moving along but it was still pretty new," says Calette. "So, we were able to build this very robust plan together."
While strong foundations have been laid, Calette believes there is room to improve. 
"We certainly tried to follow the good work we saw around Canada, and I think, in terms of Saskatchewan, what we did was best practice," says Calette. "I believe that's a good starting point, but there's an opportunity to really expand and grow and improve on the work we did."
SRC's work with communities in the Athabasca Basin on Project CLEANS set a precedent for future engagement between business, industry and Indigenous communities in the province.
"For SRC, it was important to let communities know that we were going to be there for the long haul, and we were going to listen, and we were going to learn," says Calette. "We just took that approach from the start and I think that served us well and continues to serve us well."
Communities were able to give their input on different areas of work at all stages of the process. For example, SRC helped to facilitate elder-youth workshops that assisted the revegetation and reclamation portion of the project.
Moving forward together
Calette is focusing his energy on cultivating Indigenous engagement throughout SRC and hopes to expand relationships between the Council, industry and communities. 
"Any industry, whether its mining, oil and gas, forestry, anything to do with the environment—I think you need to work with Indigenous communities and really learn from them," says Calette. "They have been stewards of the land for centuries and have a lot of knowledge to share. It's important to learn from impacts experienced from previous development and to avoid the pitfalls of the past."
Working together on key strategies can help grow relationships. Calette believes that clear communication is crucial for reaching future goals and he is focused on a collaborative approach that will benefit everyone involved.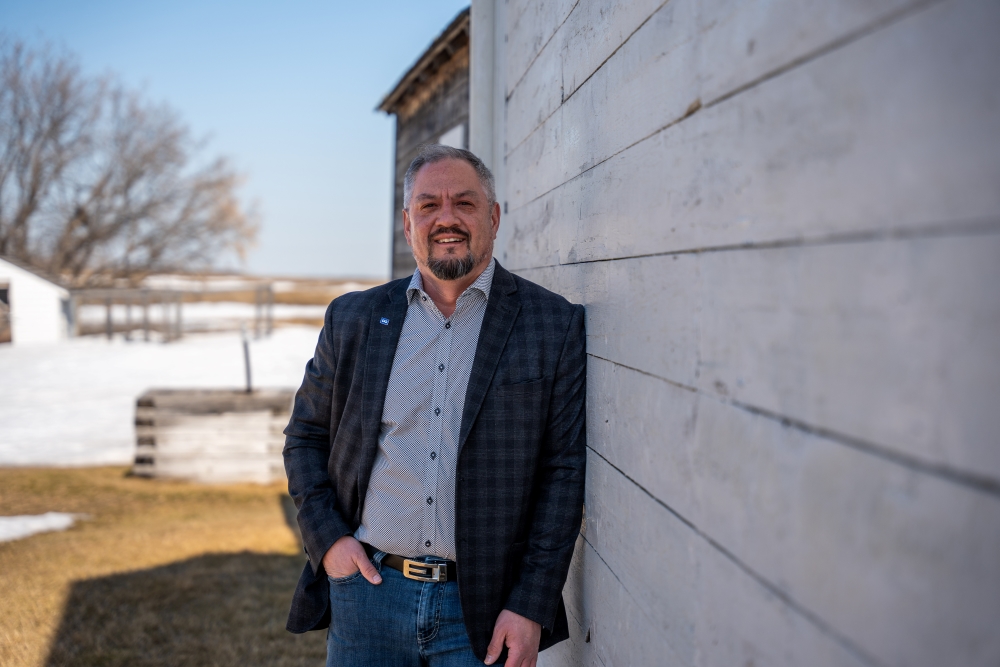 A stronger Saskatchewan
Saskatchewan is very important to Calette. His family came to the province from Red River, Manitoba, in the 1860s. His community, the Round Prairie Métis, settled just south of Saskatoon near Whitecap Dakota First Nation. After the events at Batoche in 1885, the community began migrating to the city, leaving the area behind by the early twentieth century. Today, the Round Prairie Cemetery marks the area of an important historic Métis settlement.
Calette has spent some time living and working in Prince Albert and Buffalo Narrows but calls Saskatoon his home.
Creating a diverse and sustainable economy through research initiatives and technological innovation is an important part of SRC's mandate. Calette believes that focusing on helping people succeed will make Saskatchewan even stronger.
"I think when we're working with a significant demographic of the province, and if we find ways to help each other, we are really achieving our mandate and helping Saskatchewan grow," says Calette.
There is a great opportunity for SRC and Indigenous communities to work together and get more people engaged with industry by helping individuals gain more experience in skilled trades and take on leadership roles. 
Calette sees a lot of talent in these communities and a bright future for the province. He hopes that over the next few years, SRC can help many communities reach their full potential.
"I think we are seen as a leader in working with Indigenous communities in the Athabasca Basin. I would like to continue that right across the province," says Calette, "and I'm really excited about that opportunity."