This blog post is part 1 of 3 in our Intelligent Business Series. In this post, we focus on how you can use historical data to understand business trends over time. In our next posts, we'll explore methods of understanding for present business positioning and we'll share some methods for planning and generating foresight for future opportunities.
If you are part of a small company, you know that often your best analyst is you. You likely don't have the luxury of various departments, advisors and consultants who can help you access relevant information on how your business stacks up to your competitors. Understanding how well your initiatives are doing in the market is not always clear, and knowing how far you've come is hard to reflect on. So what are some ways we can fill this knowledge gap?
Luckily, there are sources of information available; all it takes is some creativity and knowledge of where to look.
Say you're interested in knowing how engaged Canadians are with a brand or a company. You might start with sources like their company website or publications. But, as one example, you may also want to consider Google Trends. Google Trends is a free tool that illustrates relative search trends by region around the world. It provides historical data into search trends worldwide that can be filtered and customized by region and keywords. This tool is a great resource when you want to understand how interest in a brand or product has changed over time.
How We Use Google Trends
For an example, let's say we're interested in how Canadian interest in the smartphone company Blackberry has changed in recent years.
Using Google Trends, we can see some interesting directions in our BlackBerry data:
Canadian search interest in BlackBerry peaked in mid-to-late 2009
As one might expect, search interest peaks near and during the release of new devices
Search interest in the company has gradually declined in the past two years

Source: Google Trends
Comparing Search Trends
Google Trends also lets you explore search trends and compare them by region. In the chart below, darker colours have higher relative search volumes compared to light shades.
Historically, the highest search volume for BlackBerry comes from Ontario. These trends can also be extrapolated globally to highlight areas of interest between and within different countries.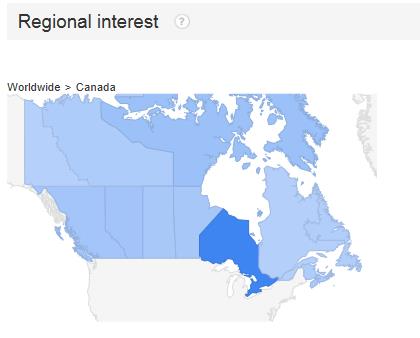 Source: Google Trends
Pitting Search Terms Against Each Other
Lastly, trends can be compared between different search terms. For example, you can compare a number of competing products or companies and better understand how their position and share of voice has changed over time.
Going back to our BlackBerry example, we compared BlackBerry to iPhone and Android. Overall, Canadian search interest in Apple's iPhone is shown to have outstripped interest in Blackberry since early 2011. Furthermore, as interest in BlackBerry has continued to decline, search interest in Android has gradually and recently overtaken their share of search in the country. These terms can also be explored and compared regionally to see what brands have relatively stronger presence of mind, based on country.

Source: Google Trends
One of Many Intelligence Sources
Analyzing Google Trends is only one of the options that companies can leverage to help understand their business data. Intelligence resources like these can help inform gut feelings with historical data trends and help businesses make more informed better decisions. And best of all, it's free for all to use.