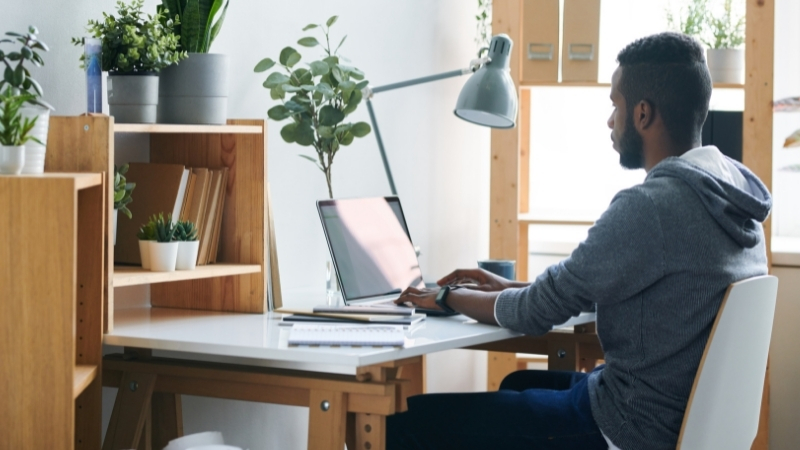 In March 2020, employees across the world packed up their office belongings for what we all thought would be a few weeks of remote work to "flatten the curve" of the COVID-19 pandemic. Fifteen months later and many of us are still working from home – myself included. 
In fact, throughout the ongoing pandemic, nearly half of employers in North America supported and protected their employees through remote work initiatives. And while working from home has been a precaution that has helped protect employees from the threat of the virus, we've also learned that it opened the door for exposure to potential new workplace safety risks. 
These risks have created unique challenges for employers in meeting their responsibilities to ensure a safe workplace. But with careful consideration and planning, remote working has proven to be a positive and safe experience for both employees and employers. 
As remote working starts to become standard practice moving into the future, this blog shares some of the ways workplaces can continue to make safety a top priority wherever their employees happen to work from – including the home. In particular, it focuses on the safety-related learnings that I personally have practised while working from my living room.
1. Look at Risks Differently
Depending on your home, the potential safety risks could be more or less compared to your usual workplace – but they are very likely going to be different. This means taking an inventory or completing a risk assessment is an important step in being aware of your own individual risks and ensuring workplace safety while working from home. 
This inventory should include an assessment of the workspace, lighting, flooring, ventilation, desks and chairs, electrical safety (e.g., no exposed or frayed wires, not overloading extensions bars), data security, working smoke and carbon monoxide alarms, first aid kit, good housekeeping, any potential tripping hazards (e.g., loose tiles, carpets or electrical cords) and clear and unobstructed aisles, walkways, stairs and exits in the work area.
Once the inventory is complete and any potential health and safety concerns or hazards have been identified, these can then be addressed in a timely manner to prevent an accident from happening.
Another important thing to remember is that safety incident reporting should still be encouraged and utilized by employees working from home – this will help employers understand and deal with any new risks that develop due to remote work.
2. Think Ergonomically 
Modern day office spaces are set up with ergonomics at the forefront as employers understand that individual workspaces are a key part of an employee's ability to stay productive.
At home, it can be easy to fall into the trap of working from your couch, kitchen table or even back deck. But while home workspaces should be comfortable, just like at the office, they also need to be ergonomically correct to avoid long-term strain or injuries.
Some tips to keep in mind:
Use a chair equipped with back support for good posture
Centrally position monitors at eye level two feet away from your face
Ensure monitors are free of glare and reflections
Take regular breaks from looking at your monitor
Ensure frequently used objects are within reach
3. Pay Attention
Statistics show that most on-the-job safety incidents result from complacency, meaning if something becomes routine, the safety of that task or job often doesn't get a second thought. I know I am most comfortable at home since everything is familiar to me – so familiar that I could probably get around my home blindfolded if I tried (not that I am encouraging this unsafe behavior). 
But I say this to prove a point – because I am so comfortable in my own home, safety is definitely not a top priority for me and I have to remind myself to pay attention and be aware of my surroundings. I may not have to worry about the risks on the road while driving to and from work but I do have to worry about my kids leaving toys all over the floor or my husband forgetting to change the smoke alarm batteries.
4. Communicate, communicate, communicate!
I've found that communication is key to my mental health and well-being while remote working. And since I work on a team of professional communicators, this is something that came fairly easy to us when we first moved online. 
Our team checks in with each other every morning, has a very interactive and engaging group chat and we also have a more in-depth, virtual weekly meeting. Sometimes we talk about work and sometimes we talk about life – either way, it is always a good time to reconnect, see each other's faces and communicate. And whether we end up talking about the road conditions during our frigid Canadian winters or a new exercise program we are trying over our lunchbreak, safety always becomes a big part of these discussions.
5. Take Care of Yourself
Similar to any working environment, taking breaks is a key part of maintaining a healthy brain and body. In fact, studies have shown that breaks can significantly improve productivity levels and a person's ability to focus.
I have worked really hard at taking the time each day to move my body as I've personally found that I move less when working from home as I'm not commuting to and from the office, walking to meetings and so on. For me, that means scheduling time into my workday for a walk – sometimes I get outside for some fresh air and other times I hop on my treadmill. That movement has not only been great for my physical health, but my mental health and my productivity at work, as well.
And speaking of mental health, remote working can be lonely – especially for those employees who live alone. Making your mental health a priority is a key part of being safe at home. For me, taking care of my own mental health looks like going for a walk, reading a book, calling a loved one, eating a snack, taking a bath or working in my yard. For others, it probably looks different. The key is to find what works for you and incorporate that into your day or week.
So, while safety has definitely looked a little bit different while working from home during the COVID-19 pandemic, what's clear is that it is just as important as ever.