Dry. It's the word that kept coming up on coffee row throughout 2018 when talk turned to weather on the Canadian prairies. That's because Western Canada experienced abnormally dry to severe drought conditions throughout the year.
And the Saskatoon area was no different, experiencing its second driest year since recording began at SRC's Climate Reference Station (CRS). 
The station, located in the northeast part of Saskatoon, has been recording climate data for over 55 years to determine climatic trends for the city. It tracks things like high and low temperature, wind gusts, sunshine hours and soil temperature data just to name a few. 
Join me on a walk back through memory lane as I share with you some of Saskatoon's top weather statistics and events of 2018 using data from the CRS. Some might be obvious – who could forget the thick smoke blanketing our city in August or the beautiful frost (freezing fog or rime frost) that set in on Saskatoon in late November – but some might also surprise you! 
Here are some highlights, followed by a month-by-month breakdown with facts you can recite to your friends over coffee.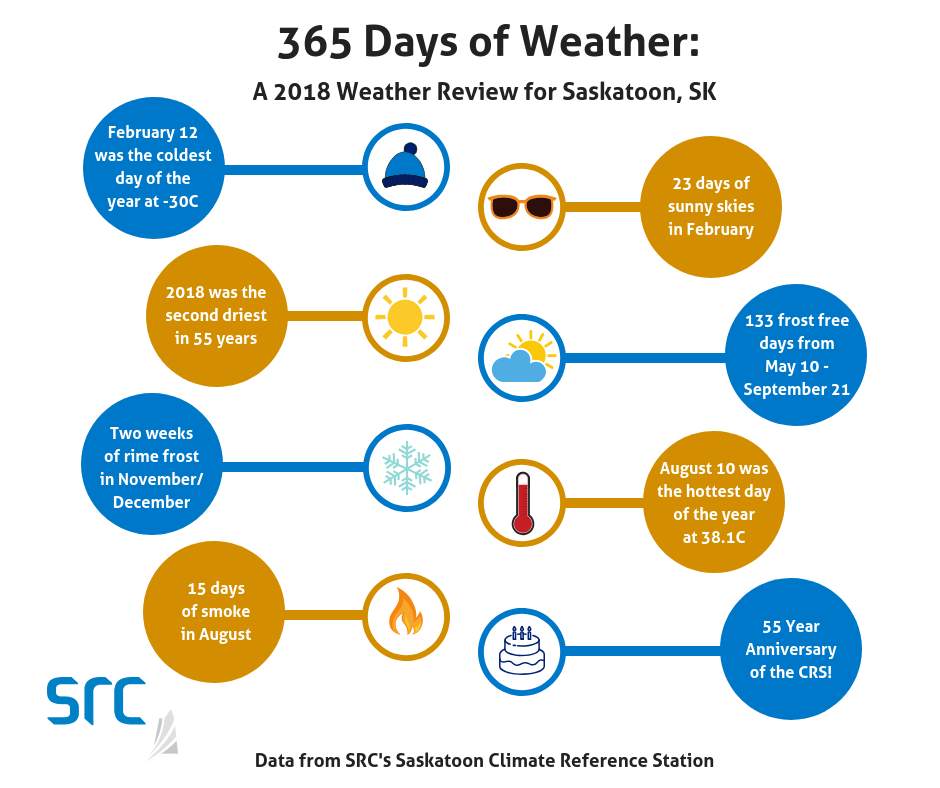 january
January is typically known in Saskatchewan for being the coldest month of the year with a lot of snow on the ground. This past January saw a 36-degree temperature swing from cold to warm then back to cold again. This directly affected the amount of snow on the ground as the warm temperatures from that swing resulted in the snowpack completely disappearing at one point before coming back in the later part of the month.
However, the wind relocated that very light fluffy snow to another portion of the landscape and by the end of the month there was no recordable snow under the CRS's automated snow depth sensor.
February
If February didn't seem that bad it is because Saskatoon experienced a record number of days with five or more hours of sunshine. We saw 23 days of sunny skies compared to the former record of 21 in 1980. That's 190.8 total hours of sunshine in February!
However, because of all that sunshine, February was also the third driest we've seen in 55 years starting off what will turn out to be an all-round drier-than-average year on record.
March
March didn't see any records broken like the month prior, but it was colder on average than normal making winter feel extra long this year. And if we were hoping for an early spring, we certainly didn't get it. 
april
Simply put, April was cold. It also broke many previous records – and not the good kind. Lowest minimum temperature records were broken on the 6th, 7th and 13th. The record for the fewest amount of days above freezing was broken with only 18 days above zero versus 21 in 1979. It also beat 1979's record of seven days below -10 C by three.
And while it did not negate the cold, there was also more sunshine than normal with a new maximum number of hours recorded: 312.5 hours compared to 304.7 in 2011. 
May
But once spring did finally hit, it came around rather quickly. May was hot, sunny and windy, and even broke some daytime temperature records. Highest average daily temperature records were broken on the 7th, 15th and 16th, with a highest maximum temperature of 31.4 C on the 15.
But it was the 30th that turned out to be the most memorable day of the month, with gale winds of 84.4 km per hour making it the windiest day of 2018.
june and july
The dry spell continued into June and July. June was the fifth driest we've seen in 55 years with only 19.7 mm of precipitation being recorded. To put this into perspective, the CRS typically receives 66.6 mm in June.
July continued the below normal precipitation trend with 71 per cent of normal being measured (41.9 mm compared to the normal of 59.0 mm).
August
August will be remembered for its smoky skies, with 15 days of smoke in the air. August 10 was a scorcher at 38.1 C which ended up being the hottest day of the year in Saskatoon. August was also notably the sixteenth month in the last 20 months to have below average precipitation levels. 
September
But the hot, dry summer seemed to come to a screeching halt in September, when average maximum daily temperatures dipped nearly 6 C below normal. The average minimum daily temperatures were nearly 2 C below normal. And we finally got the precipitation we needed with rain or snow falling on 13 out of 30 days that month.
With the wet and cold combination, it truly felt like winter came early. In fact, there were only 19 days over 10 C in September which was a new record. The former record was 20 days in 1965. 
Residents of Saskatoon enjoyed an extra-long break from scraping the frost off windshields this year. There were 133 frost-free days from May 10 to September 21, which is more than the normal frost-free season length of 124. 
october
Following a wet September came a dry October, which may have provided a window to get some of the remaining crops in the bin for farmers in the Saskatoon area. October saw a low of -8.5 C on the 14th and a high of 21.2 C on the 17th – a 30-degree range in temperature!
november
Saskatoon didn't see much of the sun in November thanks to above average cloud cover. In fact, not since 1992 has a November been as cloudy. It was also frosty but magical in the city due to an ice-fog that settled in for almost two weeks, producing a stunning layer of frost coating everything from trees to fences. This type of frost is called 'rime', not 'hoarfrost,' which is formed without foggy conditions.
December
The frost moved into December but was quickly burnt off by the sun that finally appeared in the skies above Saskatoon again. In comparison, December saw 24 'sun days' (i.e. days where some level of sunshine is recorded) in comparison to November, which saw only 15 days of sun.
And the year wrapped up similar to how it started – dry. In fact, it was the fourth driest December in the station's history.
About SRC's Climate Reference Stations
The CRS also celebrated a huge milestone this past November with its 55th anniversary. In that time, it has seen an extreme daily minimum temperature of -43.9 C in January 1966 and an extreme daily maximum temperature of 41.0 C in June 1988. It has also seen extreme yearly maximum precipitation of 707.4 mm in 2010 and extreme yearly minimum precipitation of 165.8 mm in 2001. For comparison, the average precipitation the station sees a year is 355 mm. 
Interesting in receiving monthly and annual weather summaries? Subscribe here!
For more than 55 years, SRC's Climate Reference Station (CRS) in Saskatoon, SK has provided high quality and consistent climatological observations that address climate change effects and the increased climate variability on the Prairies. A sister station became operational January 1, 2012, at the Conservation Learning Centre (CLC) 15 km southeast of Prince Albert, SK.