SRC provides leading‐edge data management services for enhanced data-driven decision making, as well as transparency and monitoring initiatives. 
The Environmental Database Management System is an enterprise-level system using Geographic Information System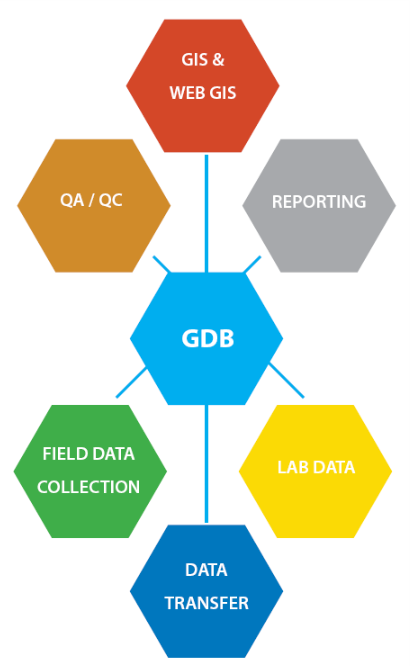 (GIS) and server-based solutions, along with standardized data management procedures for site assessment surveys, remediation activities and monitoring. 
Whatever the state of your data, your software platform, your field data collection methods or your stakeholder needs, SRC can help you develop the optimum solution for your data management system. 
Efficient data handling, sharing and interoperability of historical and current data
Multi-dimensional information analysis and data visualization to support decision making for proper mitigation measures and remediation success
Tested in the Field
The Environmental Database Management System was developed by SRC for a large-scale remediation project and is an essential tool for our environmental and remediation specialists. The system has successfully facilitated integrated decision making for planning, implementation, fieldwork and monitoring, as well as increased transparency among stakeholders.
Put your data to work. Contact SRC to learn more. 
GEODATABASE
Contains a spatial database to store and query spatially distributed data and its attributes, data scheme and operational procedures for data management.
GIS AND WEB GIS
Combines desktop and server-based GIS solutions, including predefined data layers, standardized map templates and online mapping tools for data editing, analysis
and map development. 
FIELD DATA COLLECTION
Contains operational procedure and online tools for field data collection, as well as field data transfer tables.
QUALITY ASSURANCE (QA) AND QUALITY CONTROL (QC)
Combines operational procedures for QA and measures for QC of baseline, remediation and monitoring data, including process routines and automated tools.
DATA IMPORT AND EXPORT
Offers data import and export operational procedures, tools and templated forms for different data formats.
LAB DATA
Provides a connection between our system and laboratory information management systems.
REPORTING
Includes server-based, real-time generated reports and maps.