Although the mining industry is in the doldrums, there was renewed optimism at last week's 2014 Prospectors and Developers Association of Canada (PDAC) conference in Toronto, ON. Several SRC employees joined the hordes of attendees, looking for the silver lining that will turn the mining sector around. SRC's Cristiana Mircea sat down with her team members (Bernard Gartner and Mike McCubbing) from SRC Geoanalytical Laboratories to discuss just what those silver linings might be.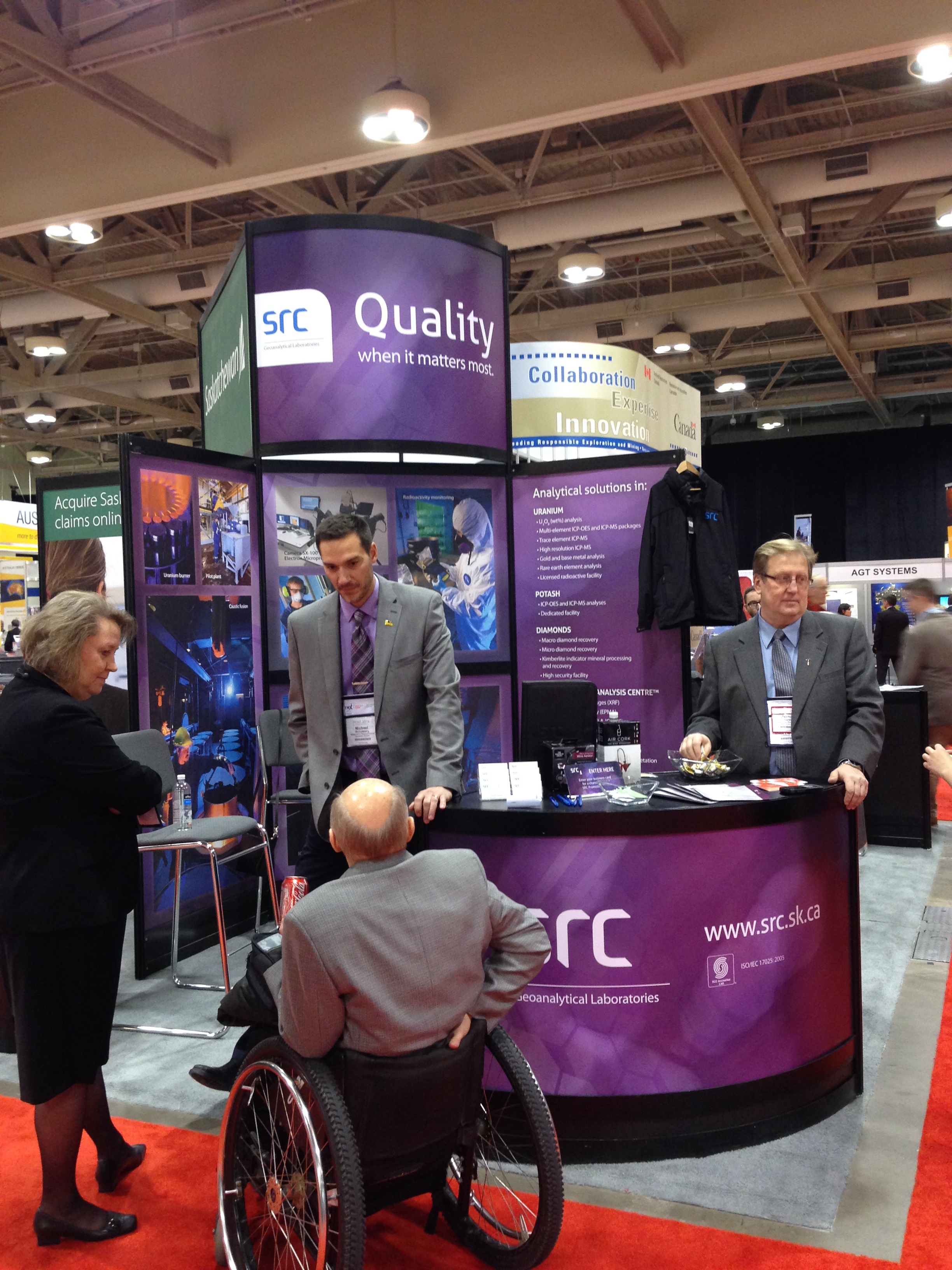 Q: What were the most talked about trends or industry news you overheard or spoke with people about?
A: At the Investors Exchange trade show, 80 per cent were gold companies, 10 per cent were copper and 10 per cent were other commodities.
There was a lot of discussion about the price of gold and the lack of accrual gold in inventories around the world. Prices per ounce isn't reflecting the speculated shortage. Investors are definitely cautious, which does not help exploration companies raise funds. It'll be interesting to see which way this tracks.
Uranium was the big buzz word this year at PDAC. Fission and Alpha Resources lead the way in new discoveries in the Saskatchewan Athabasca Basin. Exploration in the region has exploded as expectation of uranium spot prices are set to increase. Japan has announced it will be starting up their reactors soon after the earthquake disaster at Fukushima, three years ago. This startup is expected to fuel the need for more nuclear fuel worldwide.
There was also buzz about the diamond exploration industry. Rumbles from the conference floor indicate we could see an upswing in the exploration of diamonds in Canada and other parts of the world. Many clients indicated they could be putting together exploration programs as early as this summer. Helping fuel this upswing is the Peregrine Diamond discovery in Chidliak and Kennedy Diamond in the Northwest Territories.
Overall, the PDAC conference showed sign of a cautious approach to 2014.
Q: The industry isn't doing well right now. Any good news on the horizon? Are companies optimistic that things will turn around?
A: Attendees were cautiously optimistic that in second part of 2014, we'll see some improvement in the mining industry.
The outlook on commodities in general was positive, with many saying this year we'll start to see the beginning of a longer cycle again and less instability, as we have seen in the past few years.
Long-term commodity prices are projected to have slow growth. The diamond sector is expected to hold its spot price or see a gradual increase in the next three to five years, with demand outstripping supply by 2018. This may be the reason we started to hear rumblings about shovels in the ground again in the diamond sector. It seems to universally accepted that Canada still remains under explored when it comes to diamonds.
Q: Is there a mineral exploration target that is more popular than others? What are people at the convention saying about it?
A: The big talk on the uranium side is the Patterson Lake South discovery, in the western Athabasca basin, where exploration is much less active. Deeper drilling in the basin was also mentioned a few times with newer technology and extraction methods making it a more viable option.
Q: Were there any networking sessions, keynotes or seminars that stood out?
A: We attended the Canada-Southern Africa Chamber of Business' 15th Annual African Mining Breakfast and MineAfrica's 12th Annual Investing Seminar held at the Sheraton Center in Toronto. This was a very well-organized, sold out event. The seminars following breakfast highlighted various companies exploring and mining in Africa. It was a great event for networking… definitely a must-attend event in the future!
This event gave us the feeling that Africa is a very mining-friendly continent in most areas. Companies in advanced exploration or development stages are very proud of the work they are doing there. This seminar has reinforced the idea that our Geoanalytical Lab should focus more business development in the region. We have plans to travel to South Africa next year to the largest mining conference in the Southern Hemisphere, African Mining Indaba, to build new relationships.