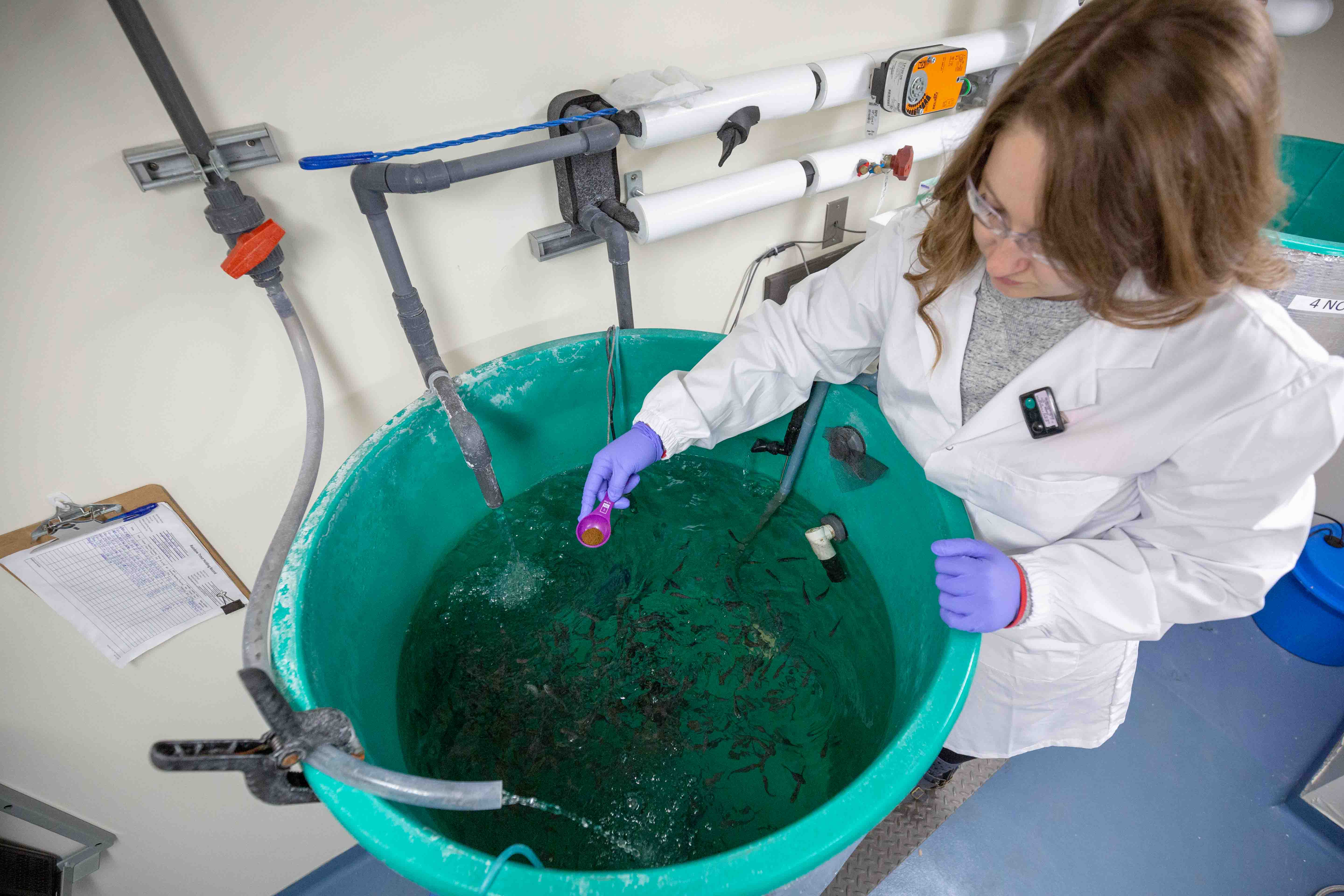 SRC has operated a toxicology laboratory for several decades. Most toxicology studies in the early days were focused on method development, primarily related to understanding how soil toxicity affected various plants. Several findings were adopted in Environment Canada's Biological Test Methods, notably RM/56.
During this time, aquatic toxicology was gaining prominence and the research focus had begun to shift. There was a growing recognition by regulatory agencies that the environmental impact of effluents couldn't always be fully understood by looking at specific compounds of interest. 
Many jurisdictions began to implement requirements for industry and municipalities for routine toxicity testing on their various whole effluents. SRC's toxicology lab worked extensively to develop and modify the Lemna minor toxicity test and made significant contributions to Environment Canada's Biological Test Methods RM/37.
A NEW OPPORTUNITY
As various toxicity tests were added to regulations, SRC recognized an opportunity to better support municipalities and industry in Saskatchewan by overcoming some challenges associated with toxicity testing. 
In general, toxicity tests require a large sample volume. The samples cannot be preserved, and the hold time is generally very short. Since there was no aquatic toxicology laboratory in Saskatchewan at the time, samples had to be sent out of province, resulting in logistical difficulties and added cost. Recognizing these difficulties, SRC began to explore the feasibility of creating an aquatic toxicology laboratory in Saskatchewan.
With more than 60 years of experience analyzing environmental samples, SRC Environmental Analytical Laboratories already had a very robust sample logistics procedure that still exists to this day, which ensures that sample containers are delivered to clients on time, samples are received and stored under appropriate conditions, and sample analyses are carried out in a timely manner. Rather than reinventing the wheel, SRC decided the best way forward was to restructure its existing toxicology lab as an Aquatic Toxicology section to complement the services already offered by SRC Environmental Analytical Laboratories. It was a natural fit. 
Another reason for bringing the Aquatic Toxicology section within SRC Environmental Analytical Laboratories was that the lab already had a strong Quality Assurance Program to facilitate the development and accreditation of routine aquatic toxicity tests. The importance of laboratory accreditation is discussed here, but it is especially important for toxicity tests. 
Regulatory toxicity tests are thoroughly prescribed, which means tests need to be carried out within a strict set of environmental conditions. 
Any discrepancy of these test conditions could invalidate the results. Having a well-established quality assurance program that provides the necessary support throughout method development can prepare these new tests for accreditation and ensure future test result validity.
ROOM TO GROW
SRC's new Aquatic Toxicology Laboratory didn't come into existence overnight. In 2015, plans to acquire space and create a suitable aquatic toxicology lab began. It took careful planning and coordination, particularly as SRC Environmental Analytical Laboratories was moving to a new building (The Atrium) at Innovation Place in Saskatoon, which was being renovated. 
While renovations were underway, the aquatic toxicology team began preliminary tests in 2016 for method development purposes. Also during this time, SRC Environmental Analytical Laboratories was expanding its services, including cannabis testing, and was looking for a new space to accommodate more extensive tests. Space in the floors above the existing toxicology lab made the most sense, but necessary renovations of the building were too disruptive for live aquatic animal cultures.
So, plans for the aquatic toxicology lab were put on hold for two years until renovations finished in 2018 and SRC Environmental Analytical Laboratories moved into its new space. Work resumed on the new Aquatic Toxicology Laboratory, but it wasn't without its challenges.
As renovations took place over two years, changes in staff meant there was little overlap between the people who designed the facility and the people who took over. With a limited amount of time to setup and start working, the toxicology team prioritized the need to familiarize themselves with the facility and they developed a plan for how to efficiently utilize available equipment. 
This plan started with deciding which tests to develop first. Acute lethality toxicity tests are widely regulated for effluent discharge, and SRC had received requests from many Saskatchewan municipalities for these tests. Therefore, in the summer of 2018, the toxicology team began developing Daphnia magna and Rainbow trout acute lethality tests. Tests involving both species were accredited in early 2019 and the first batch of municipal wastewater effluents were analyzed in Spring 2019.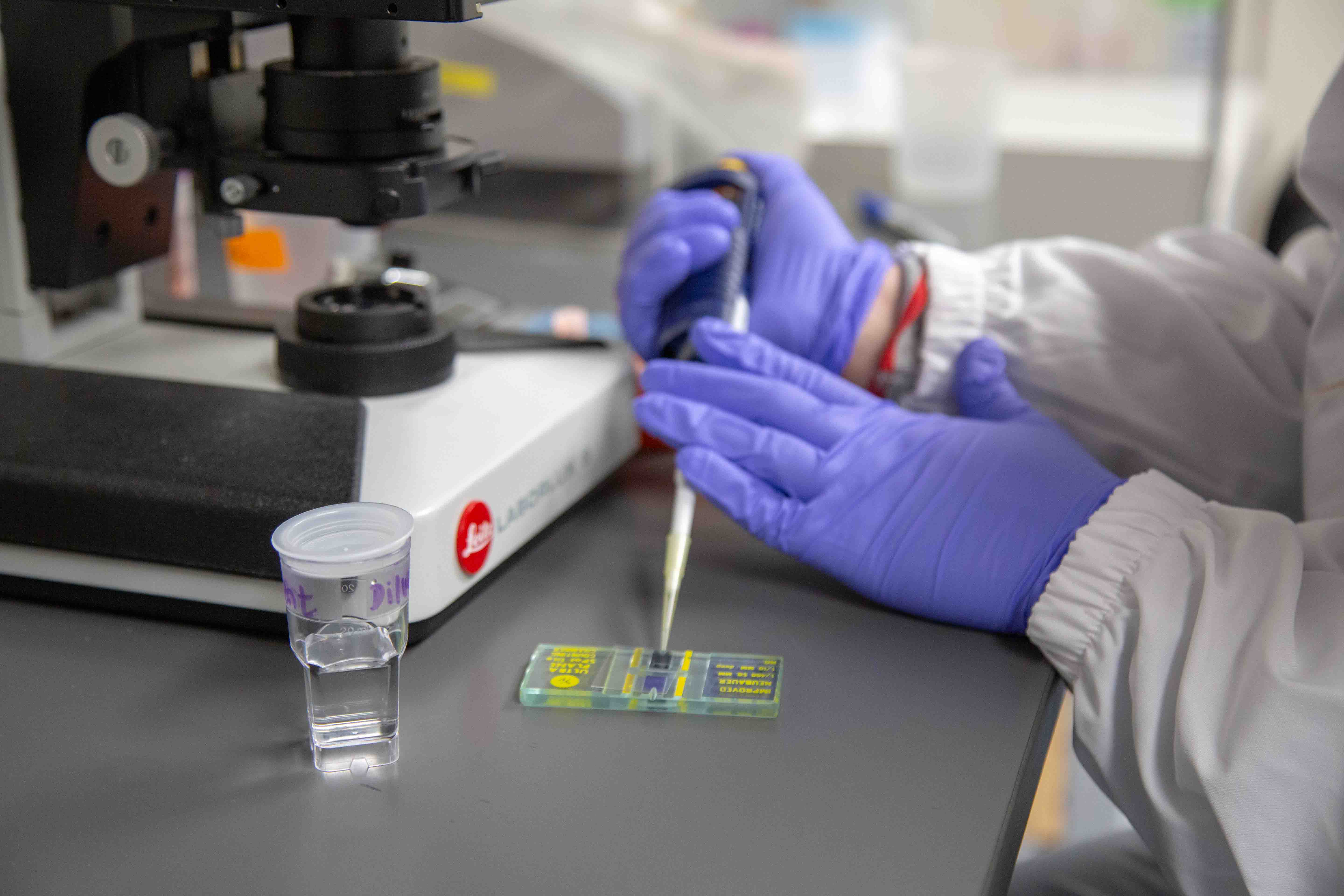 CONTINUING DEVELOPMENT
Once SRC's Aquatic Toxicology Laboratory had launched its acute toxicity testing, the team soon started to develop sublethal toxicity tests to support more municipality and industry testing needs. 
The toxicology lab obtained accreditation for Lemna minor and Ceriodaphnia dubia sublethal tests in Spring 2020, despite the world-wide effects from the COVID-19 pandemic. The team is currently working on developing the freshwater algae test and the Fathead minnow sublethal test. Once both tests are accredited, SRC's Aquatic Toxicology Laboratory will be fully equipped to conduct all tests required by provincial jurisdictions, from SOR-2012-139 Wastewater Systems Effluent Regulations to SOR-2002-222 Metal and Diamond Mining Effluent Regulations.
This blog post was written by former SRC employee, Hongda Yuan.